Back to Content
4 Ways to Prepare for Hiring in Market Recovery (According to Data)
JANUARY 25, 2022 3 min read
Hi, there!
You can use this audio player to convert website page content into human-like speech.
1.0X
Employer competition during hiring surges. Unemployment benefits influencing the number of active job seekers. Newly adopted automation tools leveling the playing field for finding talent.
For these reasons and more, finding and attracting talent will continue to be a significant challenge for recruiting teams throughout 2021.
With an understanding of recent and anticipated sourcing challenges, you might find the basics of your talent search process in need of a rehaul. We did the same thing at hireEZ as we doubled the size of our team, hired more remote employees, and reduced the length of our hiring cycle.
To adapt to the Great Rehire, we needed to stay competitive with a quality team of talent. Naturally, our candidate sourcing strategy had to adapt with it to fit our new company goals.
To elevate the quality of candidate sourcing during this period of job recovery, here are some areas to prepare for:

📈 High-volume hiring cycles
🔍 Diverse representation in talent pipelines
🗣 Keeping talent engaged
🛠 Working with more tools and a bigger team

High-volume hiring in 2021 hasn't just been an enterprise trend. Businesses and staffing agencies with less than 100 employees were sourcing and qualifying talent on hireEZ 6 times more than they were before the pandemic.
As important as it is to keep sourcing fresh talent during a hiring surge, hiring teams today are prioritizing how they maximize talent they already have. According to our research, close to 70% of recruiters are sourcing internally this year.
If your hiring team has an ATS that houses years worth of profiles, you're probably aware that it houses a talent pool of warm prospects to be engaged with. All you need to do is navigate through it — which is easier said than done if your ATS suffers from a bad case of data decay.
That's where talent rediscovery becomes a less efficient sourcing channel.
Hiring teams use our EZ Rediscovery to turn their ATS into flexible data infrastructure with close to zero maintenance on their end. The foundation of it all is a two-way integration between hireEZ and an ATS to automate how profiles are imported and exported, deduplicated, refreshed and enriched with new data from our open web channels.
What would take about 7 minutes per profile on average to search and input manually, you can now do with two clicks.
How might an ATS sourcing strategy look?
Over the past 12 months, you may have collected a good pool of interested talent who applied to your open positions at a bad time or with a different set of skills and experiences.
Now's the perfect time to revisit those applicants and check in on how relevant they may be to what you're working on now. Especially since many applicants took the past year to take on new hobbies and level up existing expertise.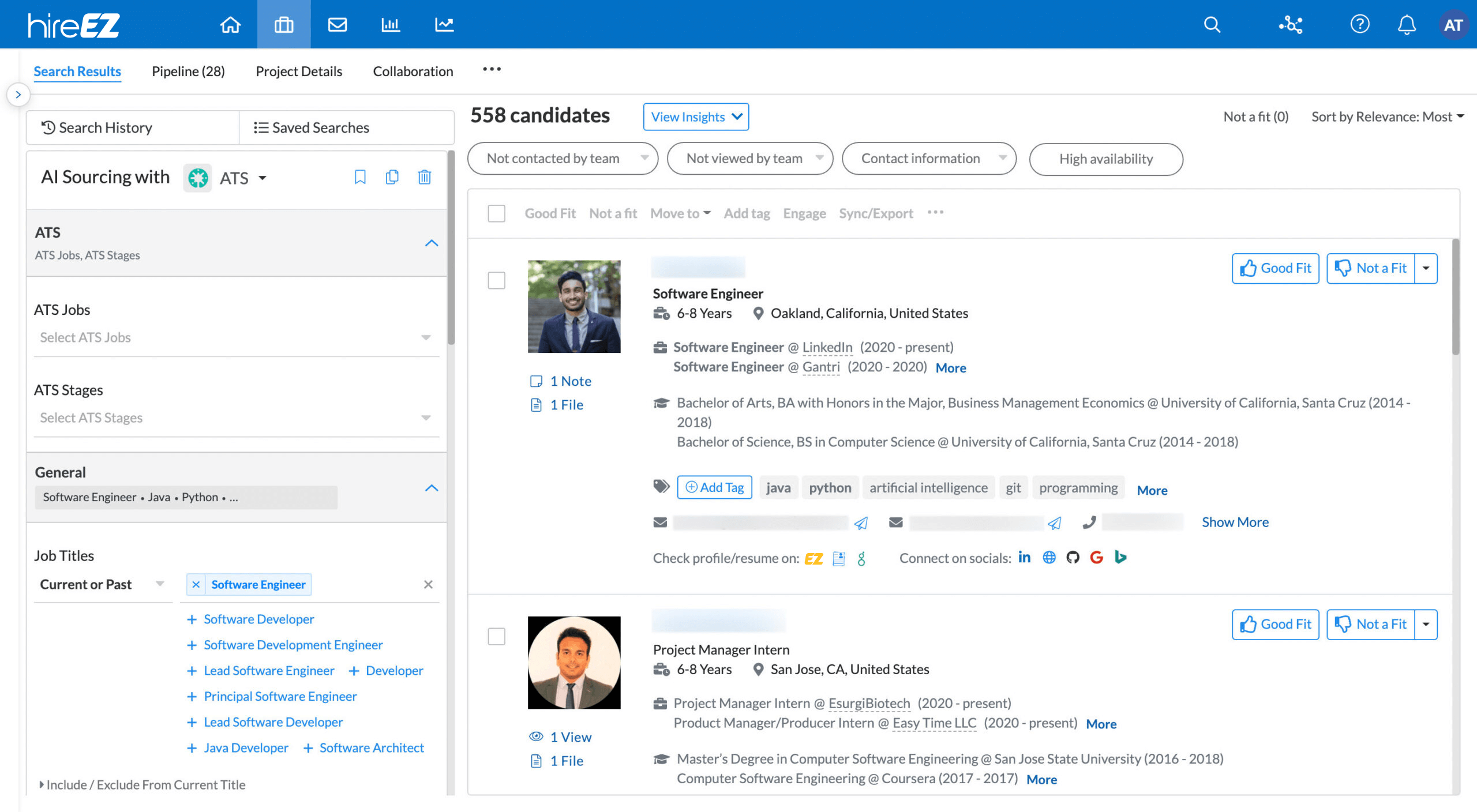 From those applicants, you can create two groups. One group for candidates that were able to find a job and have upskilled since your last touchpoint. The other group for talent still unemployed and likely available for a new opportunity.
Based on each grouping, craft outreach that's personalized and relevant to their recent experiences.
Increasing diverse representation in talent pipelines
In today's candidate market, a diverse and inclusive workforce is a valuable differentiator, especially for organizations competing with well-known brands.
Hiring teams can turn to recruitment technology that prioritizes solving the biggest challenges of diversity hiring: restricted talent pools and time-consuming sourcing according to our survey data. Overcoming these challenges will be key for success as companies across the country start amping up searches for underrepresented talent.
Here's what a three-step diversity hiring workflow would look like with hireEZ:
1. Market Research
During recovery, the market of available underrepresented candidates will continue to shift during hiring surges. Leverage reports like this to uncover how often underrepresented candidates have changed jobs within your open role's industry.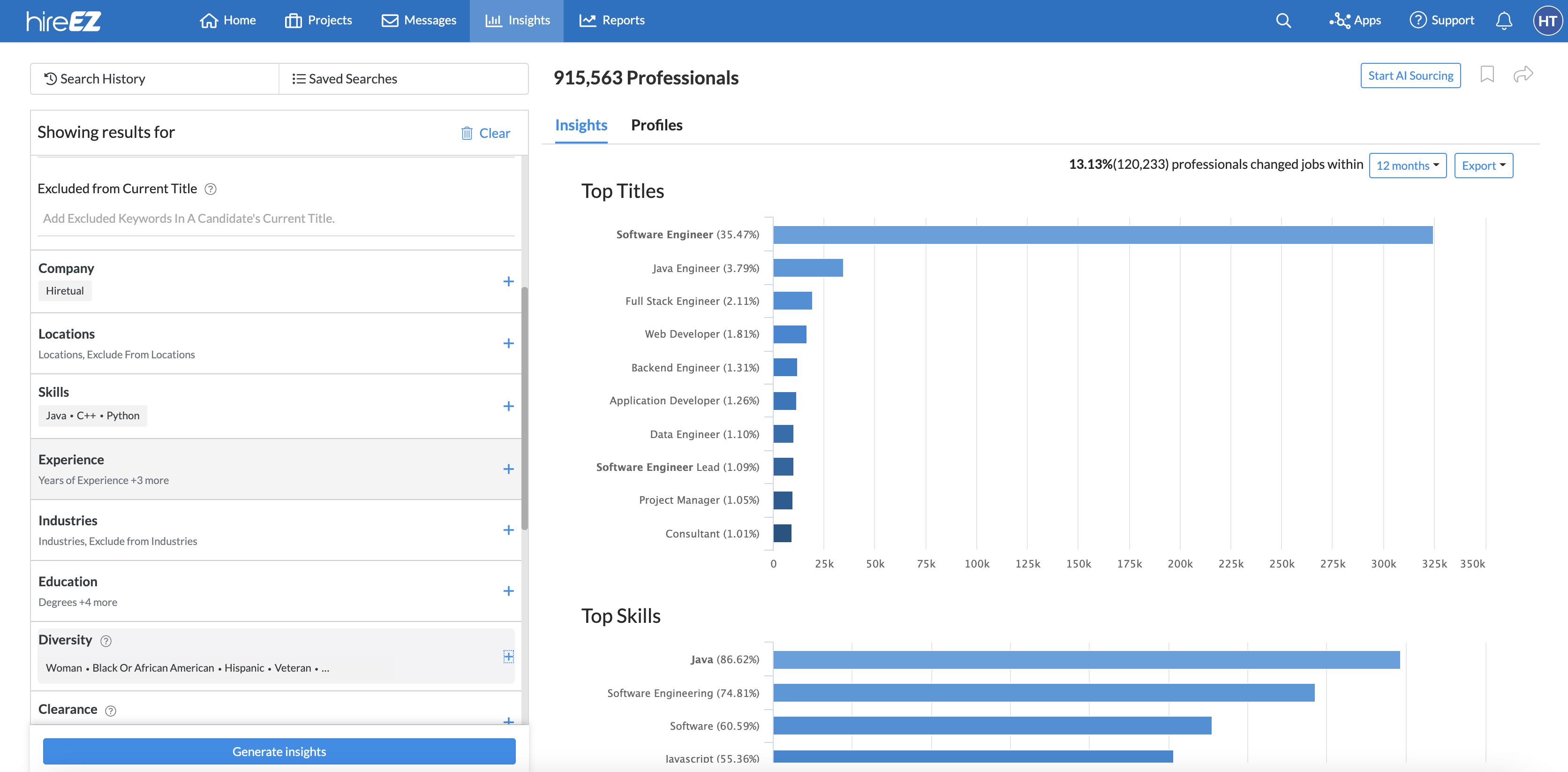 Take it a step further by previewing the number of underrepresented candidates based on your role's qualifications. As you begin your sourcing efforts, you'll be able to set hiring goals based on the available market.

2. Targeted Sourcing
Recruiters are limited on time — we found that close to 40% of recruiters are spending 15+ hours a week sourcing this year! Employers are looking for ways to cut down time spent manually searching LinkedIn groups or building complicated boolean strings to account for all available underrepresented talent.
hireEZ's AI Sourcing expands the available talent pool of underrepresented candidates across the open web to give recruiters 115M+ identifiable profiles.
Our Natural Language Processing model reviews candidate profiles and highlights areas such as membership with professional organization, self-identification and universities. With this data, we give recruiters a talent pool that best matches their search queries. Recruiters can continue to train our AI Sourcing technology by flagging profiles in our search results that do not fit what they were looking for.
3. Evaluate internally
In the next section of this blog, we go over how technology helps recruiters get more out of their candidate outreach. Here's an extra tip specifically related to diversity hiring.
For many organizations, non-inclusive practices within hiring teams and existing employees have been a significant roadblock for diversity hiring.
When sending candidate outreach, it's important to monitor email response rates among underrepresented candidates. This gives hiring teams more visibility on the state of inclusivity in current candidate communication.
To vet your candidate outreach and hiring practices for bias, check out our guide to managing bias in the recruitment process for a full list of common biases.
Candidate engagement was the second biggest challenge for recruiters. However, on some commonly used platforms, limits and restrictions on commonly used talent platforms have not made this challenge any easier.
To elevate candidate engagement, our golden rule is to integrate, nurture, and track.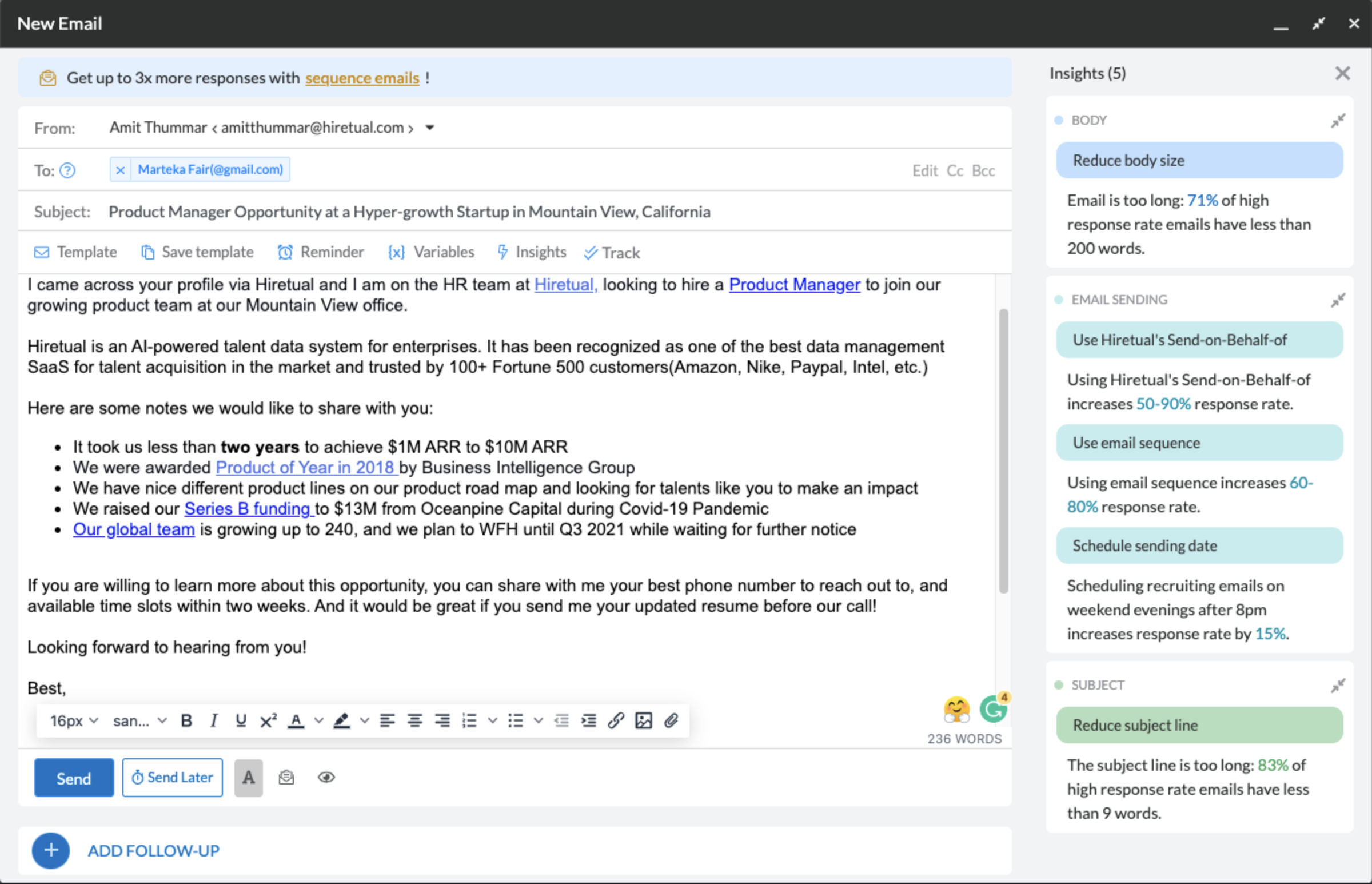 On hireEZ's platforms, email sequences have boosted response rates among our users by up to 3X compared to single emails.
But email sequences are only vehicles to help you carry a message across.
To convert more candidates with an email sequence on hireEZ, your email content must be both empathetic and relevant.
You may have identified a group of candidates from your ATS who applied to a position at the start of 2020 and were out of work for the rest of the year. The right sequence could nurture these individuals to revisit your career page or apply to a specific role.
Recruiters can also choose to delegate selected emails in a sequence to be sent on behalf of a hiring manager for more impact at certain touchpoints. On average, recruiters who use email delegation on hireEZ have seen a 2X increase in response rates.
And when you're done, don't forget to track your email performance.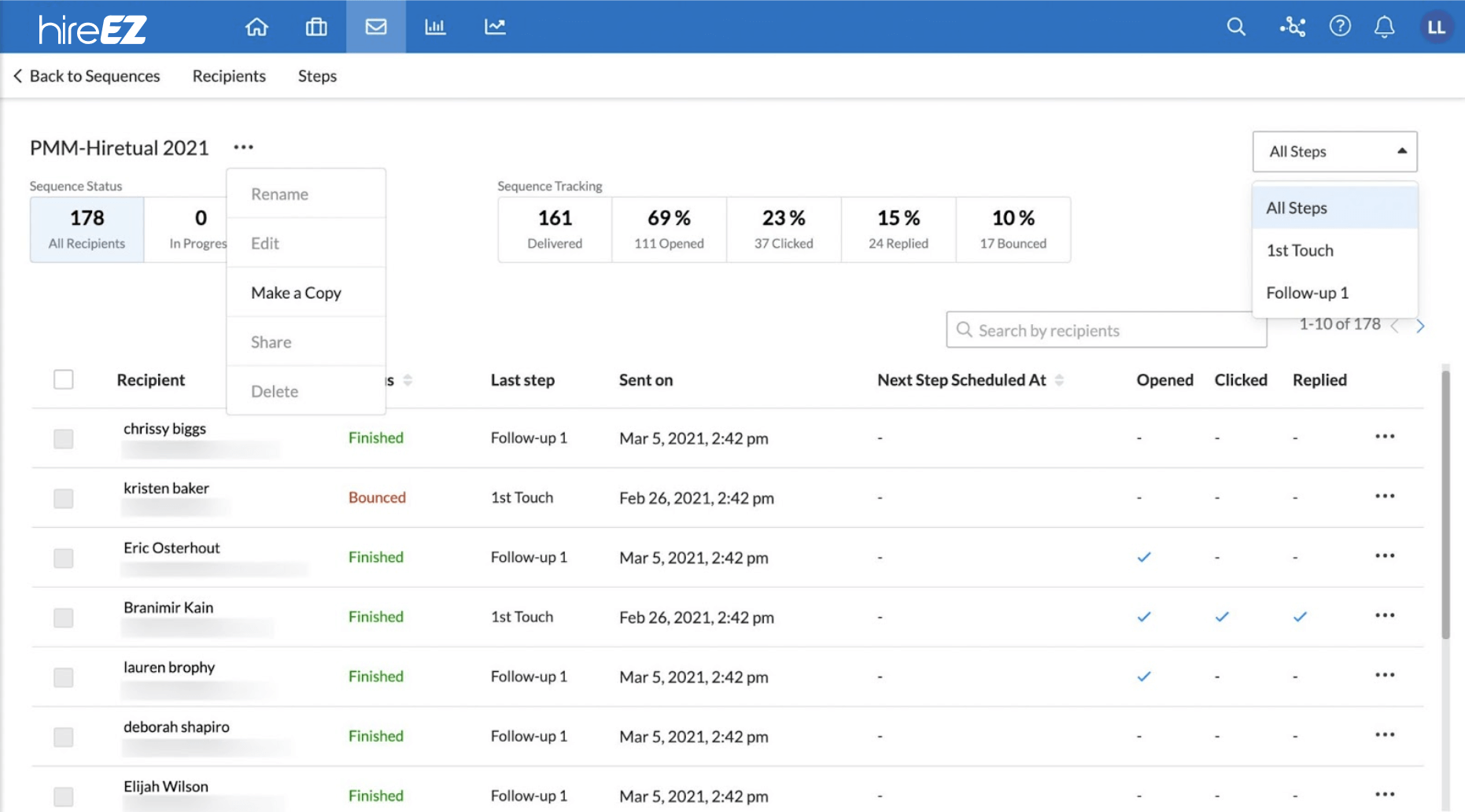 This will do wonders in helping your team benchmark success for different messaging.
George Cobb, a talent sourcer at Arkansas Children's Hospital, uses hireEZ's email sequences and tracking to identify what resonates best with his candidates. When sourcing for healthcare talent like Registered Nurses or Respiratory Therapists, employer competition is a prevalent hurdle.
In a sequence of 3 emails, George found that candidates start responding when he sprinkles a unique fun fact about the Arkansas Children's Hospital. He now knows he needs to focus on differentiating his organization from others directly in his emails.
Most candidates today are only going to open emails that they want to open. This isn't a matter of luck, but a strategic plan to find what clicks most with them.
Working with more tools and a bigger team

Our Recruiting for Recovery report found that hiring teams were actively introducing new recruitment technology to navigate talent sourcing. As investments for new tools increased, so did investments for expanding hiring teams.
If you're looking to expand your team and invest in more licenses for your recruitment tools, first identify your most important needs for operational efficiency and team collaboration.
With 43% of our respondents anticipating shifts in recruiting processes amidst lifted pandemic restrictions, keeping collaborative workflows intact and uninterrupted will create a more seamless experience when onboarding a new tool or team member.
If your team is bringing on a new hiring manager who would need a full-access license to a recruitment tool, your team should opt for a vendor with the flexibility to assign permissions on certain projects or share profiles with non-users.
What does this look like on hireEZ?
hireEZ gives hiring teams different options to collaborate on projects, candidate evaluation, candidate engagement and administrative support.
Our customers often leverage our collaborative features in unique ways to best fit their operational bandwidth and budget for the year. If you're interested in talking to us about a collaborative workflow for your organization, leave us your business email address and we'll reach out soon.
Capitalizing on new opportunities
"You suffer the blow, but you capitalize on opportunities left in its wake." – Michael J. Fox
Talent acquisition teams today are implementing and experimenting with new ideas based on everything they've learned and seen over the last 12 months. This is an exciting time for the talent functions to elevate their position as key business partners and drivers of growth.
Finding success as a talent team during market recovery is a balancing act of working to surpass existing goals while being conscious of limited resources and a lack of cushion if things go wrong.
By being mindful of where technology can maximize returns on existing recruitment processes, great talent acquisition professionals will have the bandwidth to contribute to bigger and better goals.
To fully capitalize on market recovery opportunities, learn more about the state of post-pandemic recruitment in hireEZ's Recruiting for Recovery report.
newsletter
Subscribe for our daily news
Please use a valid work email.
By filling out this form you agree to hireEZ's Privacy Policy and consent to receive communications from hireEZ.
newsletter
Subscribe for our daily news
Please use a valid work email.
By filling out this form you agree to hireEZ's Privacy Policy and consent to receive communications from hireEZ.
Stay Up-to-Date on Future Talent Acquisition Events
Please use a valid work email.
By filling out this form you agree to hireEZ's Privacy Policy and consent to receive communications from hireEZ.
3:03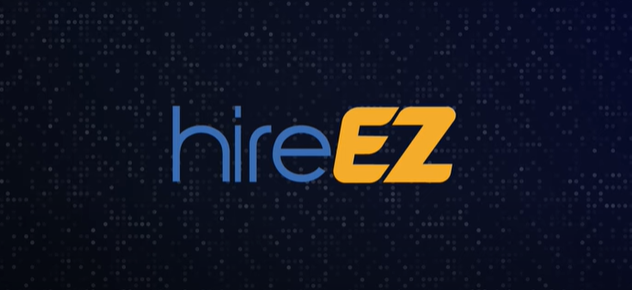 hireEZ - Outbound Recruiting Made Easy!
4:51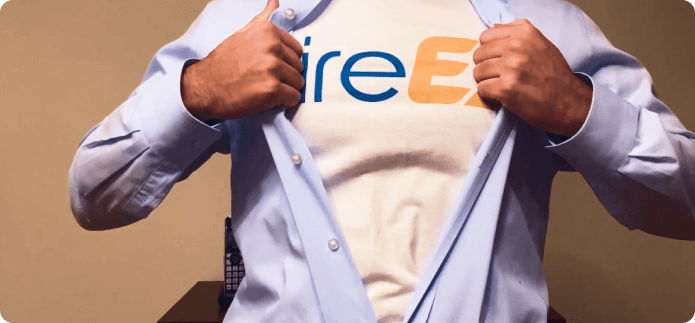 A Hiring Superhero Rebrand Made EZ