Hi, there!
You can use this audio player to convert website page content into human-like speech.
1.0X
Transforming business through uncertain times has defined the behavior of virtually every organization during the past year. This has required preparedness and adaptability as previous plans, goals, and predicted trends momentarily were derailed.
And, while some organizations have borne the weight of hiring investment reductions, a light of new year optimism shines hope for future growth. Propelled by a 165% uptick in sourcing activity on the hireEZ platform during fourth-quarter 2020 vs. same quarter 2019, this renewed positivity foreshadows the imminent return of the war for talent in 2021.
The results of a hireEZ survey,sent to 350 recruiters this past November, suggest that competition is the biggest hiring concern as recruiters embark on this battle. Couple all this with the increasing cost of attracting and converting top talent and the need is revealed for hiring teams to leverage "the right resources to build pipelines during the upcoming stage of job recovery — a giant spike in hiring, otherwise known as the 'Great Rehire,'" according to Steven Jiang, CEO/Co-Founder at hireEZ.
#1 – Leveraging Alternative Technologies
Exploring Options Beyond Traditional Social Media Sites
According to Jiang, "The Great Rehire will be spearheaded by a new generation of technology to help employers navigate an online recruitment market that has evolved far beyond the scope of just LinkedIn," which ranks as only the fourth primary sourcing channel, behind other social media channels like Twitter and Facebook; professional tech platforms; and internal ATS's and CRM.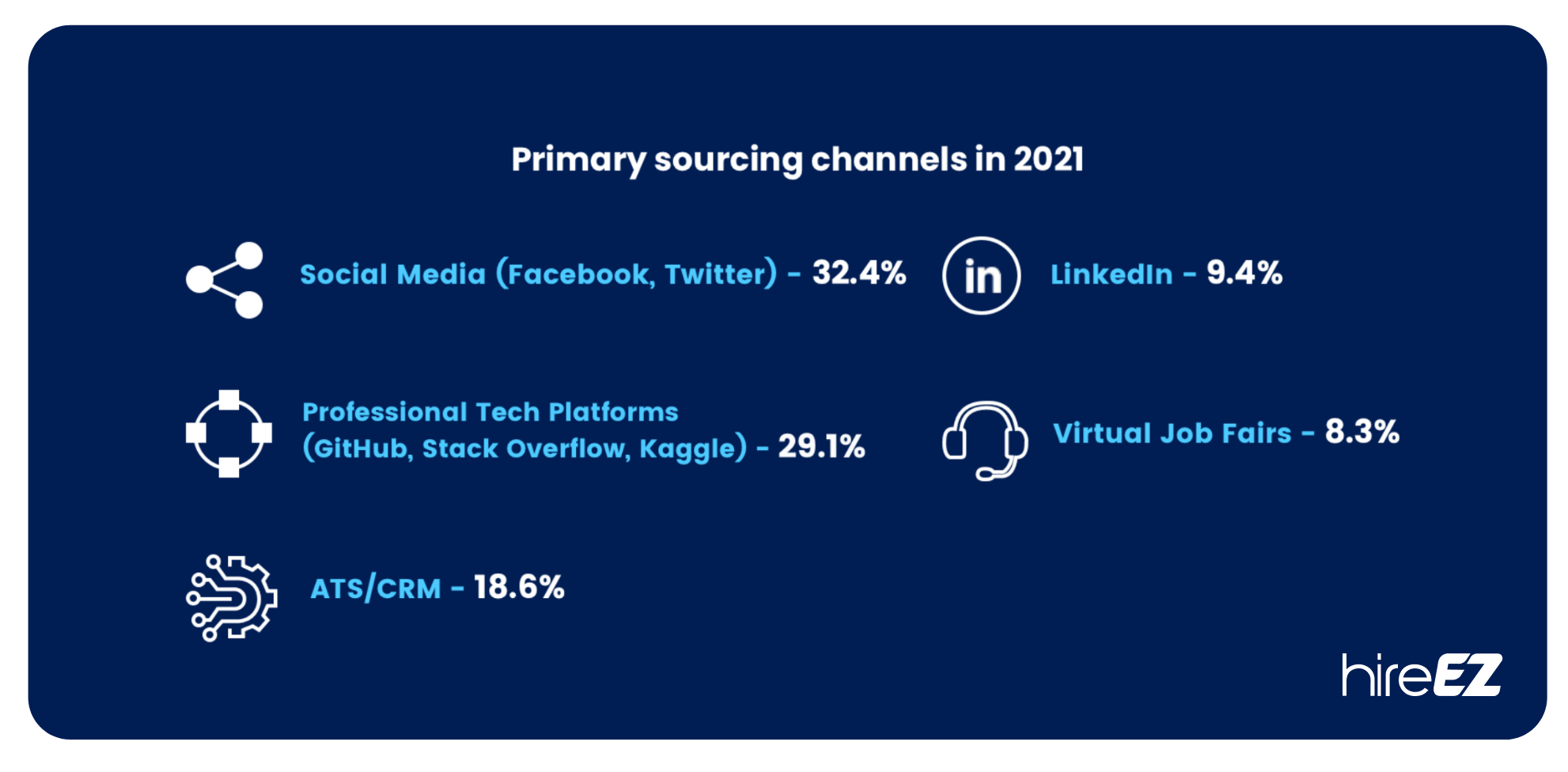 Additional
social network
sites where specialized talent may be found include Doximity (healthcare); Muck Rack (journalists); Research Gate (scientists and academics); and more. The point is that forward-looking recruiters are
searching beyond the more obvious networking walls
to connect with people that may prefer more private, specialized networking engagement.
Using AI to Go Beyond Outbound to Find Great Candidates
As HR Expert, Dr. John Sullivan asserts, "Every global recruiting giant offering remote work jobs is now a serious competitor in every previously local job opening." This opens up the option for candidates anywhere to be considered for roles that once were limited to local talent competition.
"I personally can't think of anything scarier than having to compete head-to-head with the powerful employer brand at the talent absorbing machine that is Amazon," continues Sullivan. Moreover, behemoth companies like Google, Facebook, and others are now traversing territories once protected from their reach.
Solutions like hireEZ's AI hiring technology, which reduces 10-15 hours' sourcing into contextual searches that take only minutes, help small and mid-size companies compete with corporate giants in the global remote talent pool.

"With AI hiring platforms, recruiters can start building out their social media strategy by sourcing through all these platforms at once and then identifying where their top candidates are most likely going to be," says Jiang.

Moreover, hireEZ's tools help recruiters leverage data intelligence to understand candidate behavior and expectations with information discovered on their public profiles, further decreasing sourcing and screening time.
#2 – Embracing Digitization While Combating Disorganization
Although pandemic-induced obstacles and hurdles were less than desirable, they pushed 99% of recruiters to digitize their recruitment processes according to hireEZ's 2021 Outlook Report. As a result, recruitment practices and technology were getting the improvements and updates they sorely needed. Unfortunately, the disorganization of existing data poses a major threat to team reporting efforts and effective hiring.
With 38% of digitization issues stemming from an absence of data and a disorganized ATS/CRM, recruitment teams will have to be more attentive towards the organization and accessibility of their data. Recruitment teams may look for solutions that ensure the hygiene of their ATS/CRM software, including candidate deduplication and real-time applicant information. If data is updated through ATS/CRM integrations, this will improve accurate team reporting , ensure the efficient digitization of resources, and enable teams to roar ahead with actionable candidate insights.
The best ATS and Talent Relationship Management systems, such as the Lever TRM solution have been vetted to further support recruiting organizations' agility goals for more competitive candidate sourcing and interviewing, hiring and onboarding, and more.
#3 – Creating Hiring Playbooks
Creating central systems for data collections and automation workflows for candidate communications ensures no one is left in the dark.

Analyze What the Data Is Telling You
Jiang recommends companies create intelligence-driven teams, whereby they invest more time acting on their collected data, "adopting a data intelligence approach that brings talent points together. This infrastructure acts as a powerful middleware between external online databases like LinkedIn to in-house systems like an ATS or CRM."
"At hireEZ, we call this recruiting with an AI-powered candidate search and data engine," that enriches old candidate information with newly sourced online data, explains Jiang. This all occurs while removing duplicate entries and providing teams with talent pool insights powered by AI/ML.
Create Workflows for Candidate Communications
In a series of examples, Jiang emphasizes the value of a strong integrated framework of recruitment technology to create a scalable, responsive infrastructure of up-to-date data for talent acquisition. As a result, a simpler hiring process arises, liberating time for a more human, personalized recruitment process.

"Messages become less cookie-cutter, outreach becomes more intentional and employers are able to reach a more diverse and inclusive scope of job seekers for current and future goals," concludes Jiang.
And, by making humans the focus, NOT the hiring process, you will stand out to your ideal candidates, according to Lever's guide: 7 Recruiting Challenges to Solve for in 2021. This includes creating a plan on how you approach each and every candidate and creating playbooks for your team.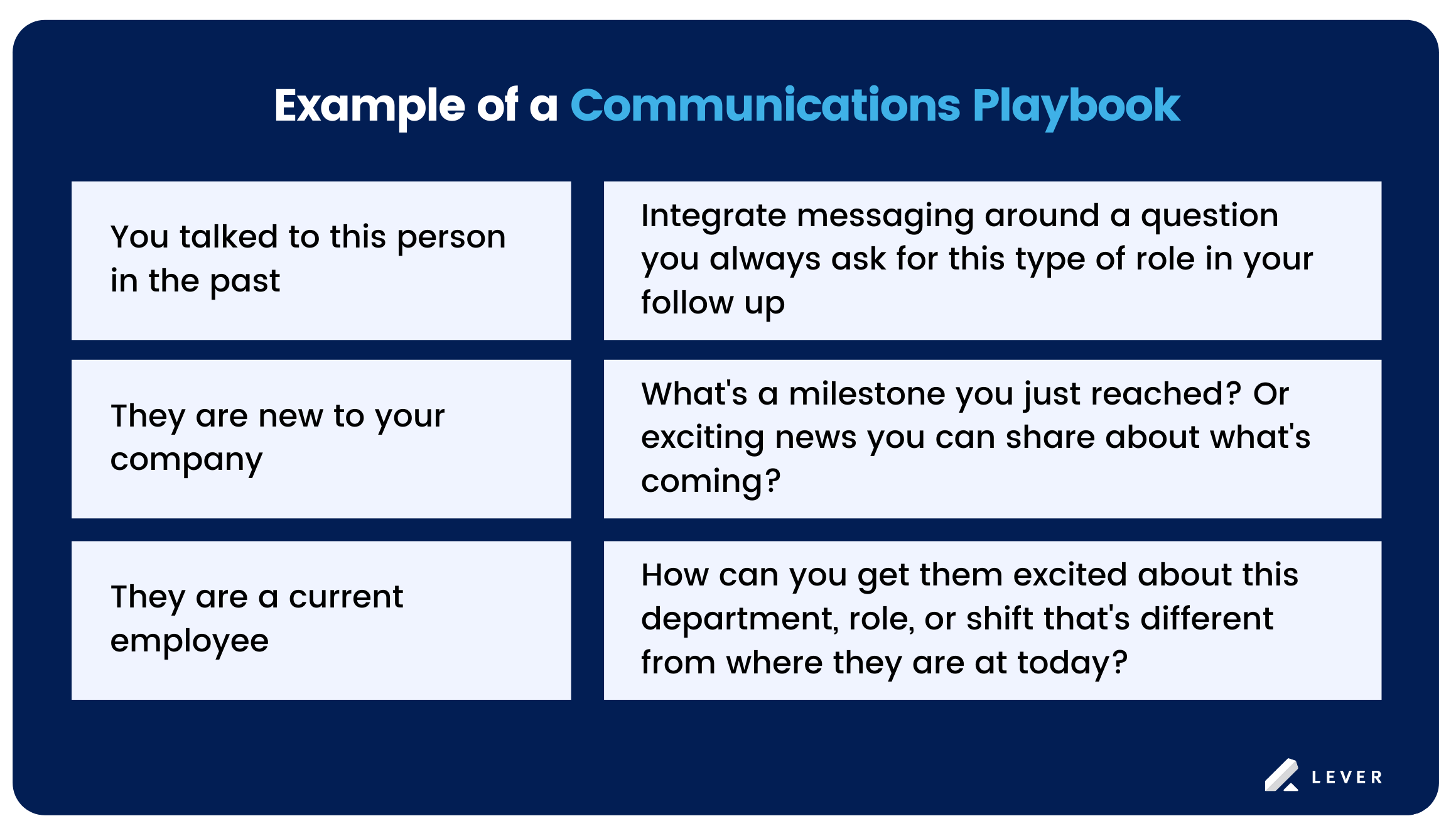 Further, recruiters may want to consider a long-term relationship-building strategy with candidates who are excited about their company but who may not yet be ready for the leap.
"This requires tracking of communications that you may have had with the right candidate eight months or so ago," according to Lever's guide, which continues, "ensuring you have all of this tracked and at the ready to remind you when the right role opens up allows you to make an offer, in some cases within the same day."
Finding sources others aren't using will allow you more supply for key roles and an ability to stand out among top talent. You need data to advise your plan and an automated workflow for candidate communications to move quickly and nurture for rediscovery later.
If looking to automate workflows and improve candidate communication and access to strong data, schedule time to learn more about Lever's TRM solution for hiring. For more insights on preparing for hiring uncertainty, including strategies to improve performance by shifting your talent acquisition priorities check out hireEZ's 2021 Recruitment Outlook Report.
newsletter
Subscribe for our daily news
Please use a valid work email.
By filling out this form you agree to hireEZ's Privacy Policy and consent to receive communications from hireEZ.
newsletter
Subscribe for our daily news
Please use a valid work email.
By filling out this form you agree to hireEZ's Privacy Policy and consent to receive communications from hireEZ.
Stay Up-to-Date on Future Talent Acquisition Events
Please use a valid work email.
By filling out this form you agree to hireEZ's Privacy Policy and consent to receive communications from hireEZ.
3:03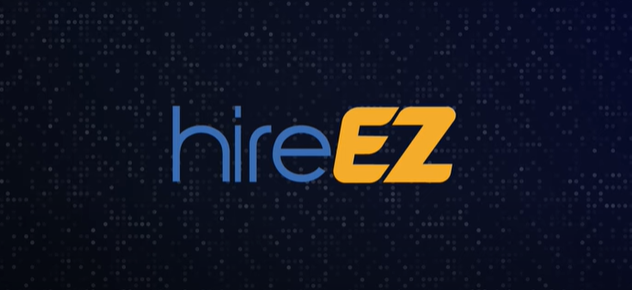 hireEZ - Outbound Recruiting Made Easy!
4:51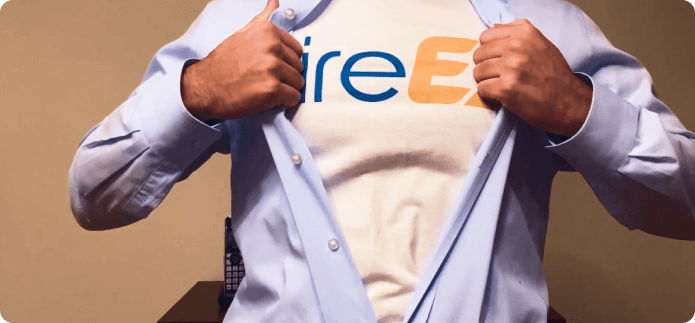 A Hiring Superhero Rebrand Made EZ