Hi, there!
You can use this audio player to convert website page content into human-like speech.
1.0X
You've probably heard the saying, "teamwork makes the dream work." Unfortunately, recruitment teams without a collaborative hiring process are dealing with the
nightmare scenario
of trying to:
🔍 Source candidates for multiple positions all at once
💻 Keep track of team communication and candidate engagement
📝 Remember each person's responsibility for a given req.
And so much more.
If teams want to wake up from this nightmare, here are three key areas where hireEZ can optimize your hiring process for online team collaboration:
➡️ Understanding roles and responsibilities
➡️ Prioritizing efficient communication
➡️ Keeping track of team activity
Understanding roles and responsibilities
Picture this. Somehow, you've found yourself on a rowboat in the middle of a lake with three other people. The objective is to get to land about two miles away before another team does. If everyone rows in the same direction, you'll get there within minutes.
However, if one person doesn't row, another forgets to give directions, and the remaining two of you are rowing opposite ways, your trip will take longer, you'll feel more frustrated, and you'll probably get beat out by the other team.
This situation (minus being stranded on a lake) is similar to one that some hiring teams face. When team members misunderstand or forget responsibilities, they struggle to complete tasks, provide a good candidate experience,and reach top talent before their competitors.
To prevent this from happening, teams should align the goals and responsibilities of the team and individual members at the onset of any project.
To help teams keep track of these responsibilities, hireEZ's in-project role assignment allows project owners to assign roles to team members.
With a specific set of functions attached to each role, hiring teams can worry less about team members forgetting their responsibilities for a project. Not to mention, if team roles and responsibilities change, you can make those same adjustments in real-time.
We also realize that you may be working with team members outside of the hireEZ platform. To keep communication free-flowing, we've made it possible to share candidate profiles on hireEZ with non-hireEZ users
With everyone on the same page, team collaboration is better suited for increased hiring efficiency.
Prioritize efficient communication
There's one secret that successful relationships and hiring teams have in common. They understand the importance of communication.
For collaborative hiring teams, this includes communication between team members and with candidates. In fact, the impact of efficient communication can dramatically improve hiring efficiency and the candidate experience.
Team communication
Imagine you're working to fill a position that requires a security clearance. After sourcing across the largest talent pool of cleared candidates, you find a perfect candidate that fits all of your criteria. You want to make a note to your hiring manager about reaching out to that candidate as soon as possible.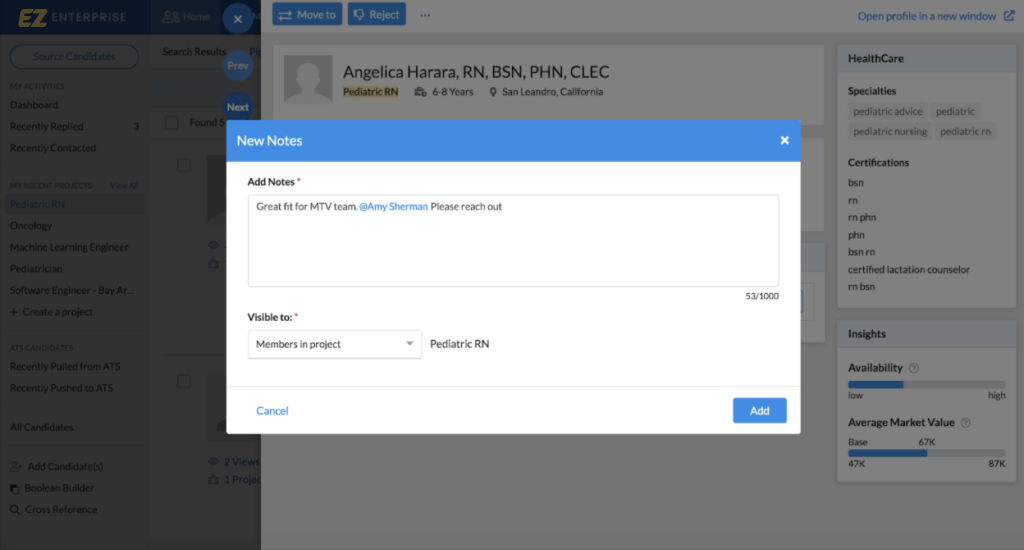 With hireEZ's Mention in Notes, you'd be able to notify your hiring manager to do just that. Given the sensitive nature of filling cleared positions, you can also make sure to make the note only visible to your manager with Flexibility in Note Sharing.
In both of these situations, you can communicate with greater efficiency and clarity. As a result of improved team communication, you'll be able to strengthen the candidate experience by getting back to talent on time. You may even be able to secure them for a position if you reach them before competitors, which also helps your hiring efficiency.
Candidate communication
Teams know that finding top talent is only one part of the recruitment process. If you can't properly engage with them, it will be difficult to secure them for a position. With so many emails being sent in our increasingly virtual world, your email engagement must stand out from the rest. Standard options include boosting email engagement with sequences and building out personalized templates.
Another way to boost candidate engagement is by sending emails using hireEZ email delegation. With our Send On Behalf Of feature, you'll be able to send emails from different team members and view replies.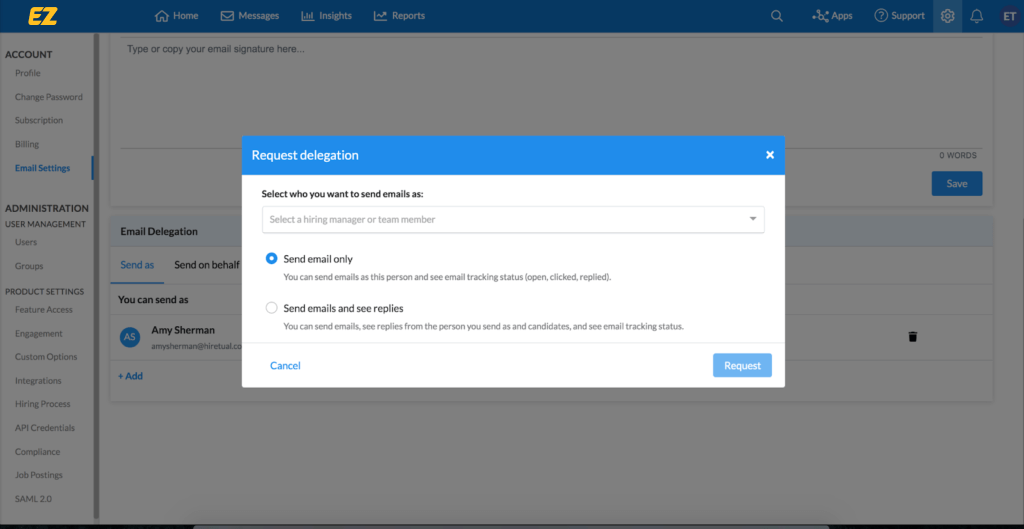 Whether you want a candidate to feel more valued with an email from your hiring manager or one of your team members went to a mutual school with an applicant, email delegation creates greater team flexibility within candidate communication. In fact, this feature has helped some users increase their response rate by 40%.
Keeping track of team activity
With so many team collaboration features on hand, it's hard not to get excited about the potential for greater hiring efficiency. However, with multiple recruitment tasks, features, and team members to manage, you still want to ensure that your team is aware of all team activity.
hireEZ makes it easy to keep track of all team activities with our interactive
Activity Log
. For instance, you can check if your team members have contacted the candidate before you risk over-engaging with them. You can also track the time and dates of any action, like added notes or tags, and see a timeline for how candidates move through your pipeline.
With this log, you'll have unparalleled visibility into team activities, make sure the team is accountable for their responsibilities and actions, and work to improve your collaborative hiring process in any areas where it may be lacking.
Ready to do more?
We hope these team collaboration features make your recruitment processes more efficient and encourage your team to tackle new hiring goals together!
If you have any questions, please reach out to our Customer Success team.
If you're not a customer and would like to learn more about these features, contact our sales team today.
newsletter
Subscribe for our daily news
Please use a valid work email.
By filling out this form you agree to hireEZ's Privacy Policy and consent to receive communications from hireEZ.
newsletter
Subscribe for our daily news
Please use a valid work email.
By filling out this form you agree to hireEZ's Privacy Policy and consent to receive communications from hireEZ.
Stay Up-to-Date on Future Talent Acquisition Events
Please use a valid work email.
By filling out this form you agree to hireEZ's Privacy Policy and consent to receive communications from hireEZ.
3:03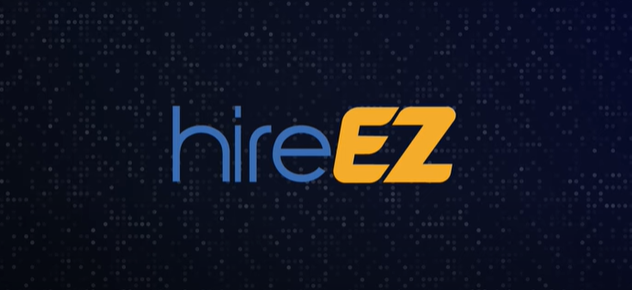 hireEZ - Outbound Recruiting Made Easy!
4:51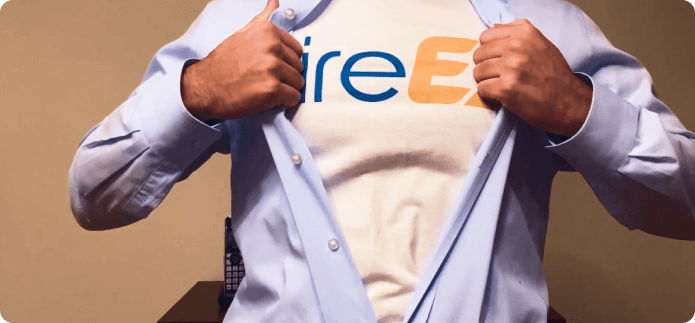 A Hiring Superhero Rebrand Made EZ