Hi, there!
You can use this audio player to convert website page content into human-like speech.
1.0X
It's a bird! It's a plane! Nope, it's you – a soon-to-be AI Sourcing superhero.
Over the past five years, AI Sourcing has emerged as a go-to resource for sourcing candidates in talent acquisition. Some view it as a trusty tool for helping them overcome common sourcing challenges, like:
⏱ time-consuming candidate searches
😴 sourcing passive candidates
💻 sourcing on Twitter, LinkedIn, GitHub, and other open web platforms
And more.
Some have labeled AI-driven recruitment tools as a sworn villain of effective and ethical recruitment. Others are somewhere in between. They're not sure exactly what to make of AI Sourcing and, most importantly, how it can help them.
Since "great power comes with great responsibility," we've taken on the responsibility of explaining the power behind AI Sourcing. Then, you can decide if AI Sourcing is something you want to consider.
How does AI Sourcing work?
When Tony Stark has questions he needs to be answered, he usually gets a response from his artificial intelligence, Jarvis. For most of us, we get our answers from Google.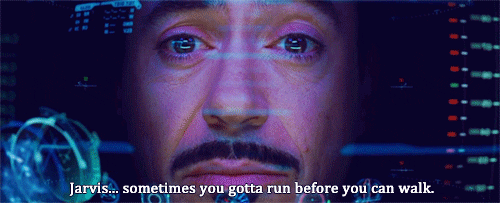 Imagine you're trying to figure out the lead actor in Iron Man? If you asked Google, you'd get results for Robert Downey, Jr. and the Iron Man movies. But how does it give you those results with such accuracy? The answer has to do with something called a Knowledge Graph. You can think of it like a "brain" for the search engine. It stores a tremendous amount of data and improves the accuracy of its search results each time.
Similar to Google, hireEZ's AI engine works with the same principles. Instead of searching "who is the lead in Iron Man," our engine lets you plug in job descriptions or choose from 30+ advanced AI filters to target searches for any role and industry. The result? Holistic candidate searches across 45+ open web platforms to give talent acquisition teams an industry-leading talent pool of 800M+ candidates.
💡 PRO TIP
Do you know what else we have in common with Google? Our very own Chrome Extension to help you find contact information, uncover similar candidates, and more.
Getting used to your AI Sourcing superpowers
Our favorite part of superhero movies is when characters get their new powers. In most cases, they go through hilarious (and usually dangerous) lengths to try and master them. Thankfully, getting in the groove of using AI Sourcing is a lot less painful than Spider-Man swinging into brick walls.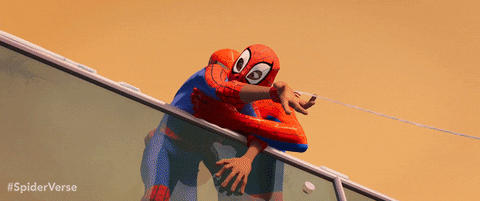 Beginning A Sourcing Task
When you begin a sourcing task with hireEZ, you'll automatically search from the open web across 45+ platforms and 800M+ candidates.
💡 PRO TIP
If you integrate your ATS with hireEZ, you'll also have the option to source from your ATS's talent pool.
There are a few options for conducting your open web search: AI filters, JD/Resume Parsing, and Boolean Strings.
If you want to learn more about Boolean search capabilities on hireEZ, read all about it in our blog.
Some recruiters begin their searches by plugging job titles and descriptions into our JD/Resume parsing tool. Our AI will parse that information and auto-populate our filters based on key terms. You can always review the populated filters and make adjustments as you see fit.
Speaking of our AI filters, here's a comprehensive breakdown of the candidate criteria you can target.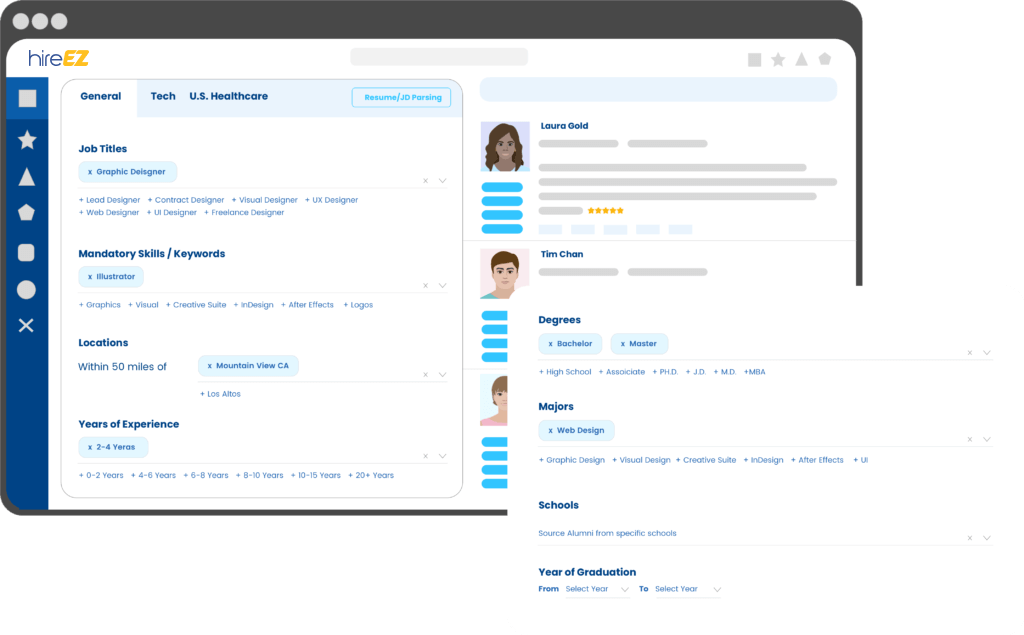 The General filter is a good place for you to outline the basic requirements of your candidates, including:
Job Title
You can start a search by typing in the Job Title, and specifying if you'd like the title to be current, past, or both. As you input job titles, our AI engine will automatically generate similar suggestions that you can add to further focus your search.
You may also choose to include or exclude specific words from a candidate's title. For example, you can choose to have "Senior" in their title if you need to find experienced candidates. However, you may exclude "Founder" and "CEO" since it is unlikely that people with those titles will frequently switch jobs.
Mandatory Skills
Mandatory Skills are must-have skills that a candidate needs for the job and will heavily impact the size of your talent pool. During the sourcing process, hireEZ's goal is to find candidates with all of those skills. For example, if you included "blogging," "SEO," and "WordPress," hireEZ will look for candidates with all three of those skills.
Similar to job titles, hireEZ uses natural language processing to give related skill suggestions. For example, if you source a candidate that requires 'Excel' as a skill, hireEZ will recognize 'Microsoft Office' as a skill that will likely be a good fit. As with any suggestion, it's up to you if you want to add it to your search.
💡 PRO TIP
We recommend adding around one to five skills to keep the sourcing results more focused on the skills required for the role. Read more on AI Sourcing Do's and Don'ts.

Preferred Skills
Preferred Skills are "nice to have" ones that you would prefer the candidate to have, but are not required. In other words, the skills listed here will not affect the number of candidates in your talent pool. Instead, it helps you to improve the matching and ranking accuracy of the listed candidates.
Location
Our location filter can recognize the name of cities, states, countries, metro areas, and continents. For the U.S. locations, you can also type in a zip code.
Whether you're looking for talent nearby or in a different country, here's how location can help:
🔍 If you're looking for talent nearby, you can adjust the range/miles outside of your city, metro area, or state.
🌎 If you're trying to hire remote talent, you may want to see how many candidates fit duplicate job titles and skills in different cities or countries.
Years of experience
You can also take advantage of the filter for years of experience, which accounts for the total years of working experience after graduation. This is especially useful for those trying to fill senior-level positions or fresh graduates for internship and entry-level positions.
Keywords
Keywords are words or phrases found anywhere on a candidate's profile. The keywords you put in will affect the size of your talent pool. For example, if you put in "data scientist," hireEZ will exclude candidates who do not have the information in their profiles to give you the most relevant results.
Keywords can also be used to identify phrases on a candidate's online profile that may indicate they are actively looking for a new job (like "Actively Seeking A New Role" or "Open to New Opportunities") or that they are open to relocating (like "Open to Relocation" or "Willing to Travel").
💡 PRO TIP
Within the keywords filter, recruiters can choose to add Boolean strings with no limitations on length.
Are you starting to feel excited about the potential AI Sourcing power you can unlock? Well, the filters we just went over are only the starting point of how AI Sourcing can help you find the best candidates.
Conducting specific candidate searches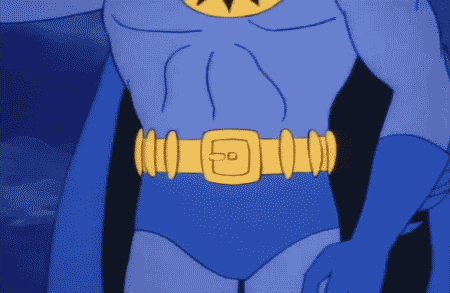 Like the gadgets on Batman's utility belt, there's always more than meets the eye with AI filters. Now that you have a basic understanding of the General filters, these are the other filters to consider as you look for your best-fit candidates:
Company
If you want to source candidates from specific companies, hireEZ can help you to achieve that. Recruiters can choose the companies they would like to include in their search, along with companies similar to their selection. They can also specify company sizes, types, and industries.
If you're constantly sourcing for similar candidates, you can create lists of companies you'd like to include or exclude. It's much easier to plug those lists into future searches.
Experience
Under experience, you can specify the type of work experience you'd like to see from candidates in their current role or company. If you're looking to fill high-level positions, you can use our Seniority filter, which specifies different titles (i.e. Junior, Senior, Director).
Education
With education, you can filter candidates based on their degrees and years of graduation. For both majors and schools, you can choose to see AI-generated similar options. As with companies, you can choose to save lists of schools that you'd like to exclude or include, especially if you like the talent that comes out of those schools.
Diversity
The Diversity filter helps you build a more inclusive talent pool and allows hidden candidates from underrepresented groups to shine. hireEZ offers the filters for woman, Black or African American, Hispanic, Veteran, Native American, and Asian.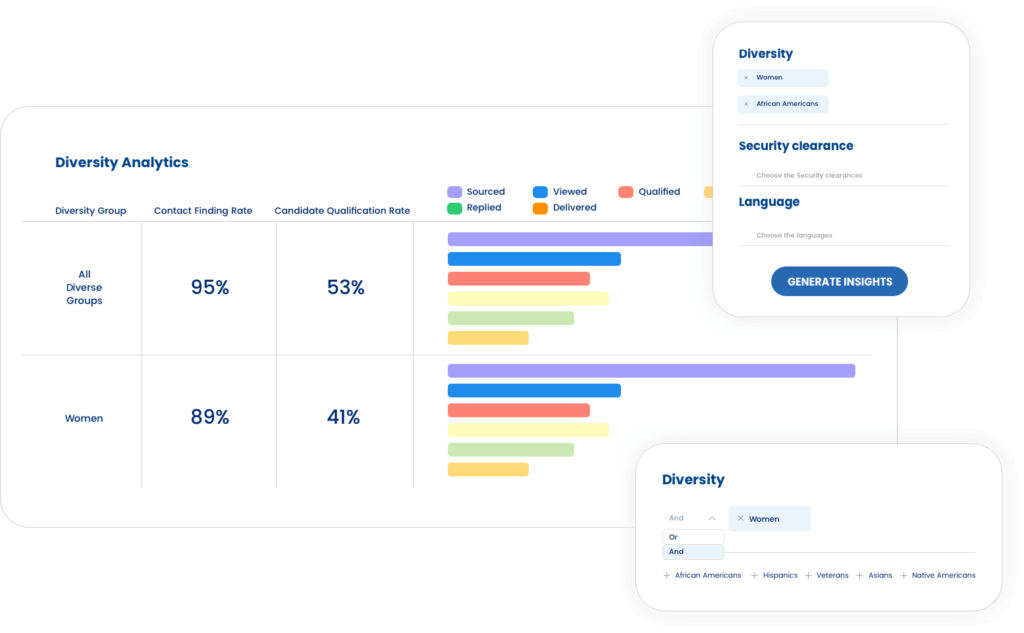 We identify candidate diversity based on their names, pronouns, and the organizations listed in their profiles. To mitigate unconscious bias during screening, we also offer the option to hide any bias-prone information (i.e. name, image) so recruiters can focus solely on a candidate's qualifications for a position.
Clearance
The Clearance filter helps you identify candidates with security clearances (like the employees of S.H.I.E.L.D). hireEZ proudly has the largest talent pool of 3.7 million security-cleared candidates, along with our 12 clearance filters. Check out our blog for more on how to source cleared candidates.
Healthcare and Tech
If you're a healthcare and tech recruiter, you know a LinkedIn search isn't going to cut it. In fact, you may want to consider beginning your search in the Tech or U.S. Healthcare sections.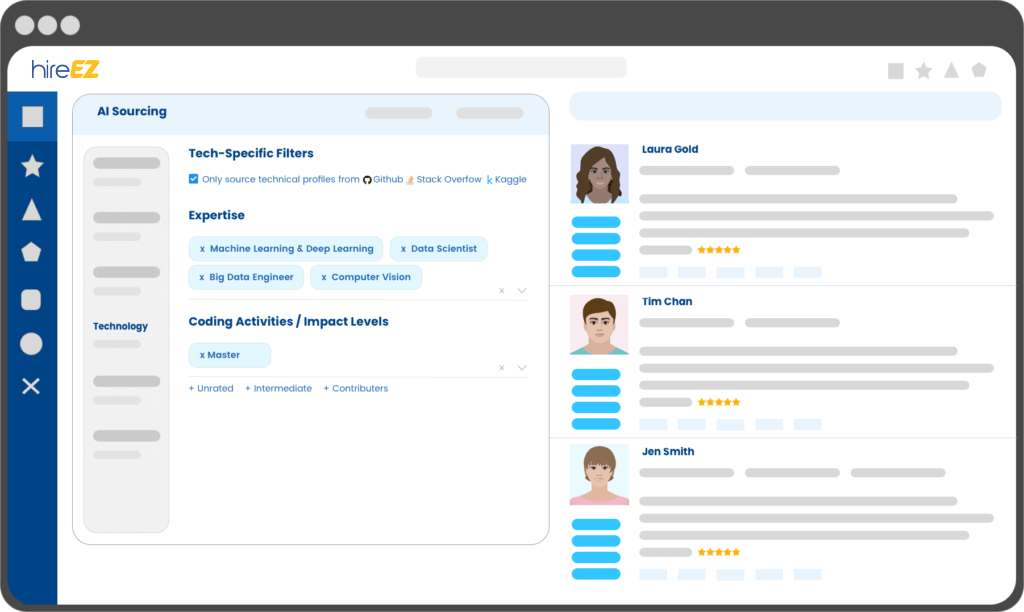 For Tech, hireEZ sources from tech-specific platforms, like Kaggle, GitHub, and Stack Overflow. Within those platforms, you can search for a wide range of technical expertise and coding impact levels.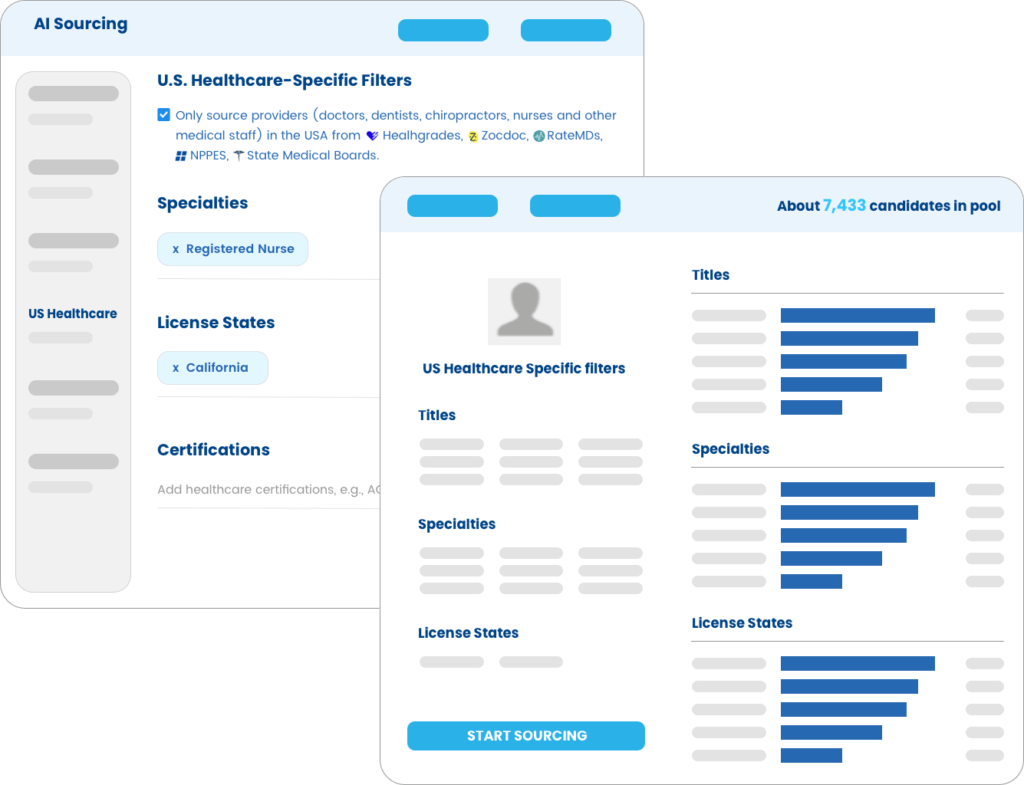 One of the closest things we have to real-life superheroes are our healthcare workers. To find them for your organization, hireEZ sources from healthcare-specific platforms, like Zocdoc, RateMDs, and Healthgrades. Within those platforms, there are 700+ medical specialties, licenses, and certifications to target.
Scholar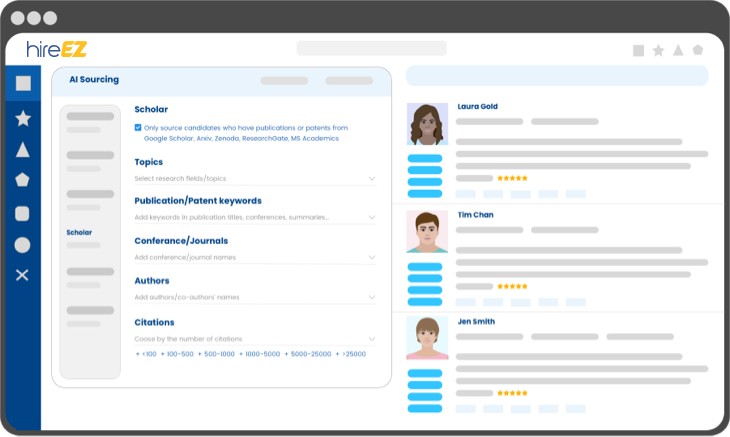 With hireEZ Scholar Sourcing, you can easily find professionals based on their published work, patents, or conference appearances. Read more about how Scholar Sourcing works.
ATS
If you've integrated your ATS with hireEZ, the ATS filter allows you to search and rediscover candidates from your integrated ATS system.
Languages
In our increasingly globalized world, multilingual talent can help increase workforce diversity, expand workplace culture, and reach different markets. You can select the desired language (or languages) in your search for qualified candidates.
U.S. Work Authorization
The U.S. Work Authorization filter enables you to screen candidates who can work in the U. S. without sponsorship or additional authorization paperwork. hireEZ understands that recruiters find it hard to get their hands on this sensitive information.
💡 Important Reminder
The filter has an 85% accuracy rate. hireEZ considers candidates' education, work experiences, and locations to help infer their working statuses in the U.S.
X-Ray vision into your talent pool
Along with candidate sourcing powers (thanks to our AI filters), we're giving you the power of X-ray vision. As you enter your search parameters, we provide talent pool visibility under Persona/Insights to help you understand and inform your candidate search.
Persona
Here's where you can observe what your search query looks like. In other words, you'll be able to see the parameters you inputted. If you see some parameters that you added by mistake, something you want to add, or something you want to remove, this is a good way to double-check.
Insights
Here's where you can get a real-time breakdown of your talent pool with insights for titles, skills, locations, years of experience, industries, and sourcing channels. You can also use this information to inform your searches. For instance, if you think that one job title isn't getting as many candidates as you'd like, you can always add more. hireEZ's searches are able to be adjusted in real-time, so it's not a time-consuming process.
💡
PRO TIP
Within this section, you'll also see a Generate Insights button that will take you to an even more comprehensive breakdown of your talent pool. Before you begin a sourcing task, it might be beneficial to start doing market research in our Insights section. Read our blog to find out how insights can improve your data-driven recruiting efforts.
Finish your sourcing task

Before getting the full candidate search results, you'll be prompted to calibrate your search by choosing sample candidates. This is a crucial stage for getting top-matched candidates by informing the AI of your preferences by assigning them "Good Fit" or "Not A Fit." For candidates you select as a "Good Fit," machine learning will find more candidates similar to those. For "Not A Fit," our machine learning will work to keep candidates like those out of your search results.
Once you've completed your calibration, you're ready to get your results by selecting Start Sourcing.
Managing your projects

Once you click source candidates, you'll be prompted to create a project. You can either add your AI sourcing task to an existing project or create a new one.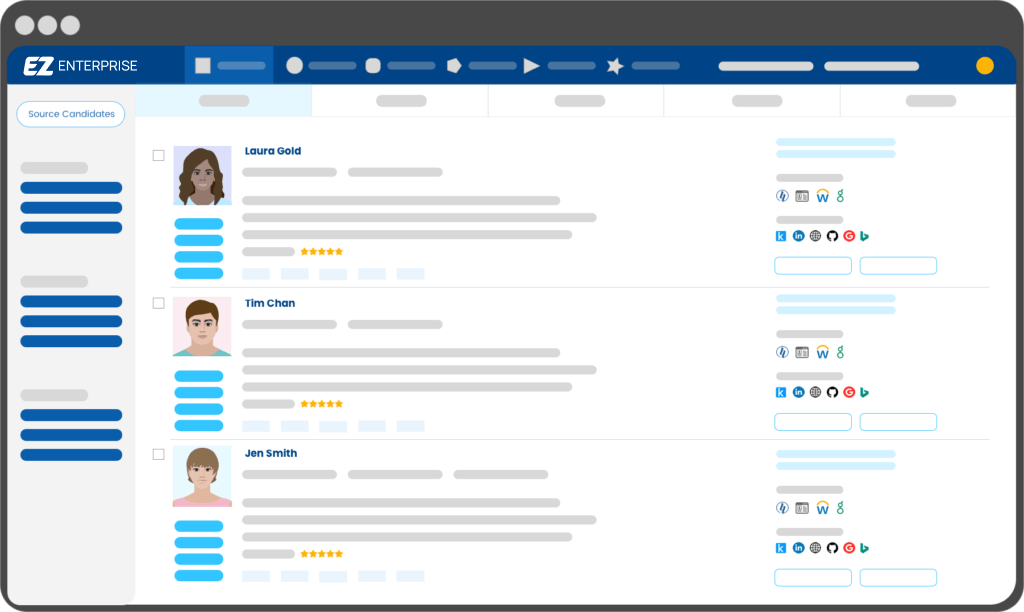 One thing to keep in mind is the customizable pipeline of your project. By default, your pipeline will be subdivided into: New, Good Fit, Contact, Replied. You have the flexibility to adjust your pipeline as you see fit and save templates for future use. Some common pipeline stage additions include "Phone Screen," "Interview," and "Offer."
As you click into a project, there are three sections to consider: Candidates, Sourcing, and Project Details.
The sourcing tab is where you can manage all of your AI tasks. Within a given project, you may have multiple sourcing tasks, especially if you have multiple positions to fill for a particular role. To save time, especially when filling multiple positions for the same role, you can create a Similar Task that will replicate the same search parameters as another task.
💡PRO TIP
AI Sourcing comes with search history and saved searches, so you can always go back to view your prior parameters and save the ones you like for future reqs.
As you add new projects, you'll want to keep everything organized within the projects tab. We provide multiple options to keep your projects organized for your team. You can search projects by name and category (i.e. recently viewed, active). You also have the option to bookmark important projects, and share projects with different team members for optimized team collaboration.
Finally, you can employ "More Filters" to sort through candidates within your project pipeline for further organization. These filters include finding candidates by:
Sourcing Task
Sourcing Channels
Location
Companies
Expertise
Experience
Contact Information'
And so much more.
How AI Sourcing can strengthen the rest of recruitment
In almost every case, superheroes are just like us. The only difference is that their capabilities are enhanced. In a similar sense, AI Sourcing is built to help recruiters enhance their recruitment capabilities (without the gamma radiation or super soldier serum).
AI Sourcing helps teams conduct quicker, targeted searches for their ideal candidates. They're able to inform their hiring strategy with talent pool insights and make real-time search adjustments. But, that's not all. With recruiters spending less time sourcing on hireEZ, they have more time to focus on other important aspects of recruitment, including email engagement, team collaboration, and more. Altogether, this will help optimize all aspects of the recruitment process and secure top talent for your organization.


If you have any questions about AI Sourcing with hireEZ, please reach out to our Customer Success team.
If you're not a customer and would like to learn more about these features, contact our sales team today.
newsletter
Subscribe for our daily news
Please use a valid work email.
By filling out this form you agree to hireEZ's Privacy Policy and consent to receive communications from hireEZ.
newsletter
Subscribe for our daily news
Please use a valid work email.
By filling out this form you agree to hireEZ's Privacy Policy and consent to receive communications from hireEZ.
Stay Up-to-Date on Future Talent Acquisition Events
Please use a valid work email.
By filling out this form you agree to hireEZ's Privacy Policy and consent to receive communications from hireEZ.
3:03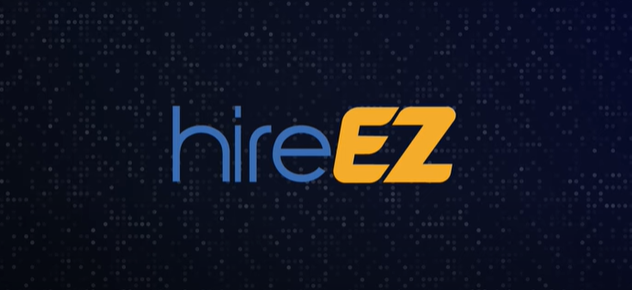 hireEZ - Outbound Recruiting Made Easy!
4:51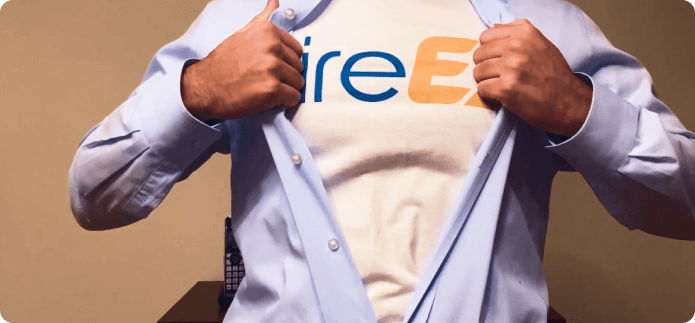 A Hiring Superhero Rebrand Made EZ