Back to Content
Complete Guide: How To Source Candidates On GitHub With hireEZ
September 18, 2022 7 min read
What is GitHub and why use it GitHub for technical recruiting?
Before delving into the "how," let's understand the "why." GitHub is a treasure trove of information about developers and their work.
GitHub is a hot spot for technical recruiters to source potential candidates. It's the largest host of source code in the world. There are over 40 million users ranging from students to working professionals, contributing to the platform with the purpose of learning, practicing and making better software.
The biggest challenge when sourcing technical talent is finding candidates who haven't already been bombarded by emails and InMails from other recruiters. Sourcing candidates on GitHub is a great way to improve your recruitment process for software developers. It expands your available talent pool to include technical talent who are harder to find on platforms job boards like LinkedIn.
Here are some compelling reasons why recruiters turn to GitHub for candidate sourcing:
Rich Portfolio:

GitHub hosts developers' code repositories, showcasing their skills, coding style, and project contributions.

Public Profile:

Most developers have public profiles on GitHub, making it easy for recruiters to access their information.

Search Filters:

GitHub provides powerful search filters to narrow down candidates based on criteria like programming languages, location, and repositories.

Contributions:

You can see a candidate's open-source contributions, demonstrating their commitment to their craft.
Not to mention, GitHub project creation grew over 40% during the pandemic with more developers spending their time at home contributing to COVID-19 open source projects and building on their existing skills with innovative new ideas.
There seems to be no better place for recruiters to go find motivated and knowledgeable technical candidates. Problem solved, right?
Well, not really. Recruiting on GitHub is not easy, especially for recruiters with less of a technical background. Here are 3 ways recruiters can use hireEZ to strategically source candidates on GitHub in a more efficient and strategic way.
How to source candidates on GitHub
Be specific about what you're looking for
Repositories. Commits. Forks. Pull requests. READMEs. GitHub is saturated with technical jargon. Remember that GitHub was not created to make life easier for recruiters — it's a hub for developers and programmers to actively contribute and collaborate on innovative and advanced open source projects.
GitHub profiles are source code information-heavy. So, recruiters need to know where information on a profile is located to indicate how experienced a candidate is. Especially since manually debunking a GitHub profile takes time and you don't want to blindly reach out to candidates without understanding in depth what they can do.
Building a search on GitHub
Before you start searching, determine the skills and qualifications you're looking for in a candidate. Identify the programming languages, experience level, and any specific projects or contributions you're interested in.
If you're searching directly on GitHub (make sure you create an account of your own to explore the platform in its entirety), be extremely specific about what you're looking for so you don't waste hours on profiles that don't meet the needs of your open role.
For example, looking at repositories and contribution activity may give you a good indicator of a candidate's technical experience. However, the challenge is coming to a conclusion on how relevant these experiences or skill sets actually are for a role.
GitHub allows you to specify keywords, programming languages, popularity and more when searching for repositories. By keying in Boolean search strings, you'll be able to pull exact matches from source code information.
For example, if you're looking for repositories with big data as a keyword, javascript or python as a programming language, more than 10 followers and 5 forks, your search string will look a little something like this:
big+data in:name,description language:Java language:Python stars:>10 forks:>5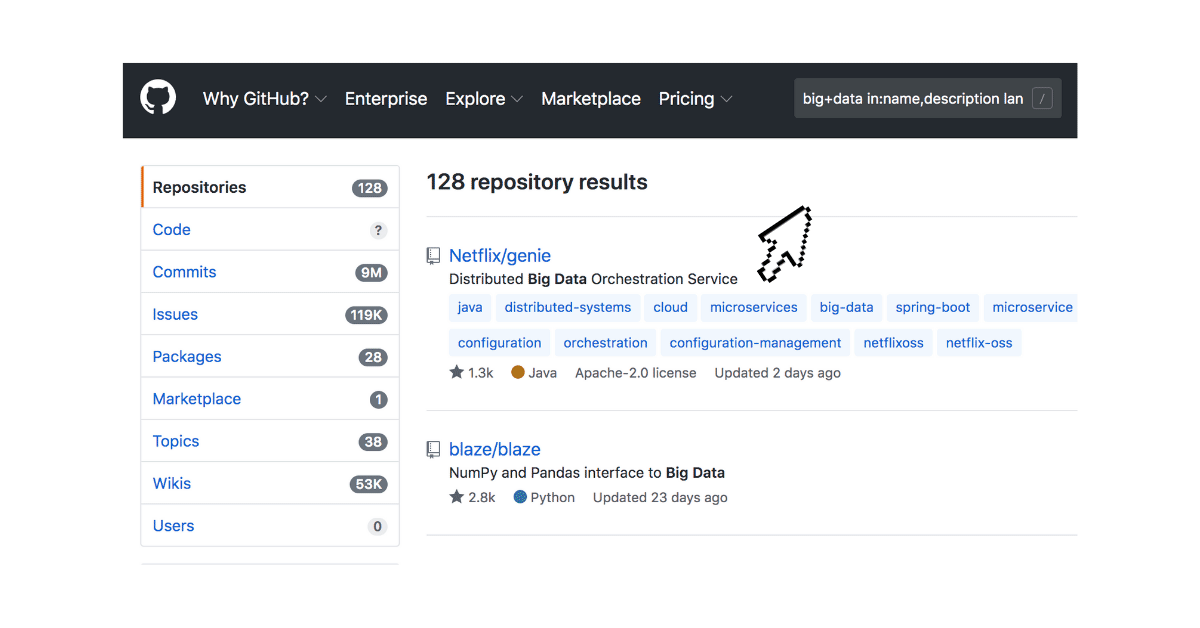 Building a GitHub search on hireEZ
With hireEZ Enterprise, our AI Sourcing is equipped with a Tech Sourcing tab that aggregates technical candidate profiles from only tech-specific platforms — GitHub, Stack Overflow and Kaggle.
The Tech Sourcing tab allows recruiters to build specific searches with filters for 50+ Expertise (i.e. Machine Learning, Game Designer & Developer, Python Developer), 250+ Programming Languages, and varying involvement levels with community Coding Activities, you will be able to better target your search on the most qualified candidates for your open roles.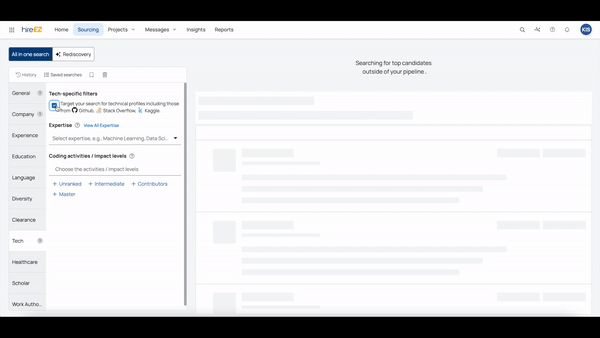 For example, input Big Data in the Expertise field, Java and Python for Programming Languages, and specify that you want technical candidates with Intermediate, Contributor or Master coding activity levels.
By combining our Diversity Sourcing filters with your Tech Sourcing filters, you can narrow down your GitHub search to find more underrepresented talent.
Once you've created your search, hireEZ's candidate profiles will list down all repositories and will summarize GitHub performance rankings based on how actively a candidate contributes in each programming language.
If you'd like to see our Tech Sourcing solution at work, talk to our team today.
Find your candidates' email addresses and other social links
hireEZ user Braxton Nimmick, co-founder at TalentEdge Staffing, defines GitHub as a place where recruiters will "find people who don't want to be found, who are usually really great engineers from top tier companies who might not even have LinkedIn."
Well, there's no use in finding an extremely experienced or qualified candidate if you can't reach them. GitHub is not a networking site, and it's not made for recruiters, so it's no surprise that finding contact information from a GitHub profile can be difficult.
Common hacks on how to find candidates email address on GitHub:
1. Cross check a GitHub profile with a LinkedIn profile (if the user discloses their real name)
2. Use the Unique Identifier email trick and deduce an email address with a candidate's GitHub profile username
3. Find email addresses with GitHub's API by hitting CTRL+F and searching for "email" in the Commit of public repositories or in a user's recent events
How to find contact information of GitHub users with hireEZ
hireEZ is a powerful candidate engagement tool equipped with contact-finding capabilities. Candidate profiles in hireEZ are equipped with multiple ways for you to contact them.
After running a technical search on hireEZ, a click of a button is all you need to uncover emails, phone numbers, and social media links that we've pulled from GitHub users' public profiles all across the open web.

Recruiters can also use hireEZs free Chrome extension to automatically pull contact information from a GitHub profile that is pulled up in their Google Chrome browser.
Click here to sign up for free
The Chrome extension works on GitHub to not only pull contact information, but also gives recruiters a brief overview of professional experiences, education history, skills, job availability and average market values.
Research their repositories to send a personalized email
So you've built a detailed search, found the candidate you're looking for, and got their email address. Your last step is to craft a personalized email that shows candidates you've done your homework.
How to craft a personalized email to candidates sourced on GitHub:
1. Familiarize yourself with their GitHub repository so you know the projects and programming languages that they work on the most
2. Focus on how the opportunity is compelling to
the candidate
(
Pro Tip: Reference how the opportunity fits them based on the projects in their GitHub repository)
3. Put your email marketing hat on and optimize your email body and subject line so it's short, concise and conversational — you can also use hireEZ's
email marketing insights
to guide you while writing your email.
Now you're all set!
It's important that sourcers and recruiters make the most of all available talent pools to build a comprehensive search that puts them in front of the competition. We hope this guide makes sourcing candidates on GitHub seem like less of a daunting task, whether you're sourcing with hireEZ or not.
To learn more about sourcing and recruiting for technical talent on hireEZ, contact our sales team today!
newsletter
Subscribe for our daily news
Please use a valid work email.
By filling out this form you agree to hireEZ's Privacy Policy and consent to receive communications from hireEZ.
newsletter
Subscribe for our daily news
Please use a valid work email.
By filling out this form you agree to hireEZ's Privacy Policy and consent to receive communications from hireEZ.
Stay Up-to-Date on Future Talent Acquisition Events
Please use a valid work email.
By filling out this form you agree to hireEZ's Privacy Policy and consent to receive communications from hireEZ.
3:03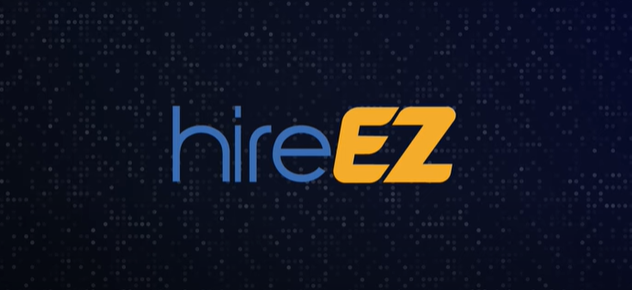 hireEZ - Outbound Recruiting Made Easy!
4:51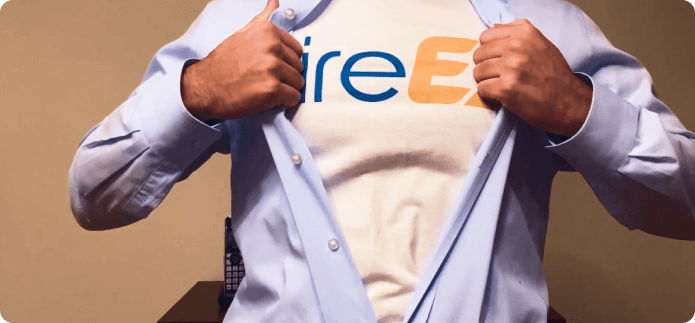 A Hiring Superhero Rebrand Made EZ