Back to Content
Hiring Remote Workers: 3 Guidelines Companies Should Follow
JANUARY 25, 2022 3 min read
"Where do you see yourself in 5 years?"
It's an age-old question asked of interviewees –– most of whom would not have considered "working from home" as an answer until last year.
Today, remote work's popularity is booming, with 65% of workers favoring it over the traditional in-person experience. For industries that can hire remote workers, it's a chance to look beyond their locale and expand their available scope of talent.
If there's mutual interest between companies and candidates for these positions, it should be easy to secure remote workers, right? Not quite.
As of May, there are still over 9 million open positions in the market, even those offering remote work full-time.
For companies to successfully hire talent for remote positions, organizational leaders need to answer a familiar question for hiring managers and recruiters: "Where do we see ourselves in 5 years?"
Organizations that use their long-term goals as the roadmap for making remote work hires will build a workforce that can strengthen company values, increase employee retention, and beat out competitors for top talent.
Hiring for values, not vacancies
Remote recruiting means that the excuses are over.
With fewer limitations imposed by remote candidate searches, nothing should stop you from finding talent that aligns with the values your organization carries.
The first step is having a conversation with your organization's leaders, stakeholders, and hiring managers to reinforce your understanding of the company mission and values.
If you determine that inclusion and workplace equality are crucial values, use them as guiding principles during remote recruiting. Focus your efforts on technology that brings underrepresented talent or candidates with disabilities to the forefront of your remote work sourcing and engagement efforts.
To monitor success and hiring progress, comprehensive and accessible analytics dashboards can be easily adopted into your team's workflow if you pick the right platforms that integrate into your existing process.
With culture and values ranking highest for employee satisfaction, strengthening your company's values with remote employees now will help increase interest in open opportunities down the line.
Taking a chance to reduce turnover
Right now, there's a widespread disconnect between employers and employees.
Workers are quitting in record numbers and actively seeking new opportunities. Some are leaving jobs they took out of financial necessity. Others are finally ready to pursue their true passions.
However, some companies are set on finding talent that fits an extremely rigid, and often unrealistic list of criteria. These remote work candidates are considered qualified only if every single aspect of the job description has been met or if there is a proven track record of success in a very similar role.
This disconnect is a major reason why there are millions of open jobs still on the market and talent shortages plaguing some industries.
In pursuit of this "perfect" candidate, companies make the mistake of overlooking candidates with passion for a profession and the capacity to learn and grow. If companies want to avoid overlooking potentially valuable candidates, there are two areas where a company should change its remote recruiting approach.
1. Candidate Qualification Flexibility
With
66% of unemployed professionals
considering a change in industry or profession, companies must account for candidates with transferable skills in their remote recruiting process.
This could include:
🗣 interpersonal skills and sales experience transferred between retail and marketing roles
🤝 service experience transferred between hospitality and customer service roles
And others.
Here's an example. Amy Amenta, a Talent Acquisition Director in the health & wellness industry, was struggling to find a candidate for her Revenue Cycle team that fit her organization's long-term goals for the role.
Instead of searching for a job title and direct experience, she built a search on hireEZ to uncover candidates from different industries, like consulting, but with relevant revenue cycle experience within her set geographic footprint and budget.
Not only did she find a hire that fit the persona and culture of the organization, but her hire's consulting background allowed this individual to help in other areas of the company and grow beyond their given role.
2. Investing in training and development
For years, training and development has been associated with stronger employee performance, internal advancement, and job satisfaction.
If a remote work candidate has lesser skills (but an eagerness to learn), companies must invest in training and development to help them gain the skills needed to grow in their role and add value in the long run. Those remote employees will have further incentive to be faithful to your organization longer, especially since you gave them the opportunity to pursue their passion.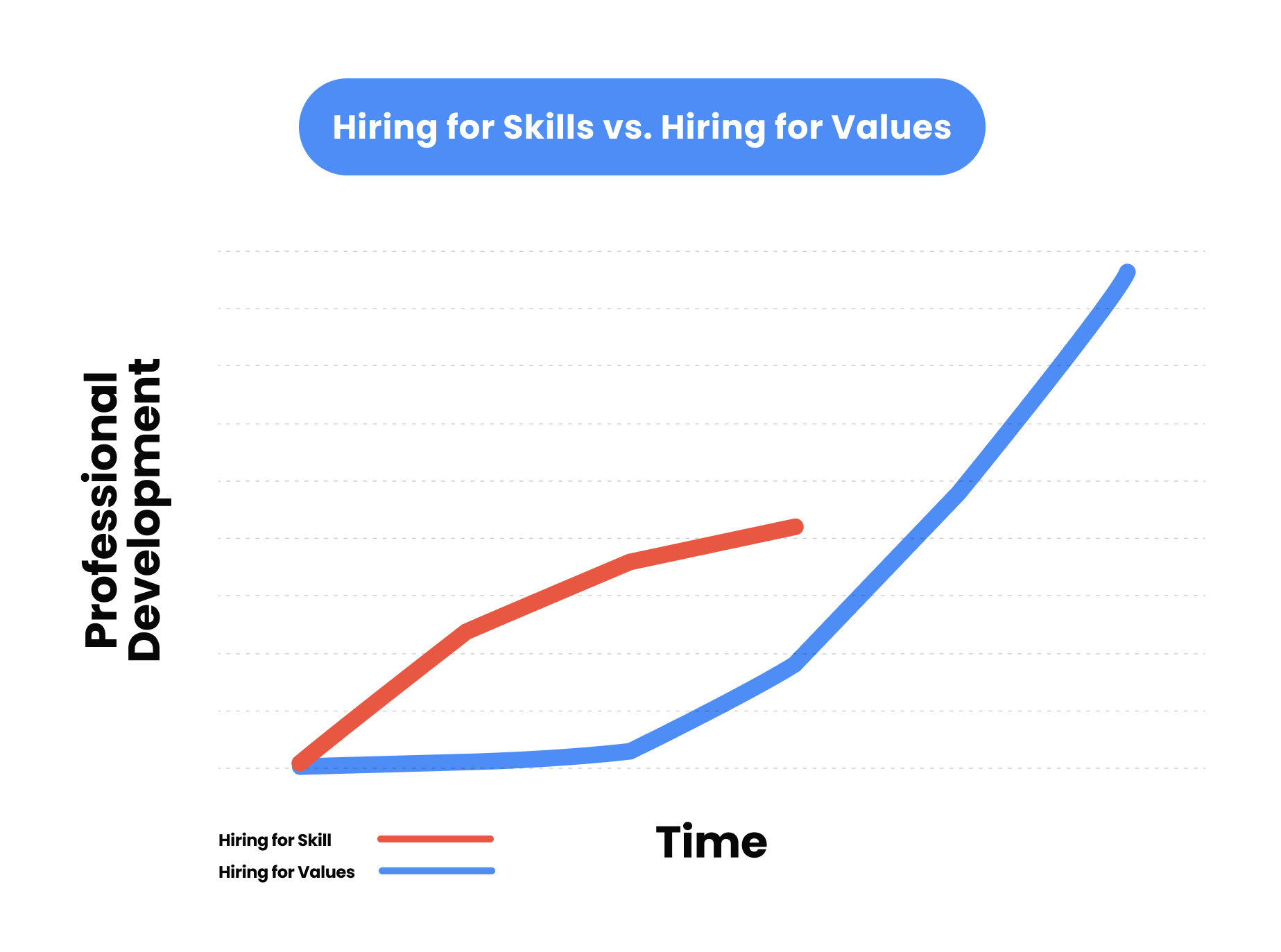 If companies want to increase retention while filling the immediate needs of a remote work position, now's the time to take a chance on someone outside of their normal scope.
Outmaneuvering competitors
While long-term goals should be the guiding force for remote recruiting, immediate competition for talent still needs to be considered. With talent not compromising on finding the best opportunities possible, your opportunity must stand above competitors.
To make sure your opportunity stands above the rest, fine-tune your remote recruiting efforts with competitive market research.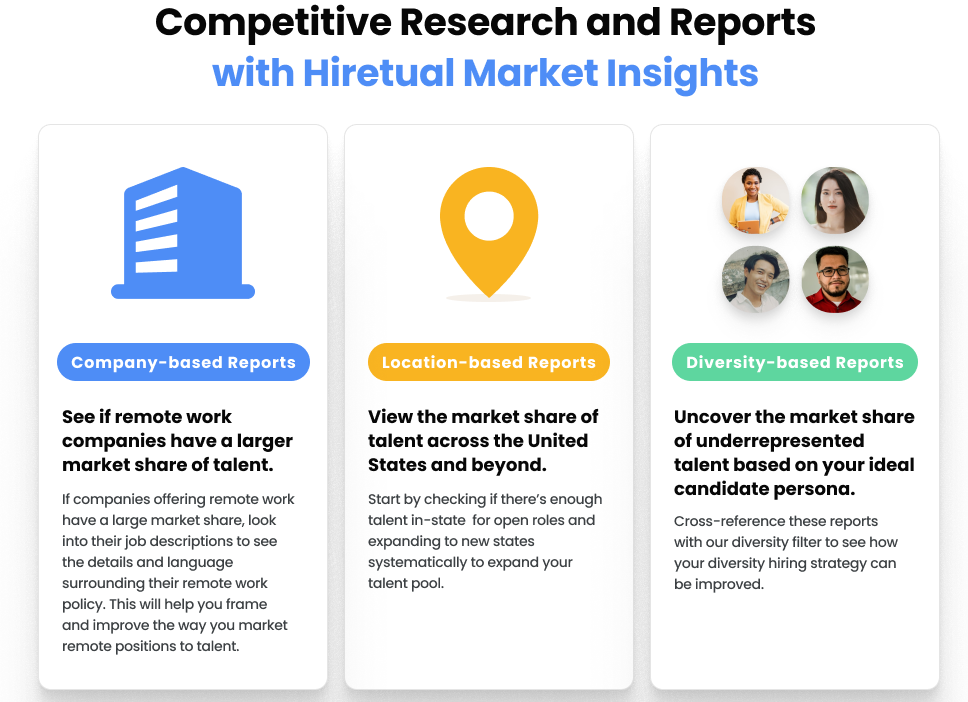 Having reports that can be easily exported and customized will keep your analytics and competitive analysis organized throughout the recruitment process. From there, you can systematically pull and plug insights to drive your decisions surrounding remote worker job postings, sourcing, outreach, and more.
Collaboration here is paramount, especially between recruiters and hiring managers.

Building your workforce the right way
In hireEZ's Recruiting for Recovery report, recruiters were most concerned about reduced candidate interest in positions that became in-office from remote.
Companies that offer remote work roles have a clear advantage, and you shouldn't waste it on aimlessly plugging talent into open roles.
Hiring teams that prioritize long-term value-fit talent, commit to developing and nurturing talent, and elevate remote recruiting strategies with competitive research will be one step closer to making and retaining remote worker hires.
newsletter
Subscribe for our daily news
Please use a valid work email.
By filling out this form you agree to hireEZ's Privacy Policy and consent to receive communications from hireEZ.
newsletter
Subscribe for our daily news
Please use a valid work email.
By filling out this form you agree to hireEZ's Privacy Policy and consent to receive communications from hireEZ.
Stay Up-to-Date on Future Talent Acquisition Events
Please use a valid work email.
By filling out this form you agree to hireEZ's Privacy Policy and consent to receive communications from hireEZ.
3:03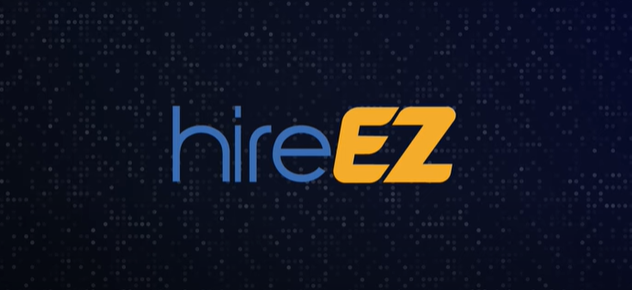 hireEZ - Outbound Recruiting Made Easy!
4:51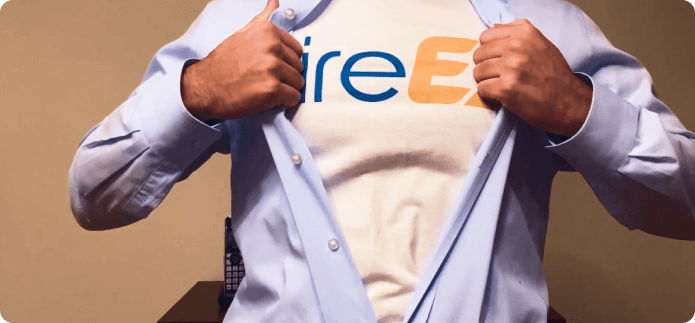 A Hiring Superhero Rebrand Made EZ