Back to Content
Reduce the Cost of Recruiting and Improve ROI With Outbound Recruiting
JANUARY 25, 2022 3 min read
The Great Resignation and a tight labor market have contributed to an increase of job openings – with more than 10 million unfilled positions open in the U.S. As a result; recruiters face many challenges recruiting talent to help build a strong workforce for their businesses, especially for tech, healthcare, and staffing industries.
Compounded these pressures? The rising costs of inbound recruiting and the lackluster results in a candidate-driven market. To learn more about what is causing this shift and how your organization can control recruiting costs, let's dive into the details behind the skyrocketing cost of inbound recruiting and how employers can save money by switching to outbound recruiting.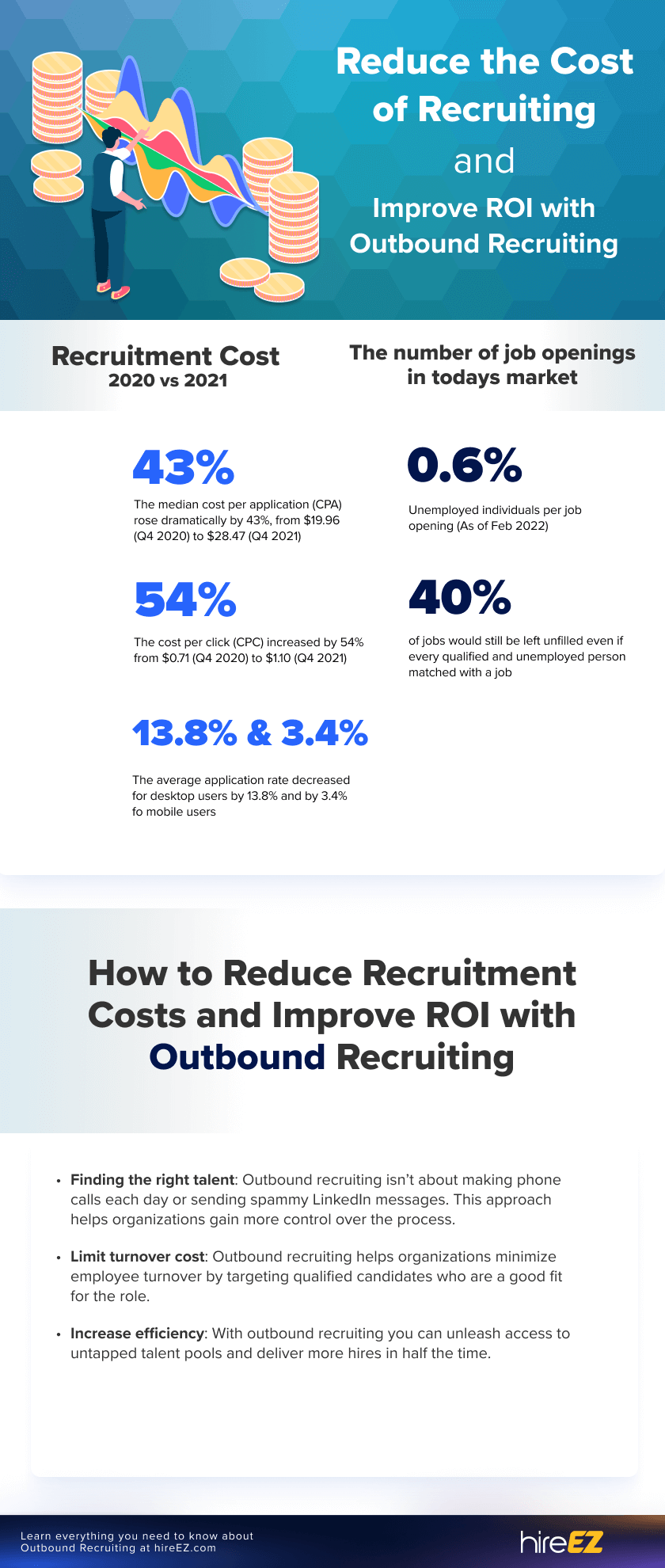 Inbound Recruiting Prices in 2021 vs. 2020
Let's look at the numbers. According to Appcast's 2022 Recruitment Marketing Benchmark Report, recruiting prices skyrocketed in 2021.
The median cost per application (CPA) rose a dramatic 43%, from $19.96 to $28.47, from Q4 2020 to Q4 2021.

The cost per click (CPC) increased by 54%, from $0.71 to $1.10 from Q4 2020 to Q4 2021.

The average application rate decreased for both desktop (by 13.8%, from 5.88% to 5.07%) and mobile users (by 3.4%, from 4.97% to 4.80%)
According to the U.S. Bureau of Labor Statistics, the number of job openings in today's market:
There are 0.6 unemployed individuals per job opening

40% of jobs would still be left unfilled even every unemployed person matched with a job
All of the rising recruitment costs are associated with inbound recruiting and organizations that rely on inbound recruiting often spend a substantial amount of money of their hiring budget on job postings and advertisements. Employers acknowledge the problem in today's economy but still, hope that the economy will "bounce back" or return to the "normal". As the lines of job openings and hires slowly part away on a graph, let's find out how companies can reduce recruitment costs with outbound recruiting.
Reduce Recruiting Costs and Improve ROI with Outbound Recruiting
Outbound recruiting is built for today's candidate-driven market. The Great Resignation allowed candidates to be more selective and "choosier" in looking for a new job; therefore, for recruiters who aren't receiving numbers of applications, a proactive approach to finding and engaging talent is needed to deliver a measurable return on investment.
How outbound recruiting can help lower your recruiting costs:
Spend less money on sponsoring job ads for specific positions

Target the right and qualified talent to reduce turnover and retraining costs related to mismatched candidates and job alignment

Cut sourcing time in half and improve response rates with individualized

email automation
To support, Nucleus Research, a global provider of ROI-focused technology research and advisory services, estimates organizations can reduce the cost of job advertisement up to 40%.
💡 Learn more about how outbound recruiting can help reduce your recruiting costs by achieving more.
Aim for the right talent
Instead of waiting for the next right talent to apply or waiting for the market to get back to "normal," it is time for recruiters to be more proactive in finding and engaging potential talent. If recruiters spend more time on outbound recruiting tactics to target the right talent, there's no need to wait for the next batch of candidates to come in. Outbound recruiting isn't about making phone calls each day or sending spammy LinkedIn messages. It's a mindset change. This approach allows people and companies to have more control over the process, and companies can reach out to the right people to share job openings they have never searched for.
Limit turnover costs
Outbound recruiting is an urgent change but also not a temporary change. Some employers are hoping to wait until the market gets back to "normal" when they can wait for another tsunami of applicants to choose from, then ghost them for weeks with no feedback while getting all the employees they need to be successful. Sure, in an employer-driven market, it works! However, fundamental changes need to be addressed. Ghosting and treating candidates with no respect is a great way to set up another Great Resignation. Studies show that turnover costs employers around $15,000 per worker. Employers need to make this change to make sure that candidates feel wanted and respected; hence, outbound recruiting is the way to aim for the right talent and retain employees with the right internal candidate and employee engagement.
Decrease time and resources
Overall, proactively spending the time aiming for the right talent will lead to lower turnover costs because people will feel respected as they are the ones being recruited. Therefore, "posting and praying" will not work anymore in today's economy; recruiters need to change their recruiting strategies to stay ahead of the game to reduce the overall time, costs, and resources. If employers want to reduce recruiting costs in today's market, switching from inbound to outbound is essential to avoid any additional and unnecessary expenses.
If you're interested in learning more about saving recruitment costs with outbound recruiting, our team is ready to talk whenever you are.
newsletter
Subscribe for our daily news
Please use a valid work email.
By filling out this form you agree to hireEZ's Privacy Policy and consent to receive communications from hireEZ.
newsletter
Subscribe for our daily news
Please use a valid work email.
By filling out this form you agree to hireEZ's Privacy Policy and consent to receive communications from hireEZ.
Stay Up-to-Date on Future Talent Acquisition Events
Please use a valid work email.
By filling out this form you agree to hireEZ's Privacy Policy and consent to receive communications from hireEZ.
3:03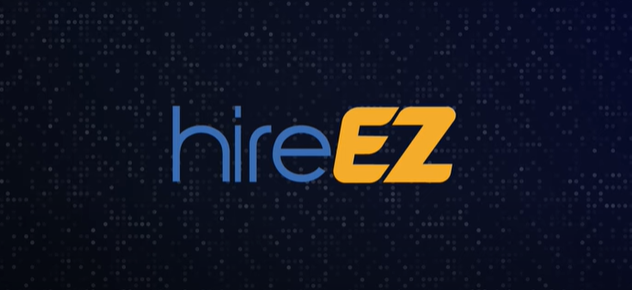 hireEZ - Outbound Recruiting Made Easy!
4:51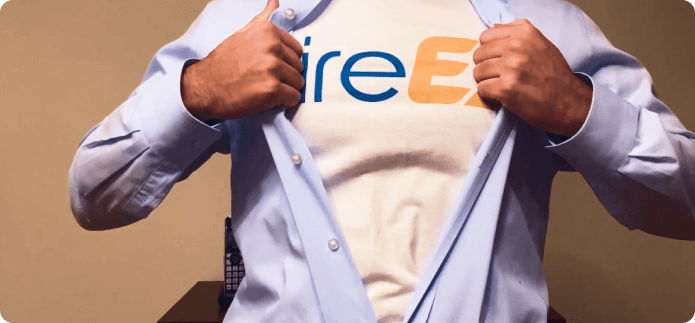 A Hiring Superhero Rebrand Made EZ