Back to Content
When Teara Met Rachel:
An Outbound Recruiting Success Story
JANUARY 25, 2022 3 min read
Hi, there!
You can use this audio player to convert website page content into human-like speech.
1.0X
If you've seen any romantic comedy in the past three decades, you should recognize the following quote:
"You can meet the right person at the wrong time."
It's an obstacle that drives the plot of most of these movies – and it's one that recruiters are very familiar with.
You'd likely run out of fingers if you tried to count how many times you caught a candidate when they were uninterested, busy or crunched for time (even when an opportunity was perfect for them).
Yet, there's one stark difference between those movies and talent acquisition practices.
In those films, through persistence, the two protagonists are finally able to work things out and lead happy lives. In talent acquisition, most recruiters give up at the first sign of failure.
That's where the proactive approach of outbound recruiting changes things.
As Technical Recruiting Manager, Steve Levy, points out, outbound recruiting "accelerates the luck and timing recruiters need to find the right person and deliver the right message at the right time."
And, if there's anyone that's experienced the first-hand success of outbound recruiting and gotten their fairy tale movie ending, it's hireEZ Senior Recruiter, Teara Dela Cruz.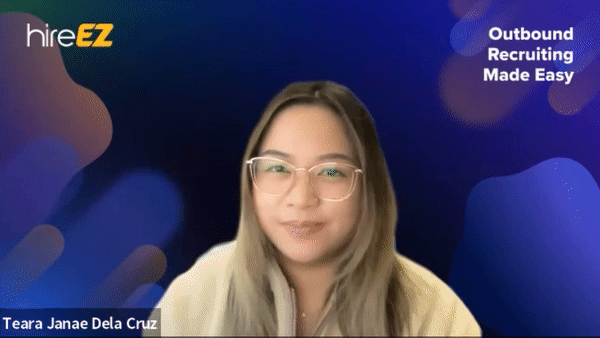 Almost a year ago today, Teara began her career as a hireEZ Sales Recruiter.
As the company has doubled in size over the past year, her team of two has been responsible for the immense growth of hireEZ's sales team.
A late summer search for an Account Executive led her to cross paths with Rachel McGiboney.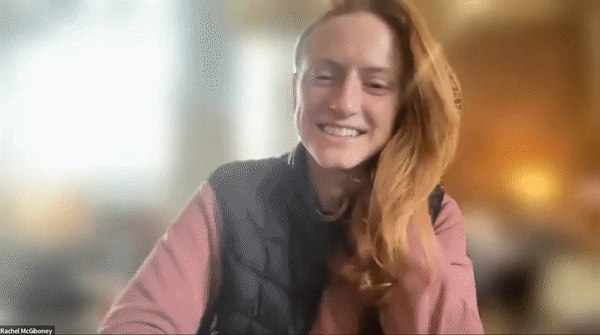 And from then on, their lives would never be the same.
On August 13th 2021, Teara started her day like any other conducting candidate searches on hireEZ's EZ Sourcing platform.
"As a full-cycle recruiter, I spend about 20-30% of my day sourcing for talent with hireEZ. The rest is spent speaking with hiring managers and talent."
When she came across Rachel in her search, she was impressed with her experience. "She had a really strong SaaS sales background but left one of her recent roles with nothing following up. Career gaps can mean anything so I took a chance and reached out."
The reason why Rachel's had no recent experience after she left her last role?
She wanted to pursue her passion for photography full-time during the Summer of 2021.
"I had a decent amount of savings and said 'I'm going to do this,'" Rachel explained. And this decision led to the birth of her photography business, My Red Lens.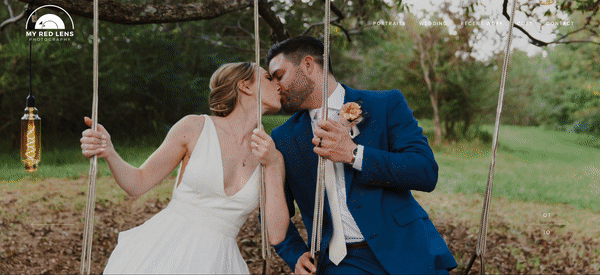 During her time building and pursuing her passion, Rachel would get at least one to two InMails a week from recruiters about open sales roles (all of which she ignored).
That's why she was genuinely surprised when an email from Teara showed up directly in her inbox. "It was alarming in an endearing way," Rachel describes.
Teara was able to find Rachel's contact information right inside hireEZ and proactively contact her directly. And, unlike those other recruiters, Teara's outbound email got a response from Rachel.
In her response, Rachel explained that she was spending the summer working on her photography career and wasn't interested in sales opportunities at this time.
At this point, most recruiters might consider this a defeat and immediately move on to another candidate. But, that's not what outbound recruiting is all about.
Teara decided to be proactive and not give up on Rachel. She took note of Rachel's photography site and set a reminder on hireEZ to contact Rachel again at the end of the summer.
A month went by and in early September, Teara's reminder went off to reach out. With her notes about Rachel's photography website on hand, her first line of the email read:

"How has the wedding season been treating you? I am sure that your photos are AMAZING." And, in a follow-up email, she shared her favorite shot on Rachel's website.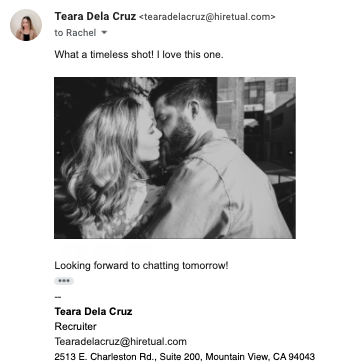 Needless to say, Rachel was impressed. This personalization helped set Teara's efforts apart, showed a culture of investing in employees at hireEZ and the timing worked out perfectly.
Rachel was ready to re-enter the world of sales and Teara was there to see it through.
After an interview process that lasted about two weeks, Rachel became a hireEZ Account Executive in early October.
Now, this might seem like a storybook ending already, but it gets even better.
After her first few months in sales, Rachel saw an awesome opportunity to help bridge the information gaps that existed between departments like sales, customer success, and marketing.
When Rachel pointed out that she could be useful in this area, she was empowered to pursue this opportunity as Growth Enablement Manager.
It was this ability to pursue what she's passionate about that separated hireEZ's proactive culture (in recruiting and elsewhere) for Rachel.
"I don't always find people that match my energy and vulnerability all the time. Yet, every single week I find someone or something new that I like about the culture. Everyone is super bought in… The fact that I could see an opportunity and be given the blessing to pursue it shows that."
Today, Rachel and Teara are thriving. Every month, they join their colleague Kelley DeLara for a Zoom call to talk about any and everything.
If you're looking for a better way to build authentic relationships with candidates that turn into teammates, learn how outbound recruiting can help make that happen.
newsletter
Subscribe for our daily news
Please use a valid work email.
By filling out this form you agree to hireEZ's Privacy Policy and consent to receive communications from hireEZ.
newsletter
Subscribe for our daily news
Please use a valid work email.
By filling out this form you agree to hireEZ's Privacy Policy and consent to receive communications from hireEZ.
Stay Up-to-Date on Future Talent Acquisition Events
Please use a valid work email.
By filling out this form you agree to hireEZ's Privacy Policy and consent to receive communications from hireEZ.
3:03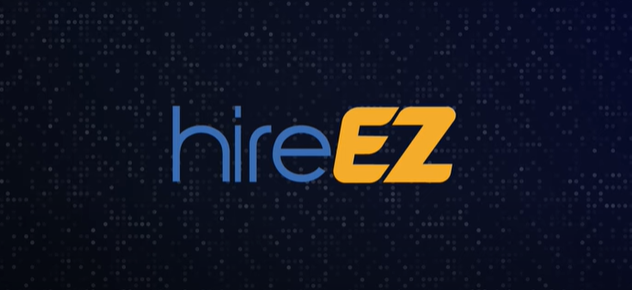 hireEZ - Outbound Recruiting Made Easy!
4:51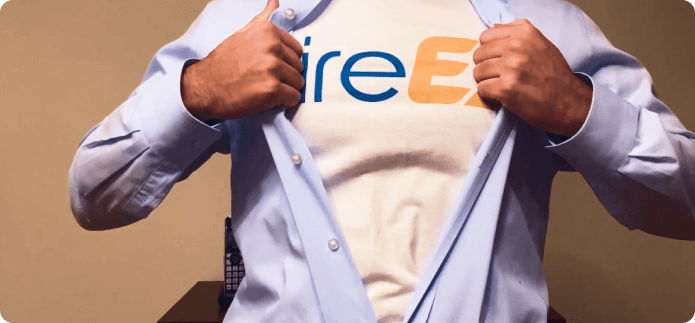 A Hiring Superhero Rebrand Made EZ