Back to Content
How To Recruit Candidates with Published Journals and Patents
JANUARY 25, 2022 3 min read
Hi, there!
You can use this audio player to convert website page content into human-like speech.
1.0X
If there's anything that the pandemic reminded us,it's that researchers are crucial to our society. Even looking beyond medicine, they drive innovations and the advancement of so many industries, including biotechnology, engineering, machine learning, and so many others.
However, finding experts in a particular field to join your company's team is not always the easiest thing to do. Even if you find those in-demand professionals, how can you make a lasting impression that will make them want to join your company?
The answer to both of those common challenges is simple.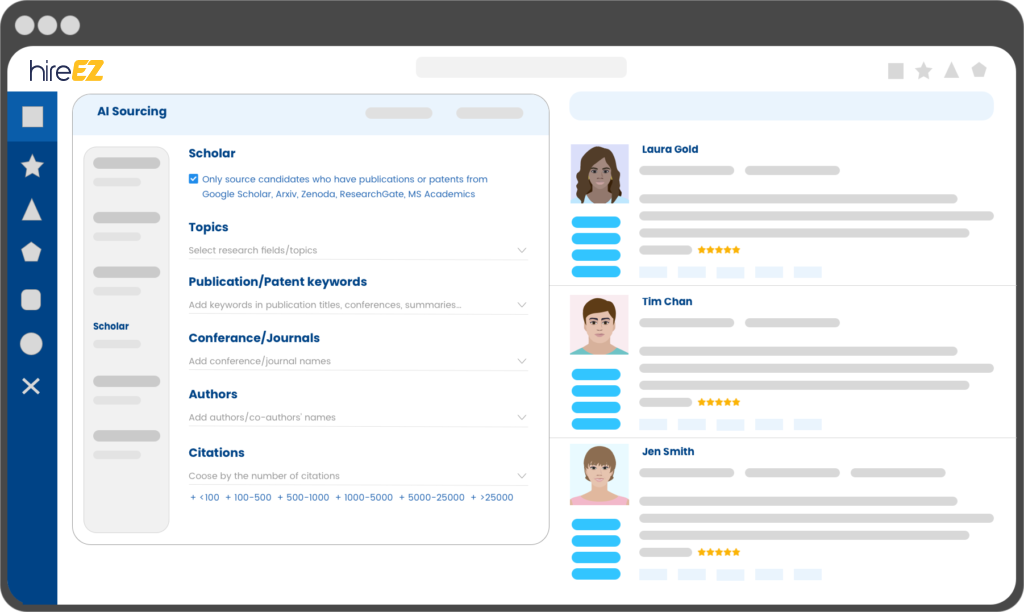 With hireEZ Scholar Sourcing, you'll be able to easily find professionals based on their published work, patents, or conference appearances. Once you find them, you'll be able to have more meaningful conversations about their work and explain why their research will be valued at your company.
Finding The Best Scholars
Under normal (and frustrating) circumstances, you'd spend hours on different websites looking for candidates with research experience. On the other hand, you may have found candidates, but are having trouble locating all the different publications and/or patents they hold.
With Scholar Sourcing, all of these issues are solved as we search for candidates across academic platforms, including Google Scholar, ResearchGate, and Microsoft Academics.
Finding Your Top Pick With Topics
When using the sourcing tool, you can immediately search from over 300+ topics and research fields for publications and patents. Since research is always ongoing, we're always looking to add more topics and research areas. In addition, you can search up keywords within the published work or patent itself to hone in on a particular candidate persona.
For instance, if you wanted to find an immunology expert with asthma-related expertise, you could input "immunology" within the topic and "asthma" as a keyword. Then, you'll get an immediate list of candidates that match those criteria. Want to take it a step further?
Knowing The Names
If you already have an author in mind or the name of conferences and journals you want to focus on, you can add those to your search, as well. Check out what a Talent Sourcer in the pharmaceutical industry thinks about using Scholar Sourcing to quickly build out a search based on a specified conference, topic, and more.
Following The Numbers
Recruiters can also narrow down their search based on the number of citations a person has. If you like specificity, you can even choose particular index scores for citations, which help measure the productivity and citation impacts of a specific scholar.
Finally, we've made it so you can narrow down scholars based on when their published work came out. Whether you want candidates with published papers over many years or professionals with recent publishing experience, hireEZ gives you the flexibility to choose.
Ready To Do More
We hope our scholar sourcing features make your recruitment processes more efficient and encourage your team to tackle new hiring goals together! If you have any questions, please reach out to our Customer Success team.
If you're not a customer and would like to learn more about these features, contact our sales team today.
newsletter
Subscribe for our daily news
Please use a valid work email.
By filling out this form you agree to hireEZ's Privacy Policy and consent to receive communications from hireEZ.
newsletter
Subscribe for our daily news
Please use a valid work email.
By filling out this form you agree to hireEZ's Privacy Policy and consent to receive communications from hireEZ.
Stay Up-to-Date on Future Talent Acquisition Events
Please use a valid work email.
By filling out this form you agree to hireEZ's Privacy Policy and consent to receive communications from hireEZ.
3:03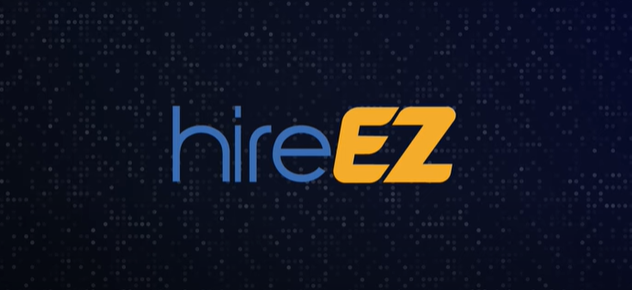 hireEZ - Outbound Recruiting Made Easy!
4:51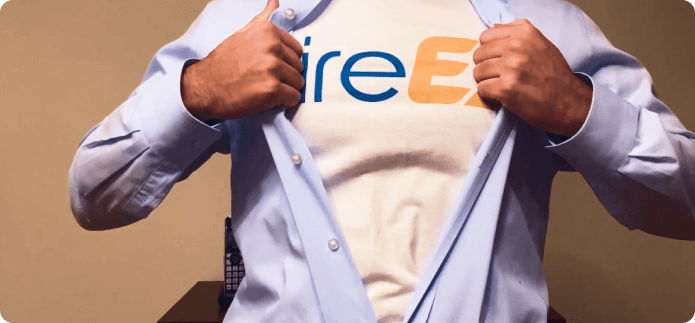 A Hiring Superhero Rebrand Made EZ