Hi, there!
You can use this audio player to convert website page content into human-like speech.
1.0X
The hireEZ team had such a wonderful time meeting so many HR and talent acquisition professionals this past month. As we continue to evolve, we're always eager to learn about what recruiters have to say and what they care about. Here are some of our highlights from this conference season!
SourceCon

Our very own Michael Deeb and Ninh Tran hosted the roundtable "Work Smarter: Sourcing and Engagement Automation." We wanted to show SourceCon attendees what we know best: how to use AI technology to bring out the best recruiter in you.
During our session, we heard concerns from recruiters who struggle in sourcing specifically for niche roles. Our team knows how challenging it can be for recruiters to reach candidates with specific skill sets, clearances or certifications. Through our session, we wanted to show our roundtable attendees what AI can do, not just tell them. We helped them conduct candidate searches while sharing best practices on how to engage with sourced talents. For more tips, check out our blog on why you should personalize your emails for more effective candidate outreach.

We also hosted our hireEZ Mixer, where we got the chance to meet up with our friends in the community. We hope everyone who attended had a great time chatting, taking pictures, and enjoying drinks on us!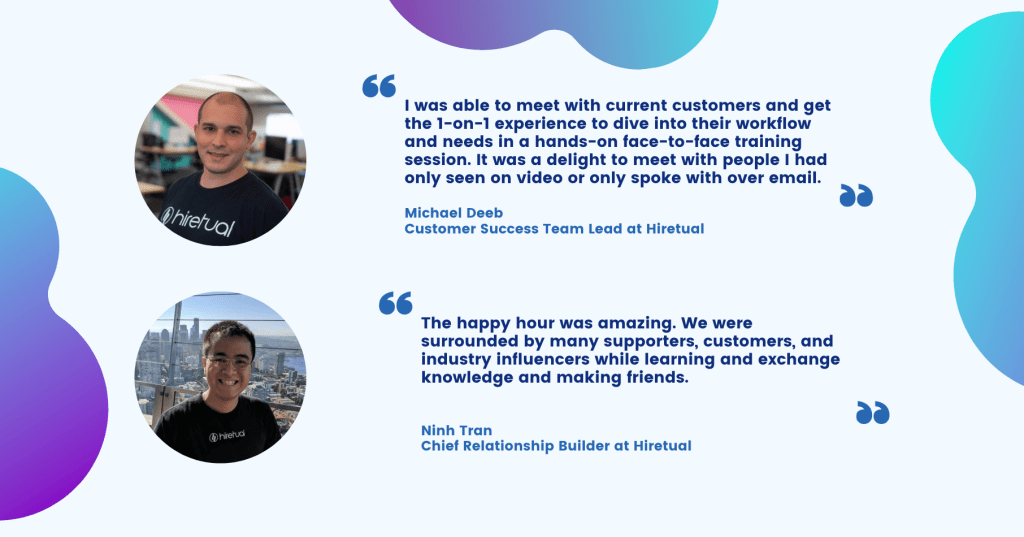 HR Technology Conference
Being the biggest HR technology expo of its kind, we were excited to show HR decision-makers how hireEZ can drive success within hiring teams.

Programmatic recruitment, big data, and job ad targeting were big topics buzzing around the industry's plans for the future, and we heard a lot about it from the people we spoke to. It's very critical for hiring teams to analyze how recruitment technology can be integrated with existing systems to avoid unnecessary spending on time and resources. We demonstrated how hireEZ's AI innovations elevate common practices into advanced solutions.
During the conference, we spoke about our upcoming job board integrations and AI-augmented applicant screening – a sneak peek, especially for HR Tech attendees. If your job posting strategies aren't bringing in the talent you need, follow us to stay up to date with our upcoming feature launches. We have big news coming up very soon!

ERE Recruiting Conference
Being a conference with a heavier emphasis on thought leadership, ERE was a great place for us to discuss recruitment technology and its scalability. Many attendees were already focusing their attention on AI. More specifically, attendees wanted to know how AI's impact would vary across different industries such as healthcare, IT, logistics, retail, and banking. Our team had a great time explaining the strengths of AI sourcing to answer these questions – we've seen recruitment technology help uncover and engage talent in all these different areas.
It was great meeting up with industry professionals to discuss talent acquisition priorities and challenges. I was a part of two meet-ups, where we met at the hireEZ booth before heading out for breakfast or lunch and a good chat. The first, "Building Candidate Pipelines: Low-Cost, High Yield Strategies" and the second, "Creating Top Talent Acquisition Objectives For 2020." In-depth group brainstorming for topics like these are so important for anybody in the HR space.

Ninh Tran, Chief Relationship Builder at hireEZ
Conferences like these help us strengthen our reach into the recruiting community, which plays a crucial part in identifying how we can solve the biggest recruitment challenges. If you were unable to meet us but you have questions on how we can solve your recruiting problems, click here.
Keep a lookout for future events that we'll be attending – we want to meet you there!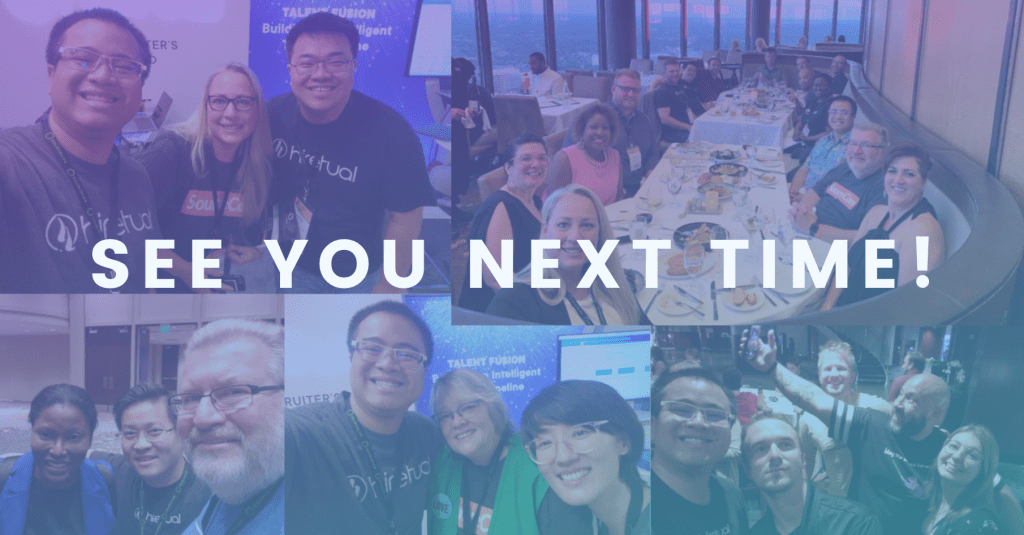 newsletter
Subscribe for our daily news
Please use a valid work email.
By filling out this form you agree to hireEZ's Privacy Policy and consent to receive communications from hireEZ.
newsletter
Subscribe for our daily news
Please use a valid work email.
By filling out this form you agree to hireEZ's Privacy Policy and consent to receive communications from hireEZ.
Stay Up-to-Date on Future Talent Acquisition Events
Please use a valid work email.
By filling out this form you agree to hireEZ's Privacy Policy and consent to receive communications from hireEZ.
3:03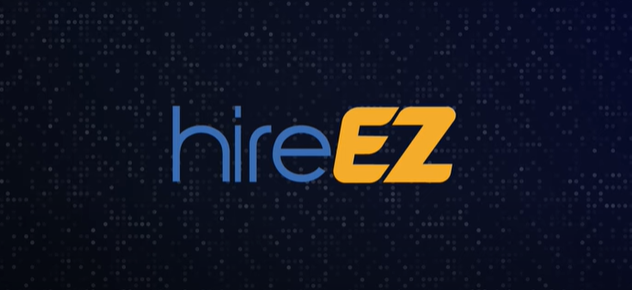 hireEZ - Outbound Recruiting Made Easy!
4:51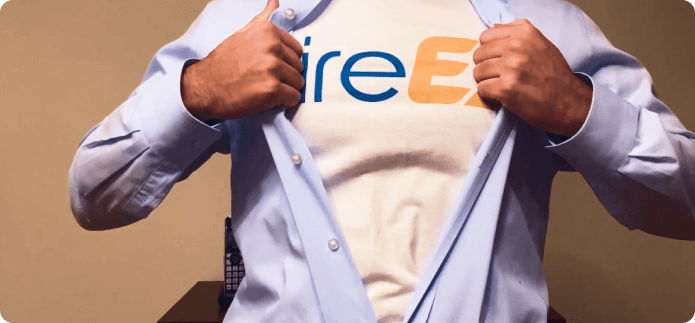 A Hiring Superhero Rebrand Made EZ