Best Chrome Extension for Recruiters
hireEZ chrome extension lets you try the best parts of hireEZ! AI Sourcing, Contact Credits, Unlimited Boolean Credits, and Projects.
Add To Chrome

Access our contact-finding and boolean builder wherever you are. Unlock enhanced candidate insights, find similar candidates, and organize talents in your hireEZ projects with this personal recruiting companion.
"I am certainly finding more candidates easier and more efficiently than before I had this tool. hireEZ is a great help in keeping my candidate outreach organized. Also, being able to create a Boolean quickly and efficiently saves a significant amount of time. The Chrome extension is great because it makes the process move extremely quick. This tool has been a life saver and a huge asset."

Jennifer J
Senior Lead Technical Talent Sourcer
Information Technology and Services
Read more

reviews on G2 →
What do you get with our extension?




Enhanced Google Search results

Find similar candidate profiles
Source Talent From Wherever You Are
Whether it's AI Sourcing on hireEZ or using our Chrome extension directly on LinkedIn, Twitter, GitHub and more, you can experience what hireEZ does best without disrupting your workflow.
+ Plus:
View Robust Profile Insights
Find More Profiles With Similar Skills And Experience
Sync Candidates Directly To hireEZ Projects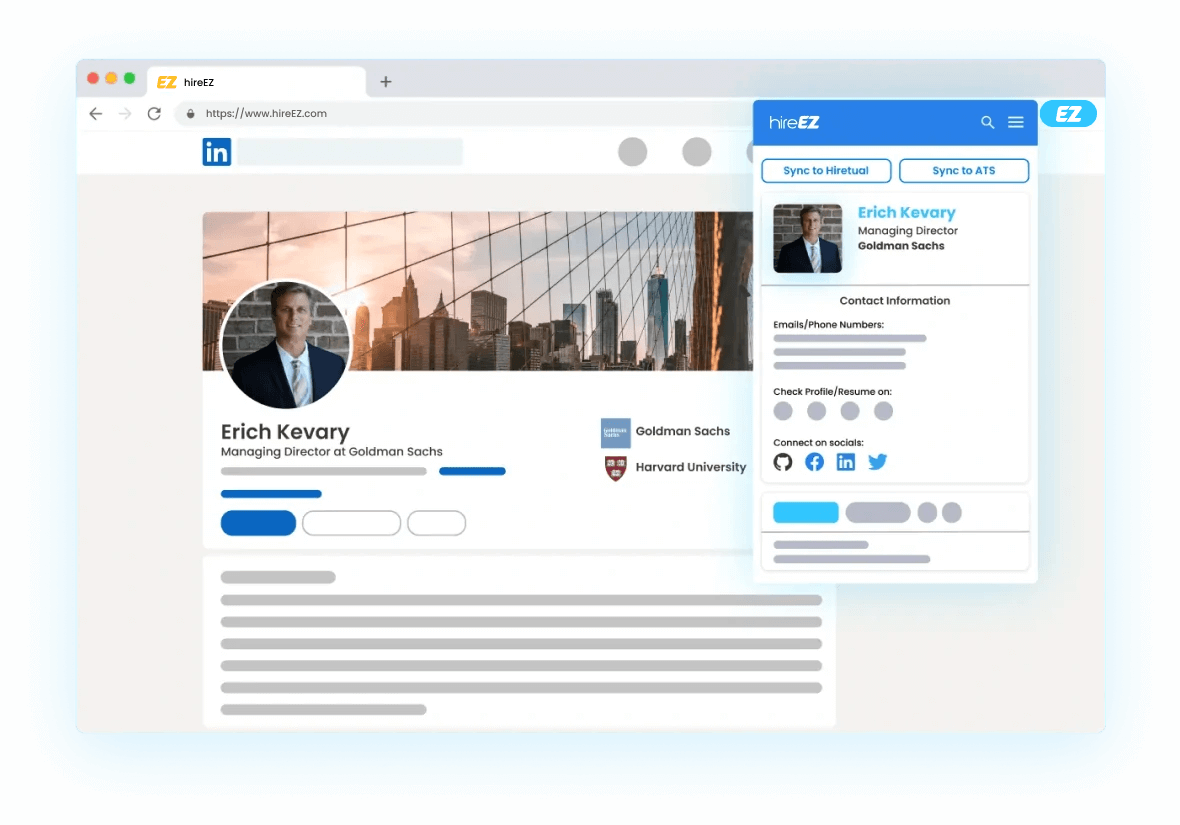 Reach Your Candidate's Inbox
With hireEZ's industry-leading contact-finder, it becomes easier to get your candidate outreach across. Uncover social media links, email addresses and phone numbers of valuable potential talent for your company.
+ Plus:
Search For Contacts By Name, Job Title, Location And Company
Send Single And Sequence Emails Directly From The Extension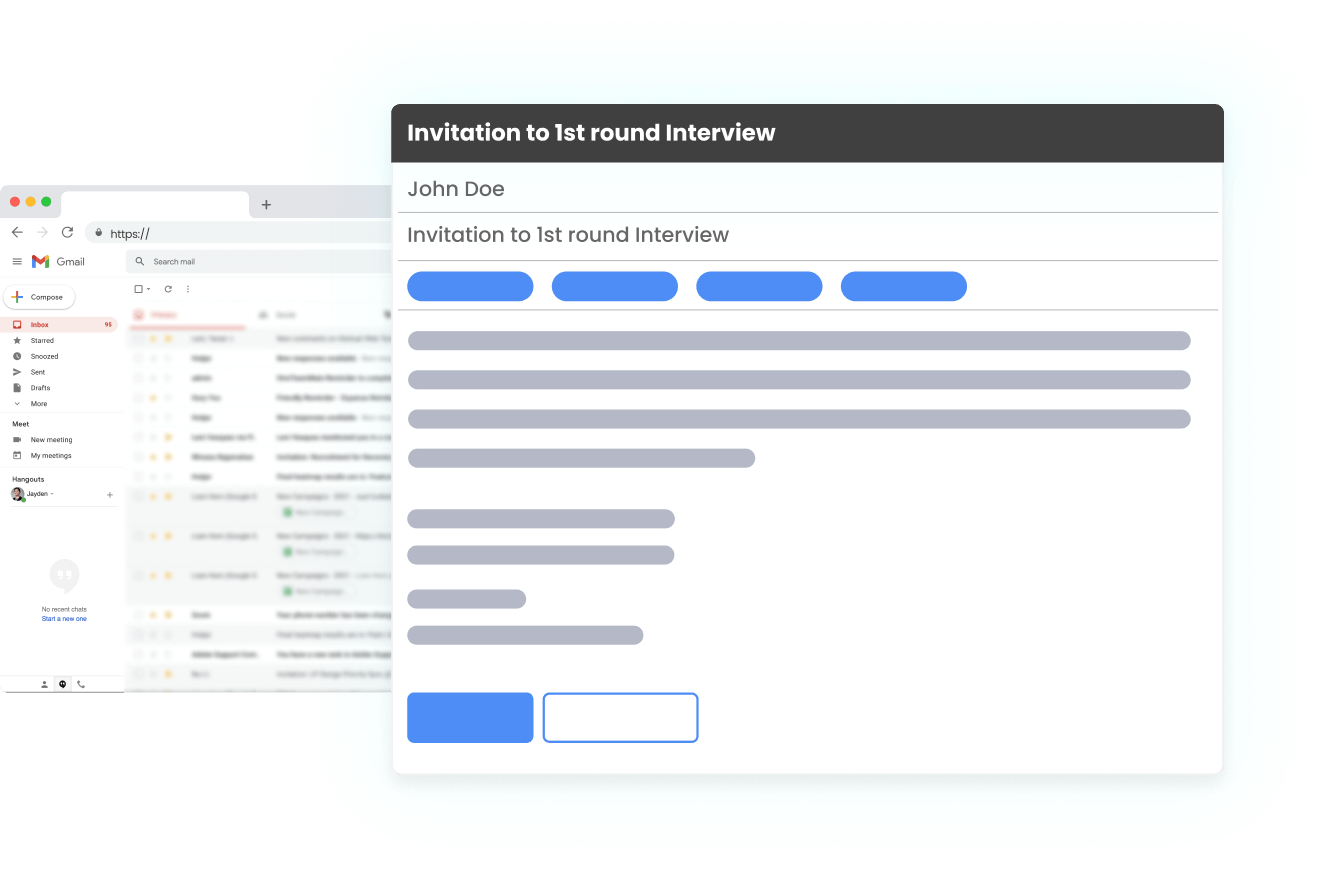 Spend Less Time Building Boolean Strings
Not sure how to quickly generate an advanced boolean string? As every recruiter's best friend, hireEZ supports boolean searches and helps you build them if you need it.
+ Plus:
Unlimited Boolean Builder
Easily Input Criteria For Your Boolean Strings With Quick Mode
Parse Job Descriptions Into Strings With JD Mode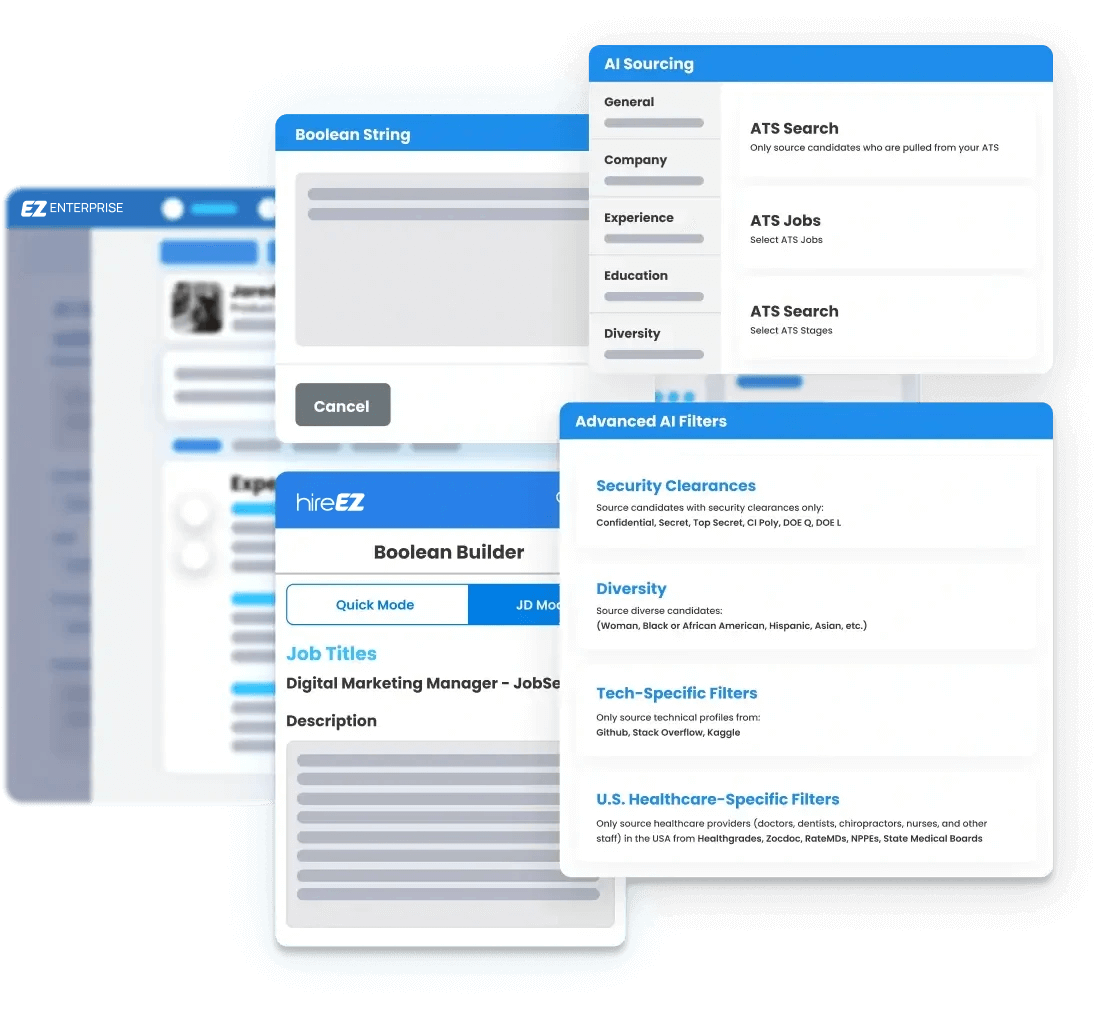 You no longer have to miss out on great candidates, expand your talent pool from anywhere!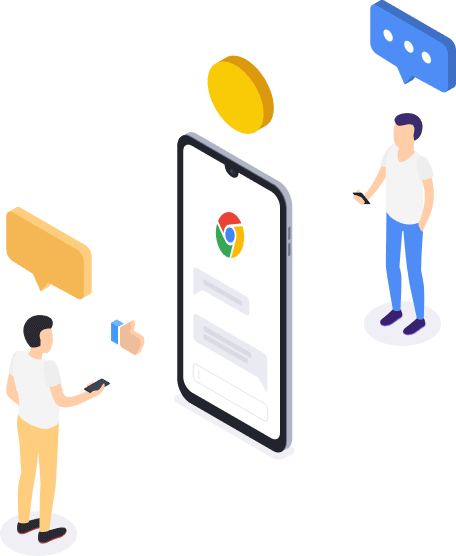 Download Chrome Extension
Source on-the-go with our chrome extension 😎
Coming soon for
Business Tier