Back to Content
September Product Updates: Optimize Your Search with Diversity Insights and Filters, Boolean and Twitter Support, and More
JANUARY 25, 2022 3 min read
newsletter
Subscribe for our daily news
Please use a valid work email.
By filling out this form you agree to hireEZ's Privacy Policy and consent to receive communications from hireEZ.
Stay Up-to-Date on Future Talent Acquisition Events
Please use a valid work email.
By filling out this form you agree to hireEZ's Privacy Policy and consent to receive communications from hireEZ.
Hi, there!
You can use this audio player to convert website page content into human-like speech.
1.0X
The job market today is flooded with talented individuals. hireEZ places all of your candidate resources in one place and gives you access to filters that can help you find the right candidates → who meet your team's hiring goals and criteria → to ultimately create a better work community.
hireEZ's New Interface
This month, we've introduced a new interface for hireEZ users. From sourcing more candidates and maximizing your ATS to scheduling nurture campaigns and viewing the most current talent market trends, all of your recruiting tasks are easily accessible from the homescreen. For a quick refresher, click here!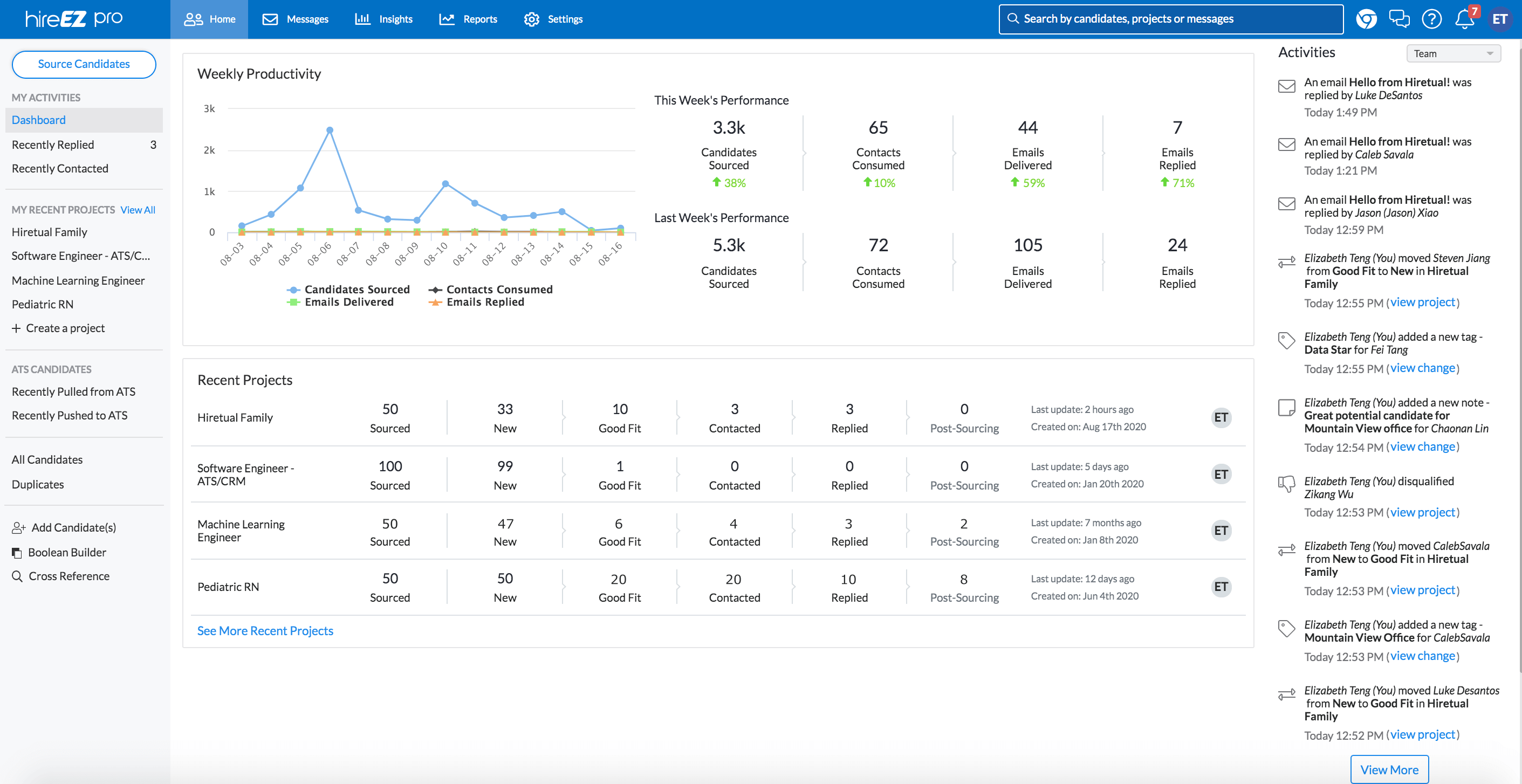 Diversity Market Insights
We stress that diversity hiring isn't just a trend. Taking the initiative to give candidates of underrepresented groups equal employment opportunities is critical to the growth of communities and businesses.
Leverage EZ Insights to understand diversity representation across various job titles, companies, skill sets, and more.
With a clear direction, source for more Women, African Americans, Hispanics, Veterans, Asians, or all of the above with hireEZ. Boolean AND/OR options also give you the flexibility you need. Read more about our features on diversity recruiting.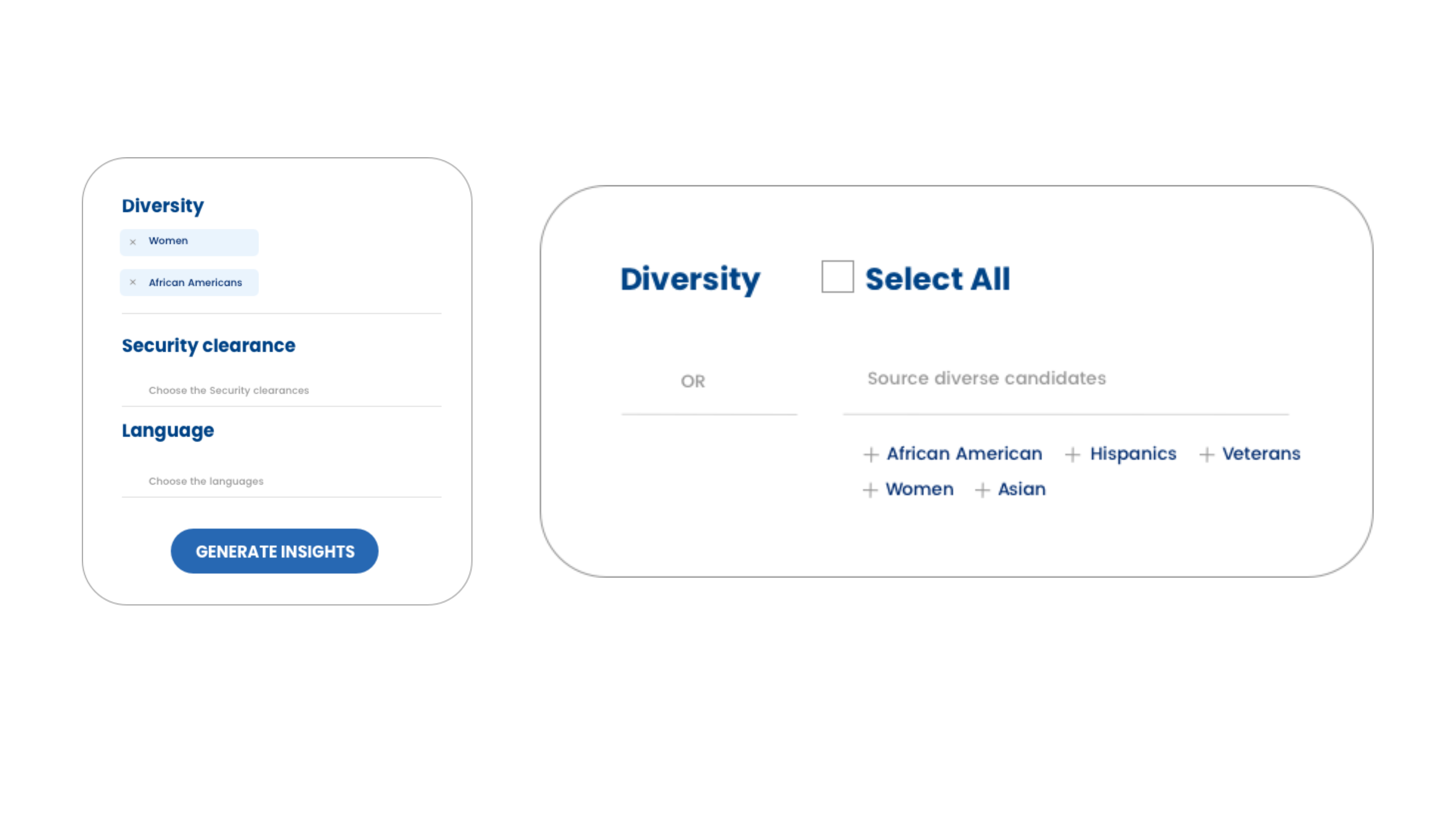 U.S. Work Authorization Filter

After hearing multiple requests for this filter, we've gone through the hoops to make it happen. Along with our AI Sourcing update, you'll be able to find candidates who are authorized to work in the U.S.

Boolean Syntax Support

hireEZ now offers full support for boolean, wildcard, regular, fuzzy, and proximity search syntaxes. The history of searches has evolved from boolean search to social search and finally: knowledge graph search. hireEZ's 20+ AI-powered filters reflect the most cutting-edge, modern search methods that can be used in addition to your search strings to better refine and target your search.
We want to better support recruiters who prefer more traditional search methods. If you already have a boolean string built, you can simply enter them into the keywords/boolean box on the AI Sourcing screen or our Search ATS screen to help you surface past candidates.
If you'd like help in building boolean strings, don't forget to click into our boolean builder. We have three modes for you to choose from, including one that will automatically transform a JD or resume into a string.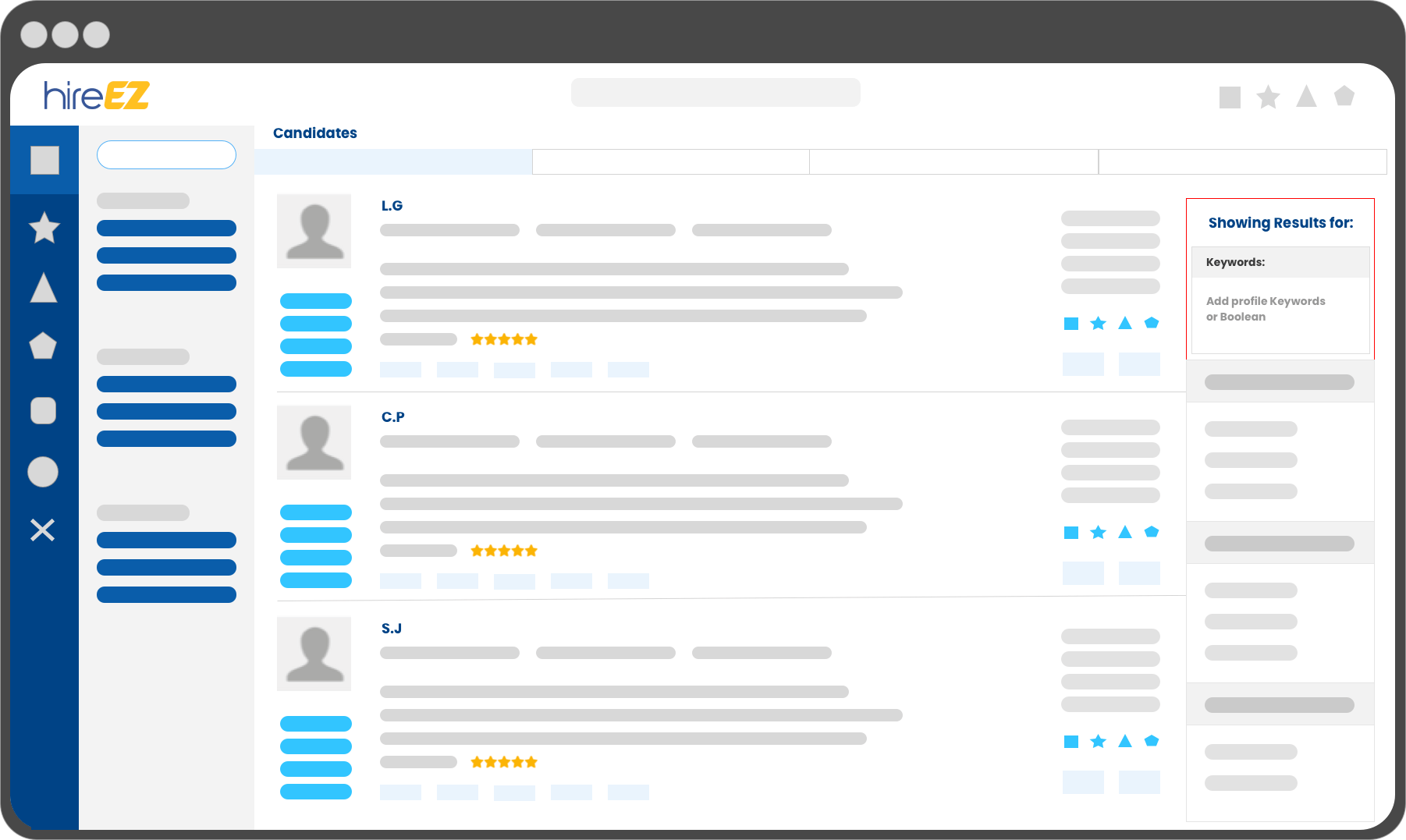 Chrome Extension on Twitter

hireEZ's Chrome extension works where you work, and we mean it. When you visit candidate profiles on GitHub, LinkedIn, Kaggle, Stack Overflow, Google Scholar, and our newest addition: Twitter, you'll be able to instantly find the candidate's contact information, social media links, average market value, availability, and more. Schedule nurture campaigns right from the hireEZ Chrome Extension or add the candidate to your hireEZ or ATS projects.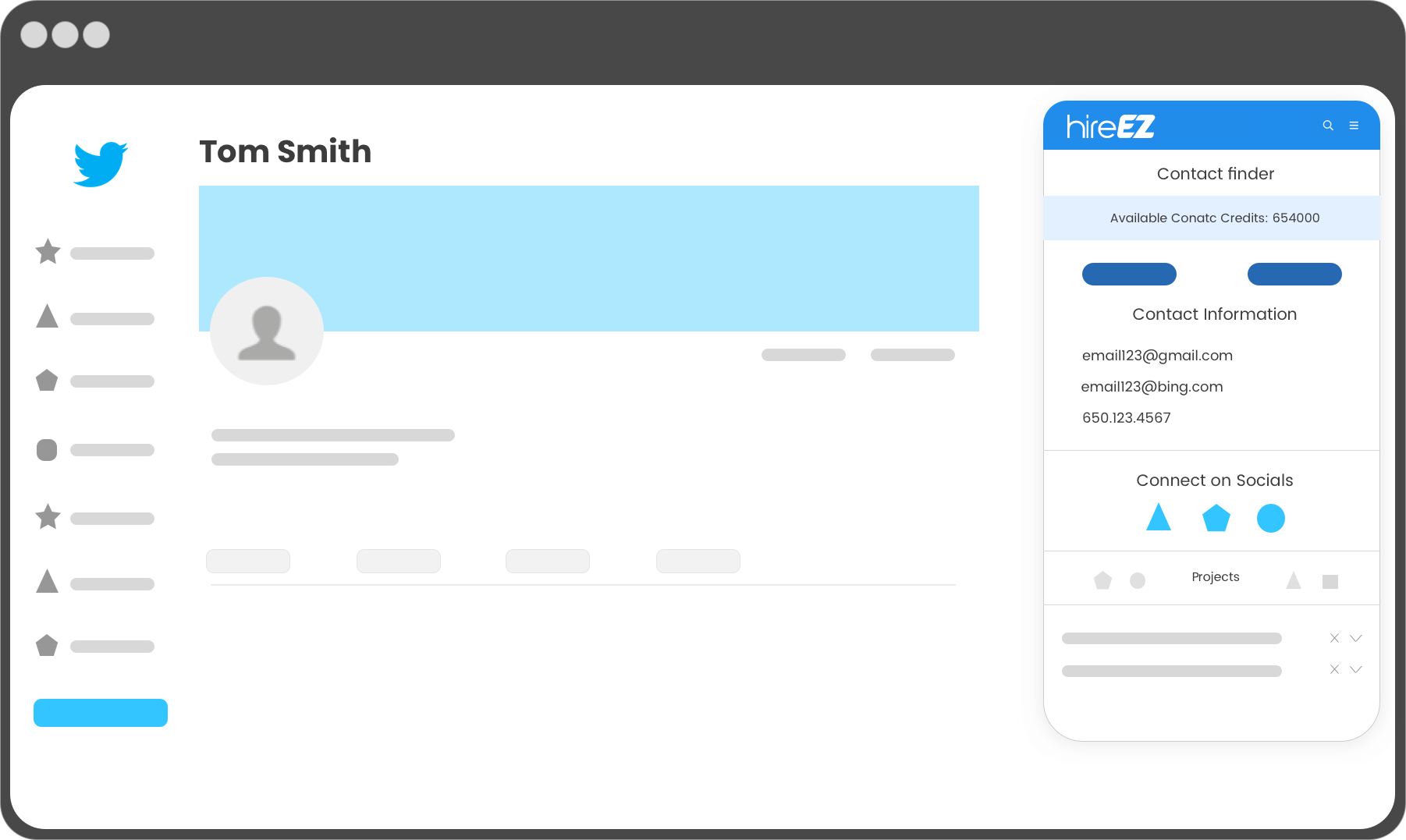 Explore the Right Plan for You
hireEZ empowers recruitment teams of all shapes and sizes. With our new subscription plans, you'll be sure to find one fit for you! Find out more in our hireEZ Pricing page.
We hope these feature updates make your recruitment processes more efficient and encourage your team to tackle new hiring goals with confidence! If you have any questions, please reach out to our Customer Success team.If you're not a customer and would like to learn more about these features, request a demo with hireEZ today.
Learn how we help the world's top companies
find their most valuable talent in half the time
newsletter
Subscribe for our daily news
Please use a valid work email.
By filling out this form you agree to hireEZ's Privacy Policy and consent to receive communications from hireEZ.
Continue Learning with Us
Discover the power of getting certified in Outbound Recruiting.
Explore Certifications
3:03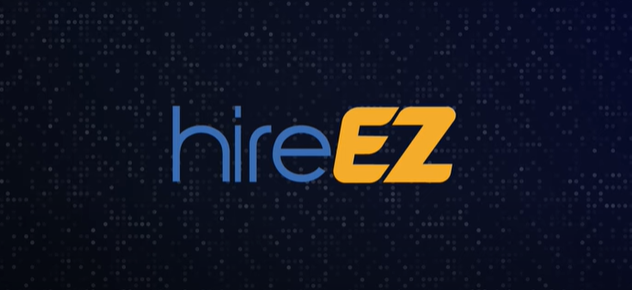 hireEZ - Outbound Recruiting Made Easy!
4:51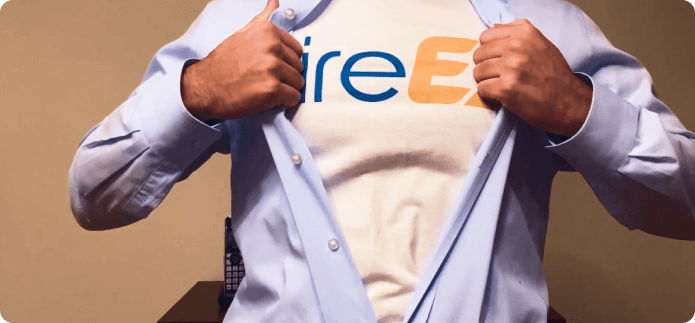 A Hiring Superhero Rebrand Made EZ