Hi, there!
You can use this audio player to convert website page content into human-like speech.
1.0X
Ah, emails. Almost everyone, and we can confidently say everyone uses email to communicate nowadays. As a recruiter, sending emails can sometimes become repetitive. However, your email has to be compelling to grab a candidate's attention, starting with your subject line and ending with your professional sign-off.
Making a good impression during candidate outreach
Imagine you get an email from someone you don't know; the first thing you see in the email is something unrelated to you or anything you do. Your first instinct is probably to think the email is spam or another salesperson trying to sell you something. To differentiate yourself you need to take the time to research and reevaluate how you want to gain the attention of your target candidate.
Outbound Sales Emails vs. Outbound Recruiting Email
Both approaches involve going "out" to target prospects. The difference? Outbound sales involves prospecting individual users that might be a good fit for your organization's services and/or product, while outbound recruiting involves proactively targeting and contacting potential candidates.
Here are some of the similarities and differences.
Outbound Sales Emails
This process involves targeting prospects to determine whether they may be a good fit for your organization's services or products.
The goal of the email is to turn total strangers into paying customers.
The Outbound sales email formula usually includes:
A relevant introduction
Customers' pain points
Product solutions to solve those challenges
A call to action
Outbound Recruiting Emails
The structure of an outbound recruiting email can be somewhat similar to an outbound sales email. This process involves targeting the right candidate to find out whether or not they can be a good fit for your organization and the position.
The goal of an outbound recruiting email is to convert a total stranger into an employee.
The outbound recruiting email formula includes:
A relevant introduction
Information about the candidate that you found through your research
Why you think this candidate is the right fit for your organization and job req
A call to action
The formula for both outbound sales and outbound recruiting emails can be different based on how you target your prospect. However, both leverage a similar concept — convert a total stranger into a paying customer or an employee.
Outbound Recruiting Email Templates for Recruiters
Examples from hireEZ in-house Senior Outbound Recruiter, Teara Dela Cruz.
Email #1: First Touch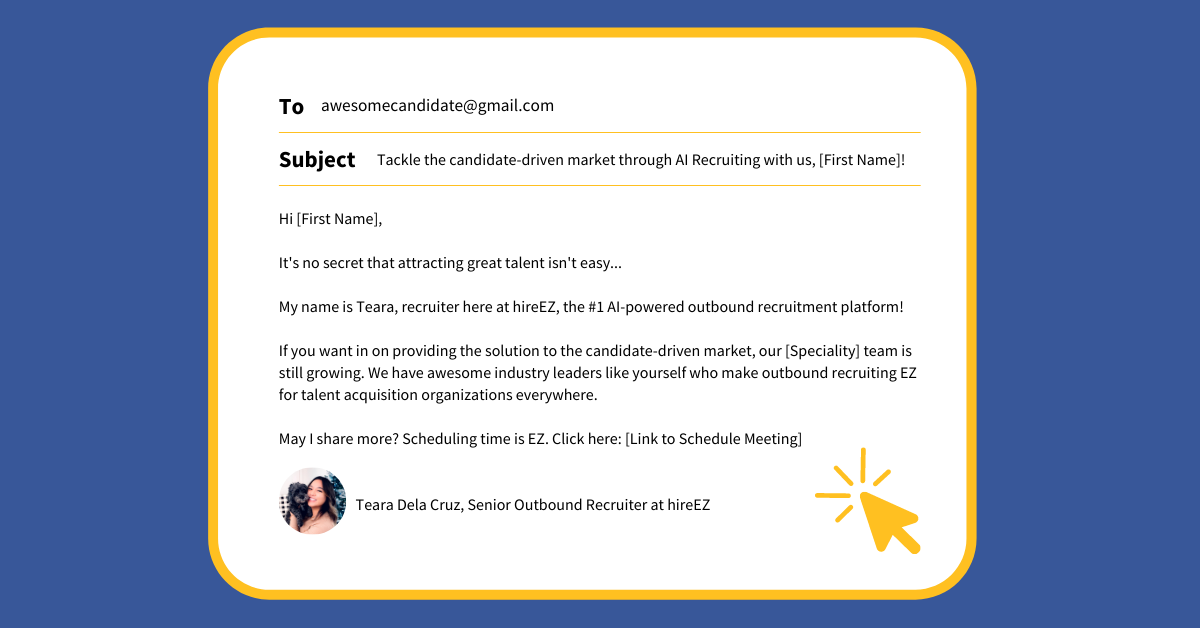 In the first email, not only did Teara introduce herself as a recruiter, but she also shared how hireEZ is growing and invited the prospect to join the team. Although there isn't much information to see in the first email, Teara strategically created a hook to have the potential candidate schedule a call with her so she can dive into details on what hireEZ has to offer.
Email #2: Follow-Up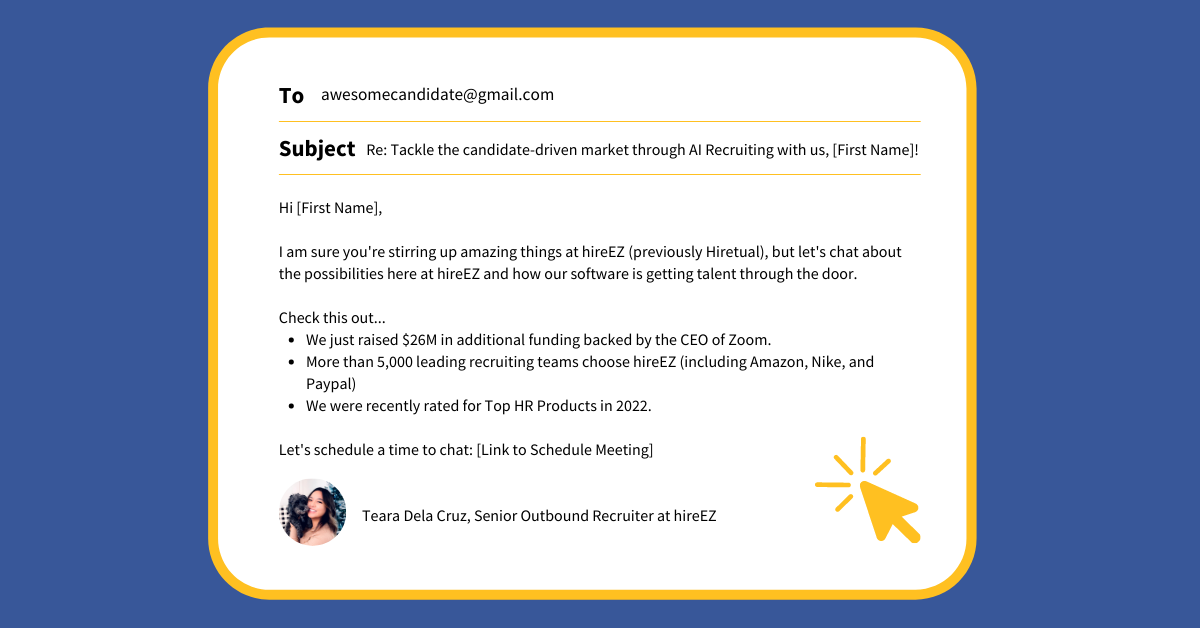 In the follow-up email, Teara provided information about hireEZ's recent successes and accomplishments. This type of information can help to spark interest since it indicates positive growth.
💡Pro Tip: Using the target candidate's recent work as part of the email could raise their attention. Tell them how impressed you are with their work! (Who doesn't like compliments, right?)
For example, Teara used this tactic to engage with our Growth Enablement Manager (Former Account Executive), Rachel McGiboney. Read their story here.
Email #3: Reconnect in the future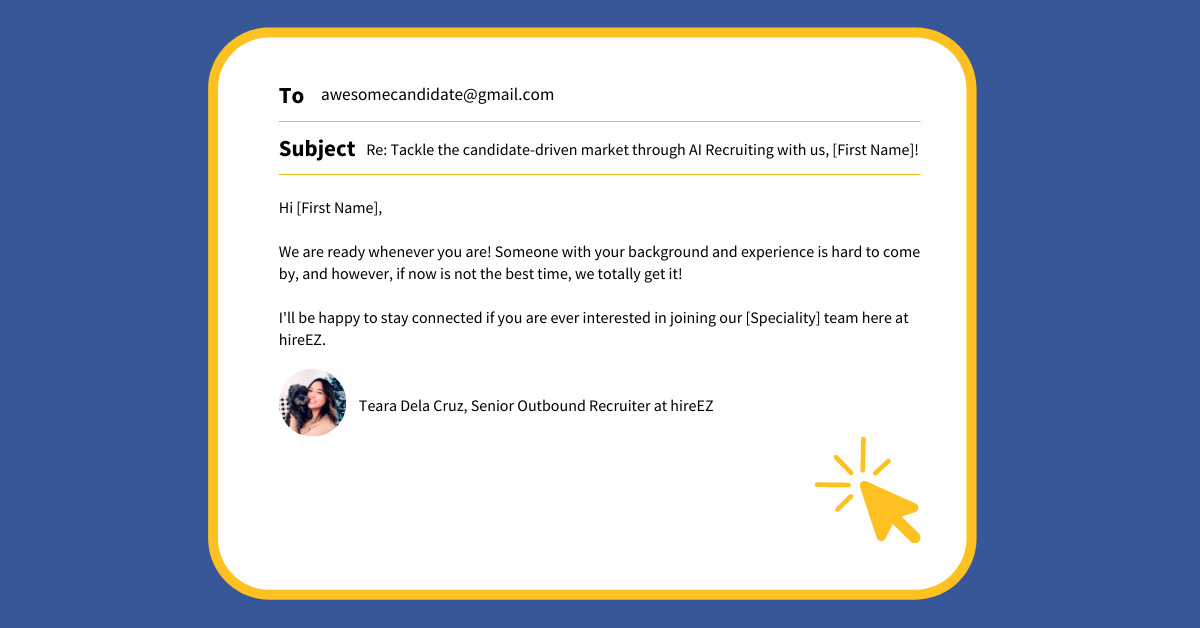 At this point, if the candidate isn't ready to schedule a meeting, a best practice is to suggest reconnecting whenever the candidate is ready. Candidate engagement takes time to find the right strategic approach to attract candidates and allow time for the candidate to reach back out to you when they reconsider.
Final Checklist
Here is a checklist to help before you press the "send" button.
✅ Compelling, clear, and professional subject line
✅ Right person, right research, right message
✅ Timing + follow-up email sequences
💡Pro Tip: Timing is incredibly important for outbound recruitment. With EZ Insights, you can take advantage of data-driven insights to stay ahead of the competition by knowing where talent is moving in the market to target the right talent at the right time.
While it's never easy to create cold email templates to attract passive candidates, our AI-powered recruiting solutions help support your end-to-end recruitment efforts. Don't let top talent slip through the cracks. Contact us to learn how outbound recruiting can help you succeed in today's candidate-driven market.
newsletter
Subscribe for our daily news
Please use a valid work email.
By filling out this form you agree to hireEZ's Privacy Policy and consent to receive communications from hireEZ.
newsletter
Subscribe for our daily news
Please use a valid work email.
By filling out this form you agree to hireEZ's Privacy Policy and consent to receive communications from hireEZ.
Stay Up-to-Date on Future Talent Acquisition Events
Please use a valid work email.
By filling out this form you agree to hireEZ's Privacy Policy and consent to receive communications from hireEZ.
3:03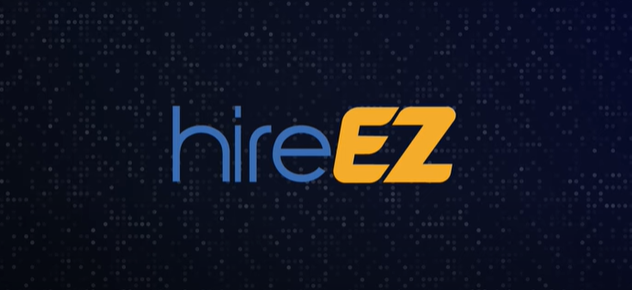 hireEZ - Outbound Recruiting Made Easy!
4:51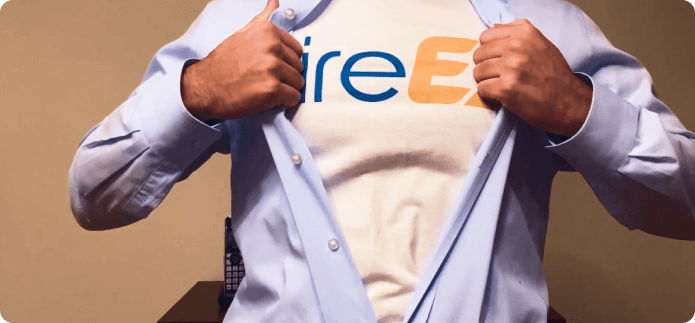 A Hiring Superhero Rebrand Made EZ