Making a Difference with a Recruiting Roadmap
Researched and written by Michael Goldberg
The challenges of a 40-year-old hospital system in East Texas whose recruiting department consisted of one internal recruiter hired in May 2018, an antiquated application tracking system (ATS), no processes or tools and over 600 open clinical registered nurses (RNs) in patient care, allied health including rehabilitation and laboratory, and other non-clinical positions in food service, HR, administration, call center, etc. The hospital chain was made up of seven regional hospitals, more than 30 clinics, and over 5,000 employees.
The Senior Vice President of human resources was hired in June and he needed help immediately because hiring managers, executives, and especially the Chief Nursing Officer (CNO) and Chief Executive Officer (CEO) were unhappy with HR and specifically, recruiting. The recruiting practice that irked hospital leadership was that the recruiter and two recruiting coordinators would send over resumes to hiring managers without pre-screening . Hiring managers then picked people who looked good on paper while recruiting teams were then told to schedule interviews with the candidates. According to the ATS System's Time-to-Fill Report from May 1 to August 31, 2018, the hospital's time-to-fill averaged 65 days for both clinical and non- clinical roles. There was little to no communication between recruiting and hiring managers, and candidates are not being processed in the ATS. Data integrity was non-existent.
This situation and its problems are surprisingly not all that uncommon as this is often times a reality for many hospitals. Many talent functions are still reactive when it comes to recruiting for their organizations. Talent leaders are stretched to the limit with different rabbit holes being created every day so there is limited time to focus on strategy. While leaders may put some form of strategy in place, they tend to focus primarily on short-term wins versus the long-term wins. It is understandable, to an extent. Low-hanging fruit will bring love and affection to your hiring managers and executives.
Let's take a look at some of the obstacles that as encountered along the way and how those challenged got "slayed" through this roadmap.
Roadblocks and How To Work Through Them
Turnover and Pay: The biggest challenge of all. In the end, with having hired over 850 RNs and LVNs in an eight-month period first year, RN turnover was at 37%. This meant for every 100 hires made each month, 37 of them were leaving, which was approximately 10 each week. There was no formal exit interview process even with high turnover percentages. Money was the number one factor in people accepting or staying because the hospital was paying at least $6 below what our competitor down the street was paying and the nurses could drive 90 minutes east or west to make $10 per hour more.
According to the Occupational Outlook Handbook by the US Bureau of Labor Statistics, the need for RNs will grow by 15% per year through 2026. In another article The Nursing Shortage by the National Center for Biotechnology Information (NCBI), the authors cited that the main issues causing the high demand for RNs are that people are living longer and need more healthcare, the nursing workforce is aging, the demands of the job are high, and depending on where nurses live, it's causing a high turnover rate which ranges from 8% to 37%.
The hospital knew it was an issue and was actually able to increase RN starting pay by $3 more per hour which helped our ability to close candidates quicker. The next issue was that our RNs with two to four years of experience are now leaving for Dallas, Fort Worth, San Antonio, Houston, and Shreveport to make on average $7 more per hour (Nursing Salary Guide for Texas). The hospital could not afford to increase wages for all RN levels.
Over the last four months of the project, the committees gathered to focus on the development and recognition of their best employees. However, to date, high turnover rate still remains to be a key issue.
Location of hospitals: The regional hospitals are located in small East Texas towns with populations ranging from 1,800 to 13,000. The closest largest cities are Dallas and Shreveport. Recruiters needed to determine where to recruit nurses and how to effectively do this.

Thinking bigger is a must to overcome this challenge. Select a relocation vendor with attractive relocation packages. Establishing a partnership with an agency that helped the hospital strategically place ads and other postings in the expensive and cold parts of the country worked. The ads focused on encouraging RNs to consider a warmer, more rural, and less expensive part of the country. Provide reasons on why each area was a great place to be as an RN by creating a recruiter playbook with information about the different rural hospitals including local attractions of East Texas such as the beauty of many lakes for fishing and boating. The overall strategy paid off because the hospital attracted and relocated about 30 RNs.

Hiring Manager Skepticism: The majority of doubt came from the nursing directors and the Chief Nursing Officer. They believed that their way was the right way, a way in which recruiters send resumes and not pre-screen candidates.

To overcome the skepticism, recruiting put a process in place that yielded results which in the eyes of hospital customers, led to more qualified candidates staying. This process included in-depth intake meetings and pre screening candidates. Most importantly, it improved the communication flow between recruiter and hiring manager after the position had been posted. The hiring managers had no means of communication before so they were happy to be updated at least once a week by their recruiters on their position status.

Lack of Strategy: 40 years of not having any recruiting strategy and to creating one from nothing. Even with experience of implementing recruiting strategy having limited recruiting experience in healthcare from the mid-90s , hospitals were a new challenge. One of the roadblocks was learning the business and understanding the culture which is where most recruiters and recruiting leaders fall short. This is where the Recruiting Roadmap came into the picture.


The Importance of Recruiting Roadmaps
A recruiting roadmap allows you as a talent acquisition leader to visualize your strategy by providing a course for a continuous change of function generally over the course of a three to five year period. Some of the reasons to build a roadmap include being proactive to avoid costly and disruptive surprises that can prevent goals from being achieved and dealing with issues in a timely fashion to avoid crises. It also facilitates the ability to have a defined long-term plan for periods generally ranging up to three years. Recruiting roadmaps create accountability across the whole department. It enables and fosters measuring and reporting from key performance indicators to results.
In other words, planning and executing on the plan is way better than reacting.
For a hospital, look at the following areas: recruiting technology, resources, process, and initiatives. Here is how everything was assessed before putting a roadmap into place.
When this journey started, the organization had implemented a small but capable ATS that had the basic tools such as candidate apply, process flow, templates, and basic reporting. They also had a built-in ATS "Text to Recruit" feature to build text messaging campaigns for open positions and job events. Our ATS vendor was able to add the text messaging functionality as a part of our talent attraction strategy. Recruiting operations was able to improve the ATS by building out specific reports easily accessible by clicking a link, eliminating questions that should not be asked during the application process, improving the process flow, and allowing hiring manager viewing accessibility. By making these changes, recruiters were able to engage better with candidates and hiring managers.
Speed is no doubt critical in the healthcare world. Clinical positions are sought after similar to IT-related roles. Therefore, the hospital needed technology that would allow recruiters to screen candidates quickly and reduce the amount of administrative work so they could source. A video interviewing tool was implemented in under three weeks. Video interviewing started with administrative, customer service, food service workers, and patient care techs over the first three months. According to ATS reports, time-to-fill improved by five days, not only in those roles but also in clinical roles as recruiters had an average of two hours a day to source those positions.
Finally, agency partnerships helped connect recruiting to the agency's analytics vendor, Recruitics, to measure our sponsored post results. According to Recruitics' report below, candidate applications significantly improved over a seven-month period, especially one month into our campaigns in October 2018.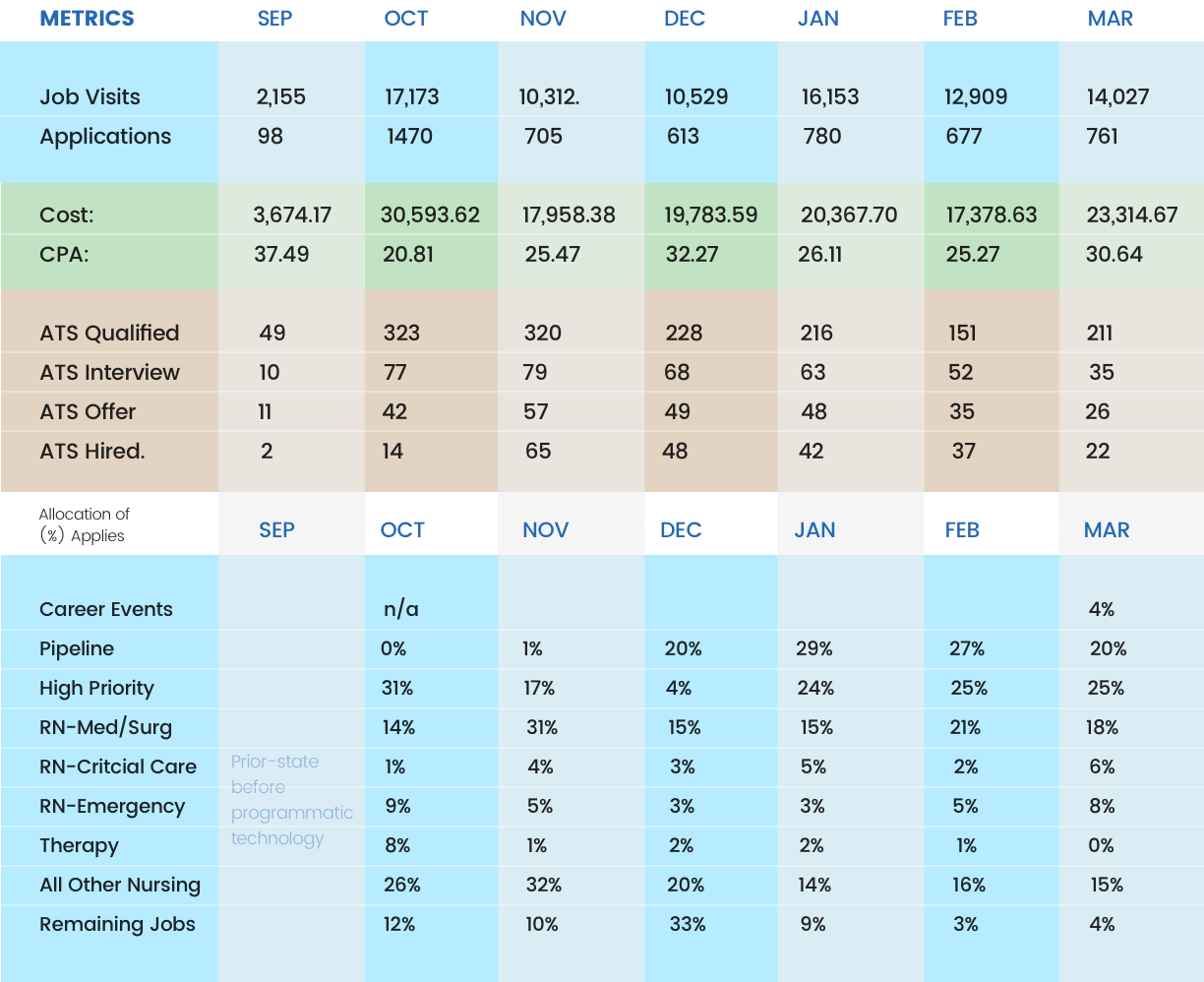 Roadmap

on Recuitment Resources
What hospitals had when started:
LinkedIn Recruiter
LinkedIn Job Slots
Post and Pray
What was accomplished:
Sponsored Content: Indeed, Niche Sites / Association Pages
Sponsored Glassdoor Page / Postings
Niche sites for clinical position postings
Sourcing Training for Team Members
Contract Sourcers / Recruiters during peak hiring
The focus on resources was crucial to the hospital especially as pressure mounted from hospital leadership to get positions filled. The hospital recruiting function was essentially non-existent with one full-time recruiter, one recruiter seat, and three job slots.
With over 600 spots to fill, the first obligation was adding 19 contract recruiters via a staff augmentation solution. In one month, 14 of 19 recruiters were hired and assigned to fill our clinical roles with a majority of those RNs. The other five recruiters covered non-clinical roles.
Once contract recruiters were in place, it was critical to train them on the hospital's hiring process and the sourcing tools purchased. More importantly, have them build strong virtual partnerships with the hiring managers. It was extremely challenging due to demands of the hospital environment.
When the project started, the hospital did not have any talent attraction tools other than organic Indeed postings. In over a month's time, recruiting operations worked with our agency to develop relationships with key vendors including Indeed, Glassdoor, ZipRecruiter as well as nursing-focused niche association job boards. Afterwards, second-tier sponsored posts on Google and Work4 were put up. You can see the report details provided by our vendor below: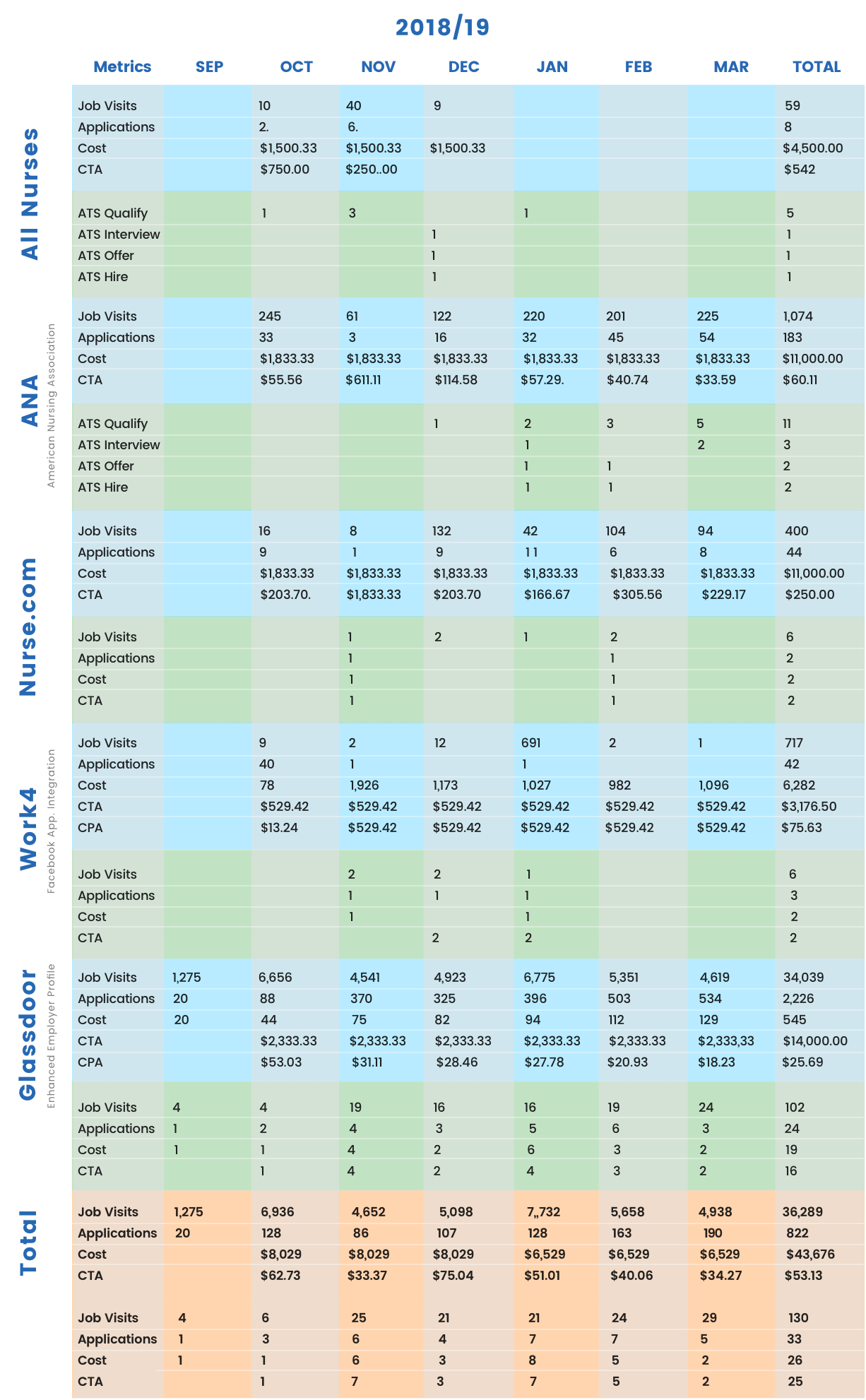 What hospitals had when started:
Order Takers
Slap 'n Stick
No stages / checkpoints
Poor candidate experience
Weak hiring manager buy-in
What was accomplished:
Outlined a detailed process for internal and external hiring
Who is responsible for each step of process
Recruiter playbook
Hiring manager touchpoints
Candidate touchpoints
Formalized onboarding
When it comes to building the roadmap, having a strategic plan around the recruiting and hiring process is the most critical. In fact, recruiting leadership focused on these strategies first so that the other parts of the roadmap will fall in place. The prior process was based on order taking, slap 'n' stick, having no formal stages and overall, no hiring manager buy-in. What happened?
Business and recruiting leadership both sat down with hiring managers to understand what needed improvement and what suggestions the manager had to help improve the process. This was key in ensuring that talent acquisition had hiring manager buy-in. Too many recruiting teams just jump right in without taking the time to learn the business and involve the business in recruiting decisions.
As the process was flushed out for internal hiring and external hiring, responsibilities and accountabilities for both recruiters and hiring managers were established. Create hiring manager and candidate communication touch points afterwards. Touchpoints help recruiters keep the communication open so that hiring managers know the status of their positions and the candidates will not feel like they are in the proverbial "black hole".
Onboarding was fine at the start of the project, but recruiting leadership wanted to ensure that all new hires were prepared on day one by having all resources, including mandatory hospital training. The mandatory hospital training was an effort to bring all new hires for the month together in one room where they would be able to meet new hires from the other regional hospital, learn about company culture through various leaders, and hear inspiring stories of how hospital employees are in the business of saving lives everyday.
Once everything was all set around tools, programs, technologies, processes were in place making sure that the in-house and contract recruiters also literally sang from the same hymnal, such as The Recruiter Playbook (RP). The RP was very detailed, especially since most recruiters were virtual. The RP explained the intricacies of our internal and external processes, including the details of towns where the hospitals were located. The more detail were provided around location information, culture, and how to use the specific recruiting tools, the easier it became for recruiters to sell opportunities.
The hospital's only recruiting program was a very unstructured Employee Referral Program (ERP). Each hospital paid out different amounts for different positions. There was basic tracking but no formal ERP tool in place for the coordinators to monitor and payout the ERP bonuses in a timely manner.
A consistent system-wide ERP payout for all positions was created with the biggest payout for RNs. Marketing materials such as flyers, posters and desk drops were built out, and an online ERP application for employees was created for them to complete once the referred candidate applied for a specific role. Based on these small and inexpensive modifications, our report showed a 45% increase in employee referrals from October 2018 through April 2019 with a 25% hire rate.
Here is the summary of payouts by position:
Position

Amount

Registered Nurses
$5,000
Licensed Practical Nurses
$3,000
Other Clinical Positions

(exclusing RN's and Physicians)

$3,000
Physical and Occupational Therapists
$1000
All Other Positions
$300
Along with the ERP, update job postings by creating standard templates for the most commonly open roles focusing on verbiage, style, and branding. Prior to this update, job postings were generally three to five sentences long. The team reviewed other hospital postings and found a common theme - they were not descriptive or compelling enough to attract an applicant to hit the apply button. Similar to Graph 1 above, the team made changes in October and saw significant increases in candidate applies.
Finally, scale the job postings nationwide focusing on surrounding states around Texas that had no state tax and the cold-tempered states in the upper Midwest and Northeast. This was done with the intention of attracting candidates who wanted more property, no state taxes and an easy way of life. While the "cold-state" campaign was not successful, the targeted surrounding states campaign paid off as relocation reports showed 30 hires in an eight-month period. Thirty might not sound like a lot, but given where the hospitals were located, it was a big win.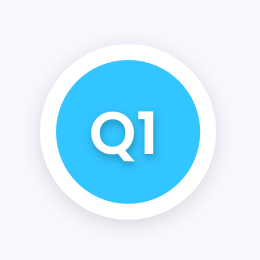 January:Develop checklist of critical needs for all technology to include in RFP RFP for ATS, CRM, & Video Interviewing Technologies. Febuary:Engage Agency to assist with Recruitment/Content Marketing -niche sites. CWS, sourcing tools, EVP March:Complete ATS/CRM Demos with internal stakeholders and determine top 4 contenders to demo in Q2. First draft of content for emails & sponsored posts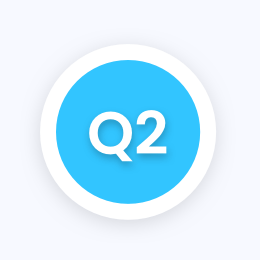 April:Final decision on ATS, CRM and Video Interviewing Technologies EVP assesment completed and final recommendations presented Storyboard and create wireframes for CWS May:Finalize content for emails, sponsored posts, etc. June:Outline recruiting stages and process that will be a part of ATS/CRM workflow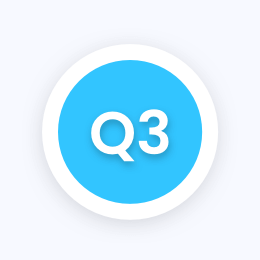 January:Determine key stakeholders for Implementation and develop project plan for ATS, CRM and Video and set go live update with agency. Begin strategizing for upcoming campus recruting season - target schools and content. August:Begin ATS/CRM implementation Develop job postings with marketing twist September:Assets for CWS Begin campus recruiting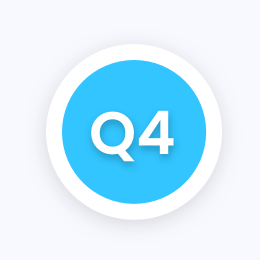 October:Select final assets Finish campus recruting and set up office interviews First draft of revised CWS completed and presented to key stakeholders November:Offers to interns Begin media planning for 2020 December:Finalize CWS for 2/1/20 rollout
Summary
By creating those partnerships with a detailed roadmap, there was an increase in recruiter productivity to fill an average of 200 positions per month, while decreasing time-to-fill for all positions from 55 to 37 days and reducing the cost by $2,000 per hire.
Recruiter productivity increased by customizing our ATS to the hospital's hiring process, adding video interviewing to reduce the amount of time recruiters spent doing phone screens and purchasing sourcing tools that were easy to learn while facilitating candidate pipeline building.
Recruiting audits and changes in the recruiting process and programs led to decreases in time-to-fill and cost-per-hire. How? Recruiting audits were conducted to understand the gaps between recruiting organizations and hospital leadership. The audit must include a SWOT to identify strengths and weaknesses as well as the opportunities and threats. Below are some of the opportunities acted upon: Impactful job events filling a total of 120 clinical and non-clinical positions over three events held on-site at our hospitals and one event held at a hotel. Most people think job fairs are an outdated format to attract candidates – however, in healthcare, they work. Over the course of those events, over 850 candidates were interviewed. Here's how:
1. Targeted text and email drip campaigns to candidates within a 100-mile radius of each hospital location directing candidates to a landing page to register for the event. This helped us with the RSVP count, shortened the candidate wait time at the event, and allowed hiring managers to meet with candidates who were pre-qualified.
2. Conducted prescreen conversations with qualified candidates who RSVP'd through the landing page. Cost to launch: $0
3. Using our marketing partnerships with some of their vendors to announce the job fairs on electronic billboards across the city. Cost: $0
4. Radio and newspaper advertising: Although archaic in today's world, radio and newspaper spots work very effectively in small-town markets. Per our source-of-hire report, 220 of the 750 radio candidates (29%) and 30 candidates of the 214 newsletter candidates (14%) were hired as a result of advertising through these mediums. Cost $25,000
5. Sponsored posts on Indeed, Zip Recruiter, Facebook, and Google targeting. Cost: $10,000
6. A 10% hit rate on a job fair (120 candidates out of the 1200 total hired in the eight-month period) turned out to be an excellent return on investment for the advertising, sponsored posts and the $2000 spent on event logistics (conference room fees, snacks, pipe and drape, and AV).
In order to be an effective talent leader, one must take the following steps:
Understand the business pains as it relates to recruiting and sourcing talent into the organization by speaking with hiring managers, organizational leaders, and candidates focusing on the pain points and skills gaps. Skipping this step will prevent the leader from gaining buy-in especially when she or he wants to introduce new processes and tools.
Looking inward at the current processes, technologies, tools and programs speaking with recruiters, sourcers, and recruiting coordinators to understand the why behind what is in place and their opinion on what they suggest needs improvement. Remember, no one person can do this alone and your team spends 90% of their time in the trenches. They will bring great ideas and suggestions to the table.
Involve hiring managers in the different decisions to gain easier buy-in.
Do not go to the buffet table hungry. In other words, prioritize needs that will make the lives of hiring managers and recruiters easier. At this stage, the recruiting roadmap should be starting to develop. However, keep the following in mind when considering when to roll-out:
1. Are there other implementations outside of recruiting such as a new HRIS or Financial System?
2. What are the busier times of the year for the company?
3. Is the implementation for everyone at once or can it be a staggered roll-out?
4. Which departments are champions of change?
5. Who are my internal change agents outside of Recruiting and Human Resources?
Have a management plan in place BEFORE any go-live situation. Memos or generic emails will kill the good vibe in a split second. Have the "why we are changing" discussions face-to-face or webinar discussions to allow managers to ask questions. Have recruiting team members knowledge-ready to answer follow up questions or retrain if needed.
While the project had bumps and bruises along the way, a lot was accomplished in an eight-month period. Without the recruiting roadmap, the road would have been treacherous.
About Author
Michael Goldberg – Talent acquisition leader, strategist and hiring manager whisperer, is the Managing Director of MM Goldberg & Associates. Michael turns talent acquisition leaders into heroes by assisting them through roadblocks and helping them become effective managers.
For over twenty years, Michael has been leading companies from start-ups to $1B organizations, guiding them through the complexities of hiring and executing talent acquisition strategies that shake up the status quo and achieve significant results including increased productivity, stronger recruiter/hiring manager partnerships, and improved organizational buy-in through "common sense" change management techniques.
About hireEZ Council
The vision of the hireEZ Council is for talent acquisition to be knowledge and intelligence driven in the next generation. hireEZ Council members will educate and grow the recruiting community who are passionate about knowledge and intelligence driven talent acquisition, technologies, and products in a world that is increasingly augmented and automated.
If you like what you read and want to be part of the journey by becoming an author and a member of the hireEZ Council.
Be a person who is:
Proud to be a recruiter, sourcer, leader, analyst, or operations in talent acquisition
Ready to give back to the community by sharing knowledge and lessons learned
Insatiably curious or have deep understanding about topics in talent acquisition
Passionate about writing well-researched white papers, uncovering insights from work and data, sharing actionable items for positive change
Mutual goals:
Council members can pick a topic that they are passionate about and want to dive deeper into or join in on a topic that is currently being researched
The overall theme is "Transforming Talent Acquisition from Data Driven to Intelligence Driven" moving away from having a massive amount of data to apply knowledge and intelligence to make better decisions
Write well-researched white papers worth reading and sharing as we have a platform to share your work with hundreds of thousands of recruiters and leaders globally
Weekly check-in calls with the hireEZ Council leader
Bibliography
Bureau of Labor Statistics, U.S. Department of Labor, Occupational Outlook Handbook, Registered Nurses, on the internet at https://www.bls.gov/ooh/healthcare/registered-nurses.htm
Haddad LM, Toney-Butler TJ. Nursing Shortage. [Updated 2019 Jan 19]. In: StatPearls [Internet]. Treasure Island (FL): StatPearls Publishing; 2019 Jan-. Available from: https://www.ncbi.nlm.nih.gov/books/NBK493175/