Deduplicate, Enrich and Rediscover Profiles in Your ATS with No Manual Maintenance Work

Rediscovery
EZ Rediscovery helps you unlock the potential of candidate profiles in your Applicant Tracking System (ATS) by transforming and updating outdated information including work history, skills, email addresses, phone numbers and more!



Maximize the value of your ATS investment
Your ATS is a treasure trove of hidden past talent, but candidate profiles within ATS databases quickly become outdated. With EZ Rediscovery, you can keep that information up-to-date. EZ Rediscovery can be integrated with many leading ATS platforms including Crelate, JazzHR, JobAdder and Workday.

Simplify and streamline your ATS and hireEZ workflows into one
EZ Rediscovery simplifies the process of sourcing candidates by centralizing your recruiting tech stack into one integrated platform for all of your candidate data. Eliminate the hassle of working in two separate solutions.
Profile Refresh & Enrich
Sourcing from your existing database? EZ Rediscovery keeps your database clean so that all of your information is current and correct. Enrich your ATS with new open web data and merge duplicate profiles with custom field mapping.
Turn Old Data Into Actionable Data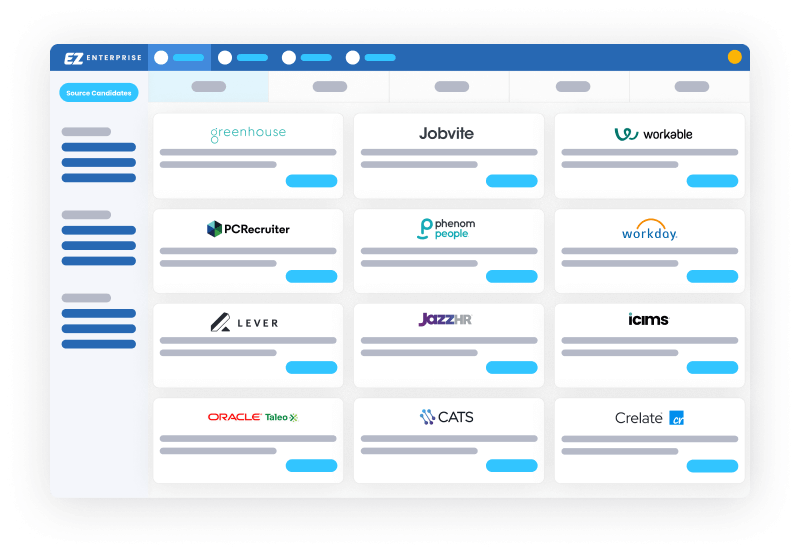 Profile Rediscovery & Reengagement
Leverage hireEZ's 90% contact finding rate to reengage with past applicants sourced from your ATS.
Scale Candidate Outreach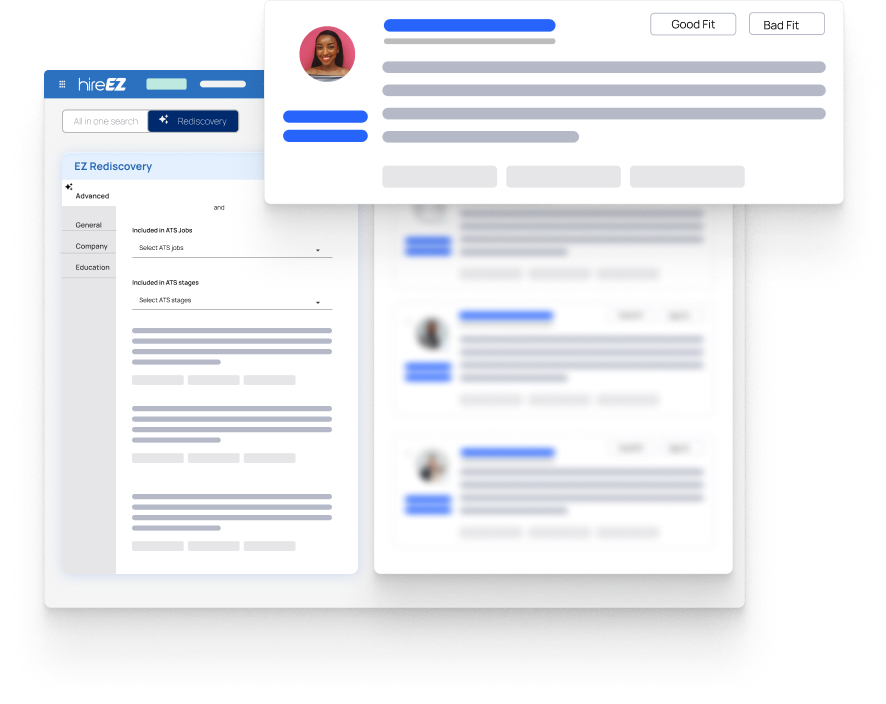 "The [EZ Rediscovery-Workday] integration has saved us a considerable amount of time since our sourcing team no longer has to add hundreds of resumes and screening notes to Workday manually every week. Additionally, this has created a significantly better experience for everyone on the sourcing and TA teams since all candidate details are now accurately added to a Workday req in a timely and efficient manner."

Martin Warren,
Head of Talent Sourcing at Grab
The Single Source of Truth for Enterprise Hiring Teams
Up-to-date records
Sync candidate data across hireEZ and your ATS in real-time
Faster collaboration
Remove silos with data visibility across your entire recruiting team
No-code maintenance
EZ Rediscovery helps you easily build and scale the ideal framework for you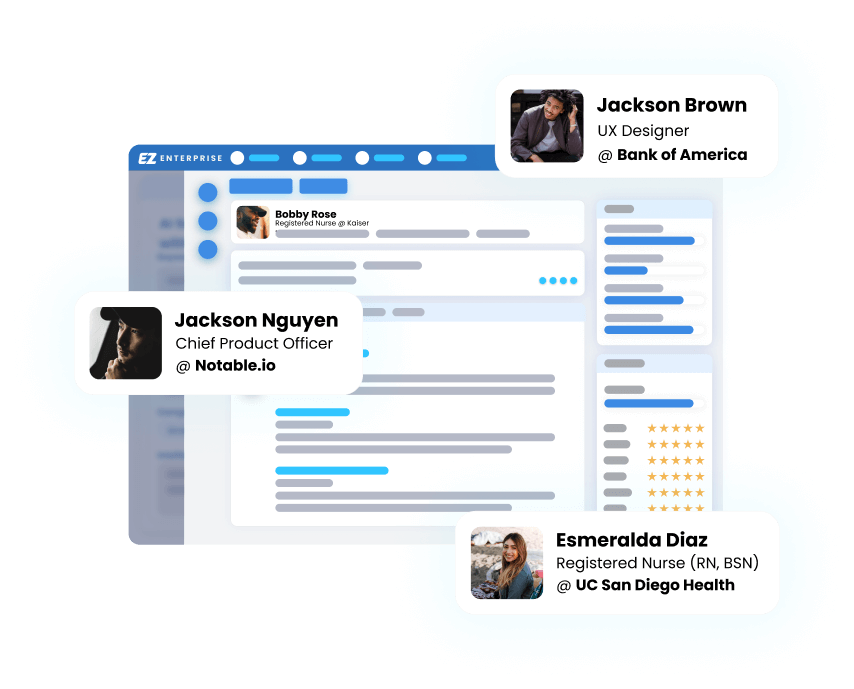 Source for Your Warmest Leads
Past applicants and employees can be your quickest hires. Our AI technology helps you spend less time finding and sourcing these profiles.
Search and rank your ATS profiles
Segment candidates by ATS job and ATS stage
Source across a combined talent pool from the open web and your ATS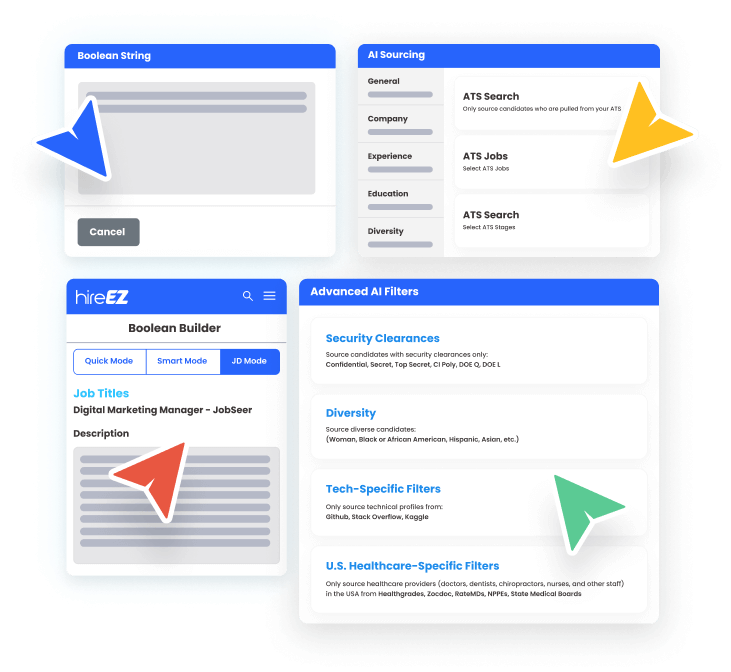 Collaborate With Your Team in Real-Time
A seamless team experience that keeps team data visible and accessible to avoid duplicate efforts and drive immediate feedback.
View ATS notes and activity directly in hireEZ
Filter out candidates who have already been contacted by your team
Easily export and share candidate profiles and reports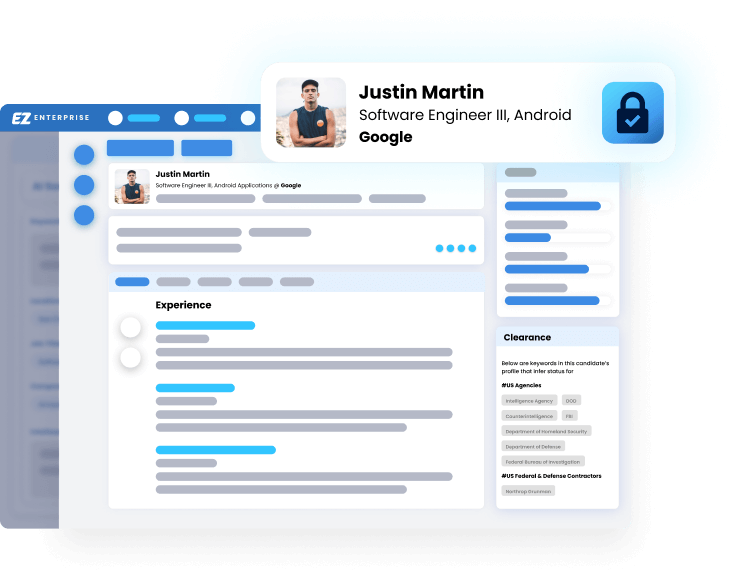 Enterprise-grade data security
Your data is in safe hands. hireEZ works with your organization to ensure all security requirements and safeguards are met.
GDPR and CCPA compliant
Infrastructures are designed to keep ATS integrations safe and authenticated
SOC 2 Type II compliant for customer data protection
Looking to get your data refreshed and enriched?
Make sure your potential vendor offers a talent data platform that answers the following questions.
By filling out this form you agree to hireEZ's Privacy Policy and consent to receive communications from hireEZ.