Back to Content
July Product Updates: Engagement & Collaboration Improvements You Might Have Missed
JANUARY 25, 2022 3 min read
Hi, there!
You can use this audio player to convert website page content into human-like speech.
1.0X
If you're a recruiter who values the tagging system, organized sourcing projects and segmented engagement buckets – these hireEZ product updates are going to help you and your team achieve better engagement and collaboration.
(X) Days Candidate Re-Engagement Alert
It's easy to lose track of candidate engagement, and even easier to get on a candidate's nerves by accidentally engaging with them too much.
hireEZ Admin Users can now mitigate this problem by setting a minimum number of days before recruiters in a team can re-engage with their candidates.

An alert will pop up if recruiters begin writing a new email to a candidate that has been contacted before the minimum number of days has passed.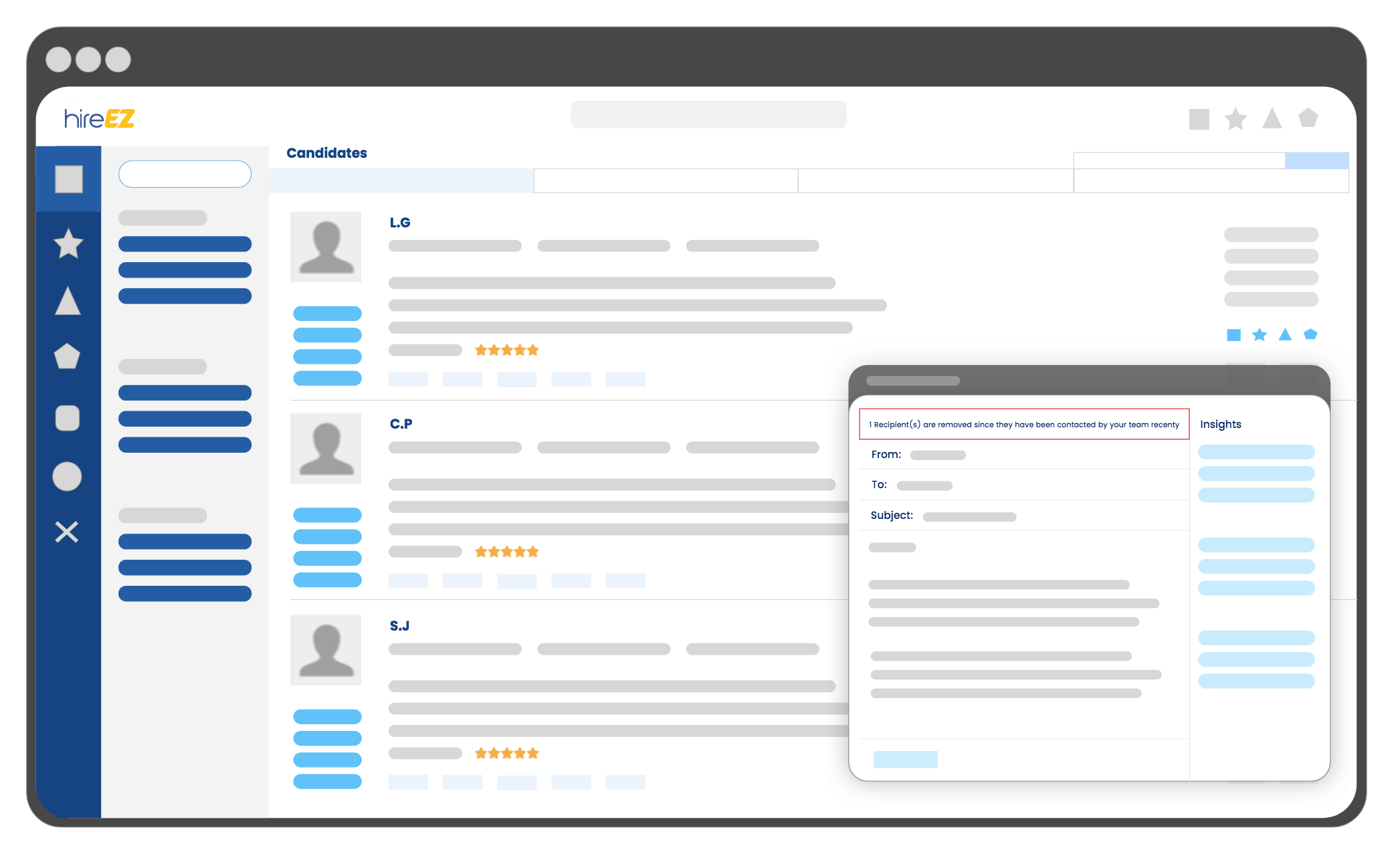 ATS Filters
Navigating through an unorganized Applicant Tracking System is no easy feat, especially if multiple recruiters are adding profiles and making changes in the system regularly. hireEZ has released a new set of ATS filters to help hiring teams move faster when targeting candidates sitting in their database.
Filter through candidates pulled from your ATS by the Job and hiring Stage that they are listed under. This provides teams with quick and easy access to existing talent pools for re-engagement and rediscovery.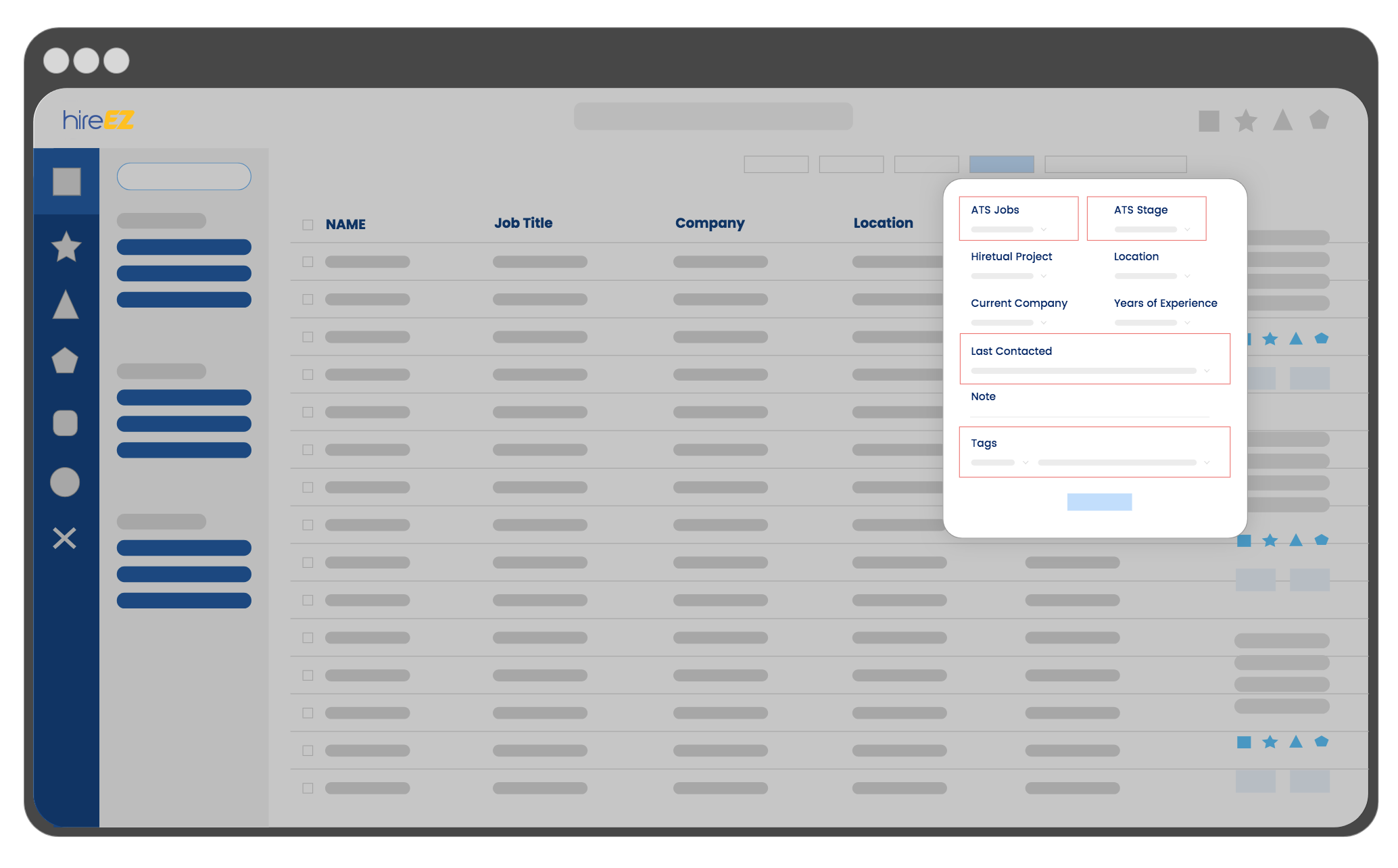 Recruiters can also filter ATS candidates in hireEZ according to the
last time they were contacted
by a member of the team. This update also benefits hiring teams from organizations with restrictions on the frequency of candidate outreach.
An efficient tagging system can help hiring teams in many ways, whether it be to set reminders for re-engagement or to better identify candidates from diverse communities within the system. hireEZ understands this, so we're making it even simpler to navigate with our AI-powered filter that segments ATS candidates by single or multiple tags.
Pro Tip!
All filtered ATS candidates can be saved into a new or existing hireEZ project! Create an AI Sourcing task within that project to stack rank your ATS candidates against freshly sourced talent.
hireEZ Project Filters
We've also added a new filter and checkbox option to improve clarity and visibility within your hireEZ projects!
Not Contacted By Team Filter:
Easily look for candidates that have not been contacted by your team within a specified timeframe
Has High Availability checkbox:
With this new feature, recruiters can target candidates that are more likely to be open to a job change. We trained our Machine Learning model to predict whether a candidate will change jobs within the next one to six months! This data is based on past experiences of candidates and the duration they have spent at their current company.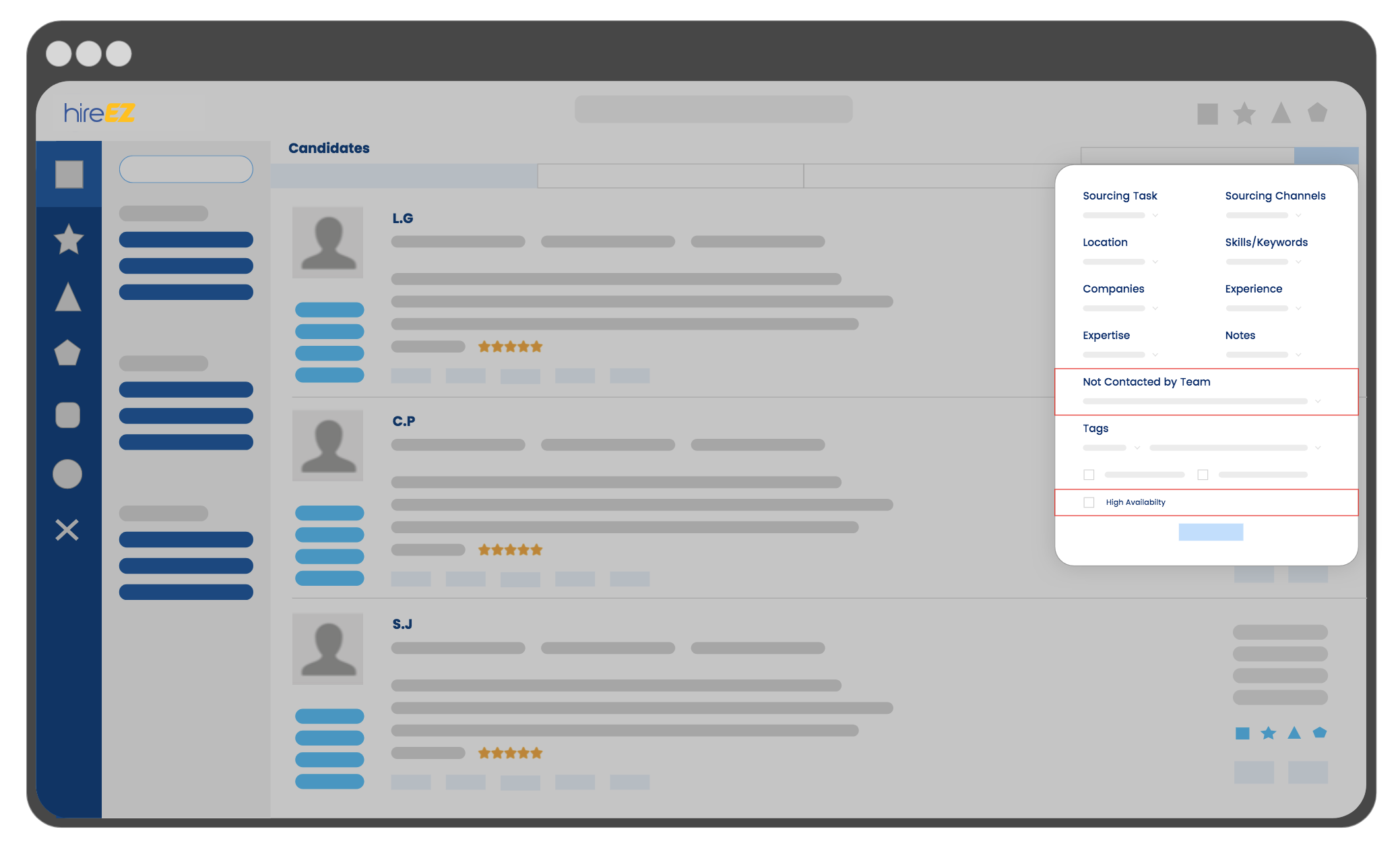 ATS Candidate Ownership
Finally, we've updated our ATS integration features to include Candidate Ownership. A recruiter's name will appear as the project owner under a candidate's name when the profile is imported from hireEZ into an ATS. Now all recruiters on your team can receive their well-deserved credit for the candidates they bring into your organization's talent database!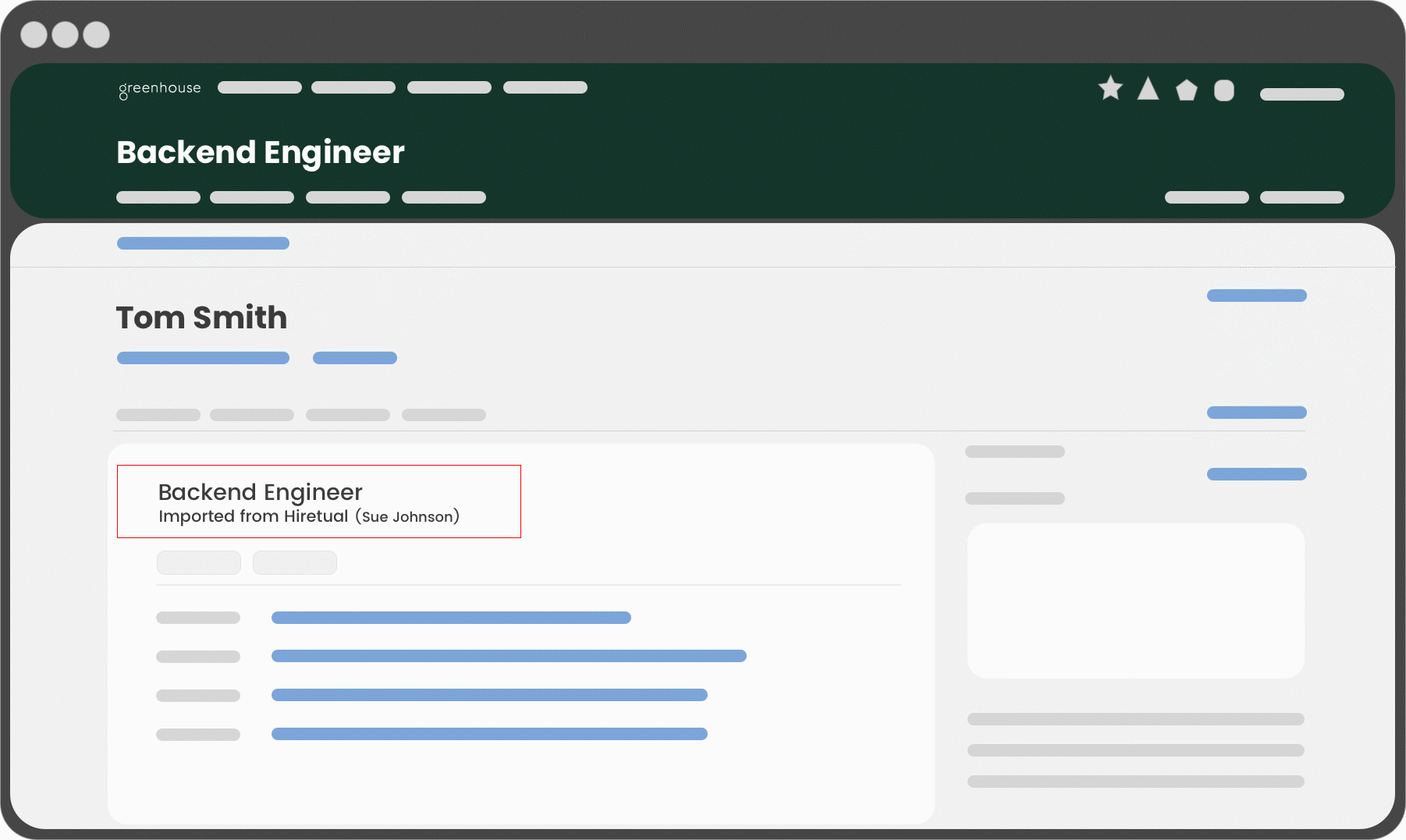 We hope you and your team enjoy the ease-of-use that these updates bring to your talent management process on hireEZ! If you have any questions about your hireEZ account, please do not hesitate to reach out to your Customer Success representative.
If you're not a customer and are interested in seeing these features work within a complete talent acquisition workflow on hireEZ, request a demo with hireEZ today.
newsletter
Subscribe for our daily news
Please use a valid work email.
By filling out this form you agree to hireEZ's Privacy Policy and consent to receive communications from hireEZ.
newsletter
Subscribe for our daily news
Please use a valid work email.
By filling out this form you agree to hireEZ's Privacy Policy and consent to receive communications from hireEZ.
Stay Up-to-Date on Future Talent Acquisition Events
Please use a valid work email.
By filling out this form you agree to hireEZ's Privacy Policy and consent to receive communications from hireEZ.
3:03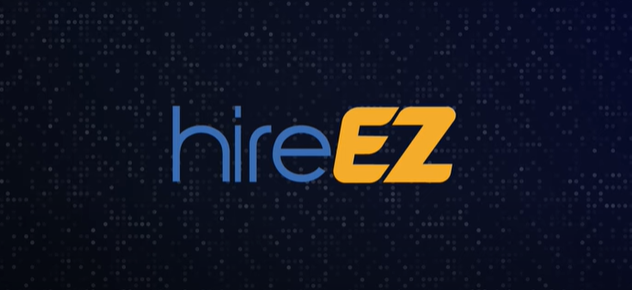 hireEZ - Outbound Recruiting Made Easy!
4:51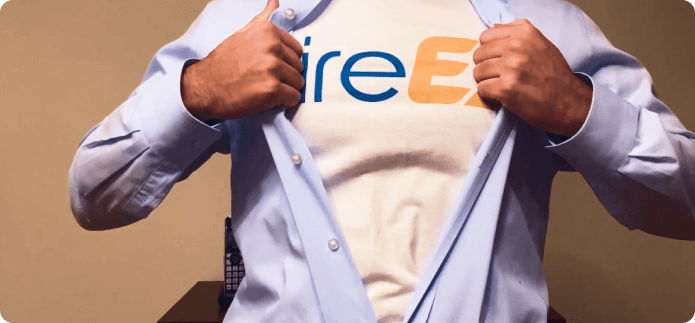 A Hiring Superhero Rebrand Made EZ